From Topnod (a mini-program, previously known as AntChain Fan Point, dedicated to digital collectibles and embedded in Alibaba's online payment app Alipay), to Xiaohongshu's R-SPACE, China's craving for NFT-powered artworks has spread to Weibo, the country's biggest microblogging site that has, so far, largely remained as a hub for online socialising through discussions ranging from politics to celebrity gossip.
The social networking scenario on this online community has now been diversified with Weibo teaming up with TopHolder, an NFT-powered digital collectible platform that is under the World Show, the developer of China's 3D virtual life community – Honnerse. With the developer's expertise, the partnership will not only help Weibo upgrade its ecosystem with the hyped technology, but also provides a pathway for the platform to tap into the buzz of Metaverse.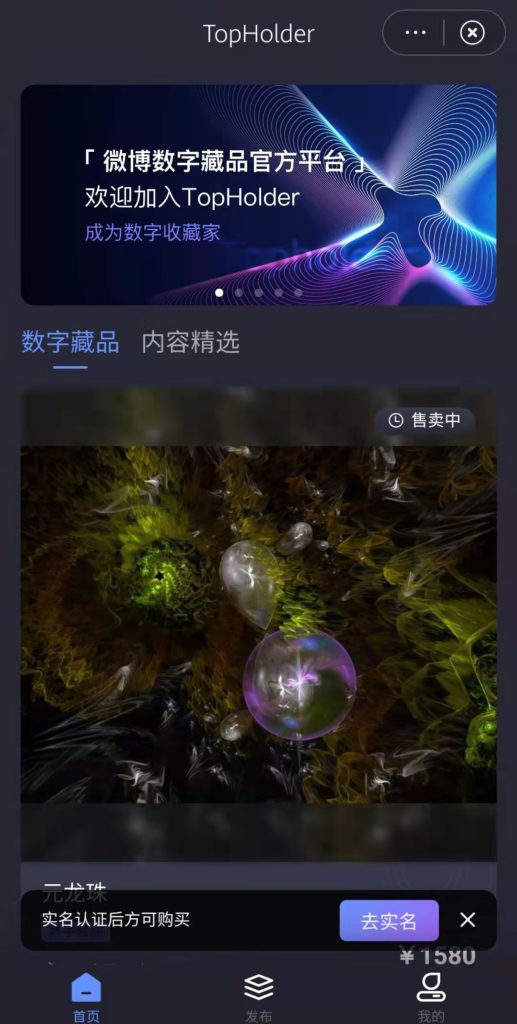 The mini-program launched by TopHolder on Weibo has become the entryway to the digital marketplace. Verified users can apply to be digital collectible creators and upload their artwork onto the mini-program, which will be converted into a digital collection with a unique identification code generated automatically. The digital artwork can then be displayed on users' Weibo profiles with a link to the product page on TopHolder's market space.  
The socialising nature of Weibo appears to have made the platform a preferred option over other digital collection marketplaces, with the post-sharing feature enabling creators to promote their work and reach a wider audience. The link corresponding to a specific item has also ensured the uniqueness and authenticity of artwork, which turns out to be another appeal to creators.
So far, dozens of creators have landed on the NFT-powered market space since its launch on 17 March, including China's popular anime IP (intellectual property) Yu Tai Xian. Several offerings of this beloved character have sold out as of 21 March, despite the highest price at 30,000 RMB ($4,707.8). This has proven there is a huge appetite for such products on one of China's most influential social media platforms, which houses more than 537 million monthly active users.
It is understood there have been more than 1.3 million creators who possess over 10,000 followers on Weibo as of September 2021. This existing user base will become a crucial source for the initial stage of the new platform's development. Meanwhile, with the installation of this new marketplace, Weibo is expected to draw in more content creators to leverage the platform's social sharing function, and ultimately pull up overall user growth.  
Join our newsletter