On July 8, China's top professional sports clubs will descend on Hebei's coast for a weekend-long competition featuring only the hottest urban sports.
The DODO "Trendy" Games will take place in the elite coastal community Aranya, which has grown from a failed real estate venture into a cultural hub and the darling of foreign luxury brands. Steeped in exclusivity, the town is the ideal setting for an event targeted at those in the middle classes and upwards. Part place, part brand, Aranya has a strong social media presence and its own app, where prospective participants of the games can head to sign up for different activities.
Among the 31 activities featured in the event is this summer's social media favourite pickleball, a relaxed racket sport that has seen a boom in Tier-1 cities amid the rise of the "urbancore" fashion trend and the sporty yet free-spirited ethos associated with it. Lifestyle-sharing app Xiaohongshu has seen an influx of Pickleball related posts since April, with total views for #pickleball climbing up to 3.8 million as of July 6.
Beach frisbee, surf-skating, and yoga are the headlining events – all sports that have remained prominent in the urban Chinese zeitgeist since bursting onto the scene not long ago. These sports frequently appear in marketing campaigns for luxury, fashion, and sports brands in China as they have become synonymous with the drive for self-improvement and exploration that typifies the affluent urban Chinese consumer.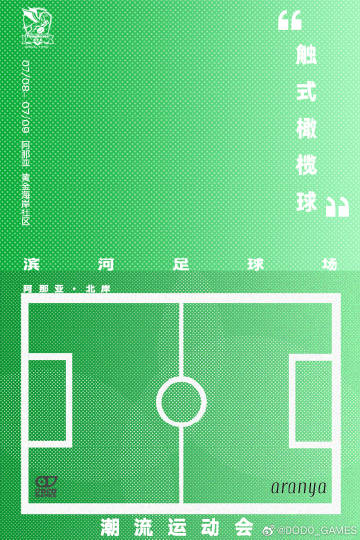 The DODO Games will also include a handful of lesser-known team sports like softball, flag football, and touch rugby, which are all adapted versions of contact sports. Compared to the other sports mentioned, these are less fashion and lifestyle oriented, but offer a great workout and sense of camaraderie for those with a more down-to-earth approach to sports.
The Games are organised in partnership with DODOCLUB, a Beijing-based sports club aimed at young people eager to check out the latest viral sports. Enlisting the help of star coaches, DODOCLUB makes these niche sports accessible, bringing frisbee classes to urbanites as the sport took off in 2022, and now making strides in setting up surf-skating classes.
DODOCLUB's expertise has been deployed already in the DODO Games social media campaign, which includes detailed breakdowns for the uninitiated across a whole host of different activities, available both on Twitter equivalent Weibo and Instagram-like Xiaohongshu.   
Join our newsletter