This year, the "graduation photo" tag on the Instagram-like platform Xiaohongshu shows post after post of graduation gown-clad young Chinese slumped over railings, face down on the ground limbs akimbo, or looking otherwise unconscious in various locations across campus.
The trend, which has been called "zombie-style", falls inside the general "unserious" or "improper" graduation photo that many young Chinese capture as a fun alternative to the polished professional versions. But the "zombie style" version could reflect a deeper rejection of societal expectations. Some have linked the fad to tangping, or "lying down", a buzzword that took the Chinese internet by storm in 2021 as a byword for opting out of the fast pace and unwinnable nature of modern life.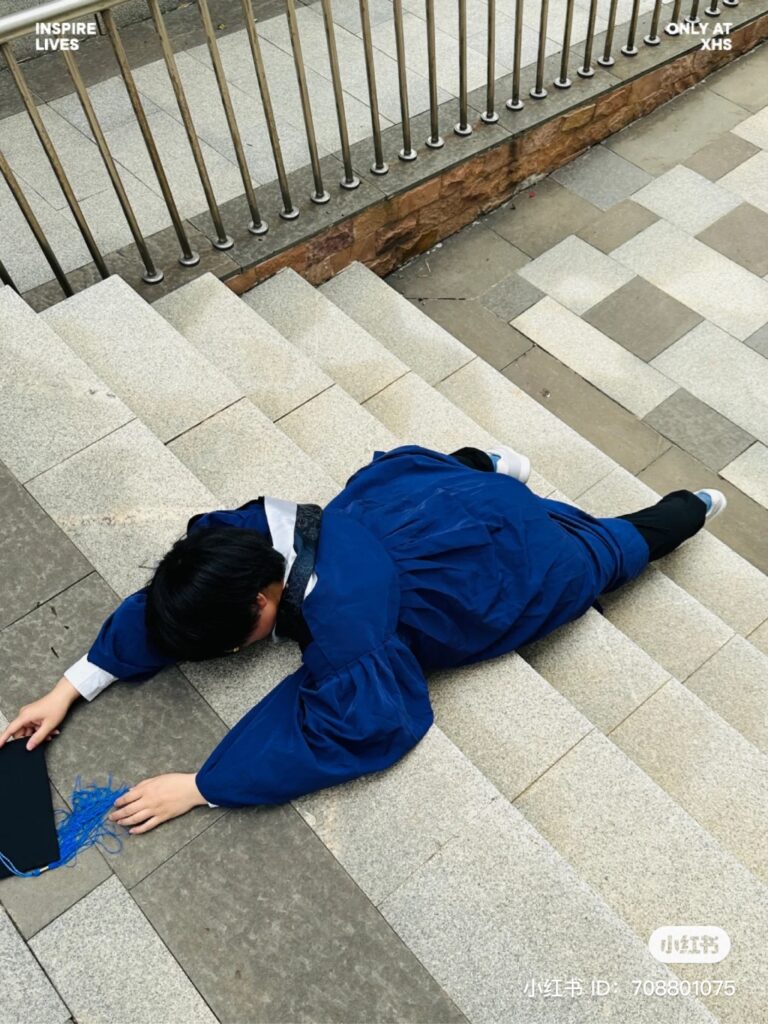 Long before tangping became a movement among China's burnt-out and disenfranchised youth, eight friends at Dalian Ocean University in northwestern China created a similar series of photos for their graduation. The idea was possibly inspired by the drama The Lost Tomb, which aired on Chinese streaming sites in the summer of 2015, when the Dalian Ocean University group graduated.
The trend has bubbled away quietly on social media since then, finally being given new meaning this year, when graduates are heading into a job market in which a fifth of their peers remains unemployed. Youth unemployment hit a record high for the second month in a row, with 20.8% of 16-24-year-olds unemployed according to May's data.
When interviewed by the Washington Post, many of the graduates who posed for such photos shared their sense of having missed out on university life due to the pandemic. The draconian restrictions imposed during China's zero-COVID policy mean this cohort spent three out of four years under COVID restrictions, unable to bond properly with their classmates or experience the excitement of newfound independence.
This context, plus the obvious literal allusion to tang ping in the graduates' poses, has led many foreign news sources to link the creative expression to deep disillusionment. While few of the "zombie style" posts explicitly mention tangping or related buzzwords, many do use phrases like "out of my mind" and "burst" to communicate profound mental exhaustion. The lack of explicit mention of tangping and its corollaries perhaps indicates the movement has now gone beyond an exciting new buzzword to become an accepted part of young people's psyches.
Join our newsletter