Tmall, one of China's e-commerce giants under Alibaba, who have also been a digital marketing powerhouse for brands, has once again made a breakthrough in leveraging the country's live streaming sensation for the ongoing mid-year shopping extravaganza '618' by introducing "customised" live streaming. For the first time, the general public will be invited to vote on which hands-on activities they want to see in a live brand session.
The campaign is being participated by market leaders across different industries, including the global luxury conglomerate LVMH, French cosmetics makers Clarins and L'Oréal, the American consumer brand P&G, and its British counterpart Unilever as well as domestic smartphone maker Honor, who have been engaging with over 50 Chinese celebrities for their official live streaming sessions, scheduled during the '618' promotion season from 26 May to 20 June.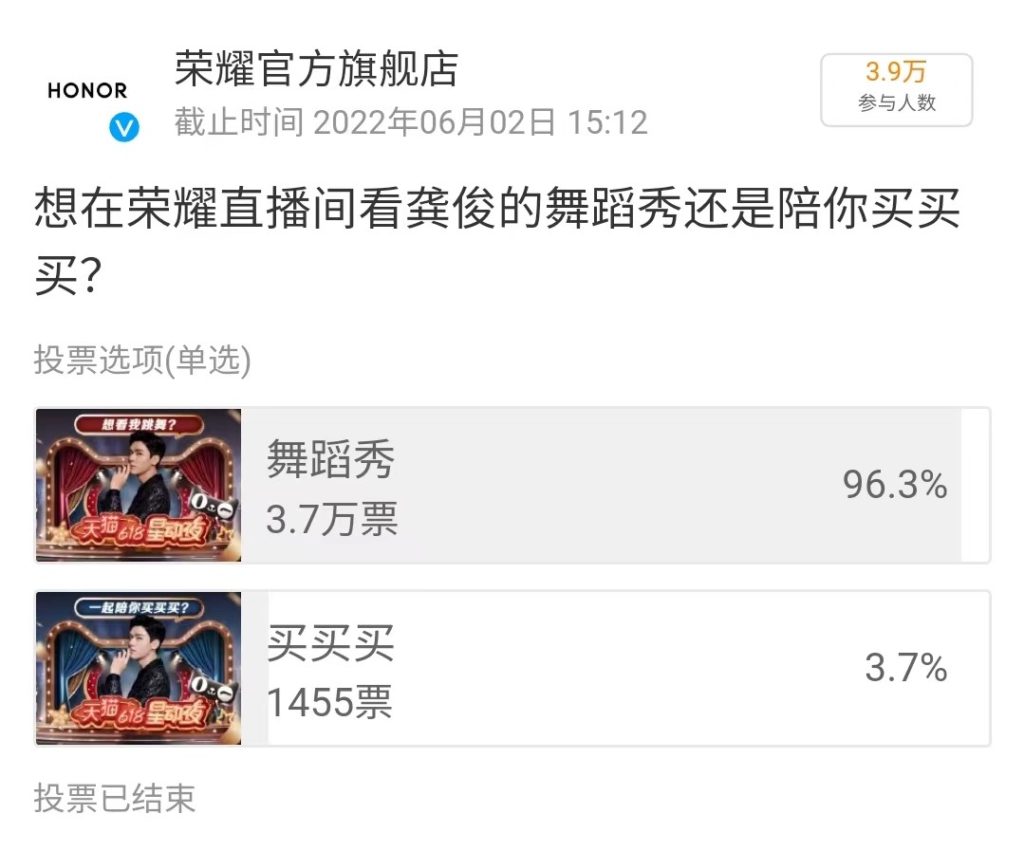 From the dance performance by beloved post-90s actor Gong Jun, in Honor's live event to the dialect challenge by Chinese actress, Gulnazar in the Chinese beauty brand Chando's live streaming room, these are the results of the public vote that have been included in brands' live streaming announcements. The small plug-in appears to have effectively driven up online engagement and viewership of live streaming, with Chando reporting a 10-fold increase in tune-ins, hitting 2.06 million views during the live session.
Internet users have also become more involved in these brands' activities, with some even "debating" in the comments over the given options and the performance, which has turned into another conversation starter for others to chatter about after the event, therefore, propelling user-generated content. It is reported the campaign hashtag "618 Star Collaboration Night" has garnered over 5 billion accumulated views across different online platforms with more than 40 relevant topics appearing in the hot searches on platforms like Weibo, China's biggest microblogging site.
It can be seen that by enabling more public involvement, the initiative has created a more cemented relationship between consumers, celebrities, and brands, allowing brands to unleash more consumer potential as well as better leveraging the synergy of live streaming and celebrity influence during China's second-largest e-commerce battle.
Join our newsletter