Tmall, one of China's e-commerce giants, has brought the VIP room, normally only accessible offline at luxury brands' physical stores to its digital marketplace. The new feature known as "video advisor" went live on 7 March and is a tailored service for live streaming sessions hosted by brands on its Luxury Pavilion platform.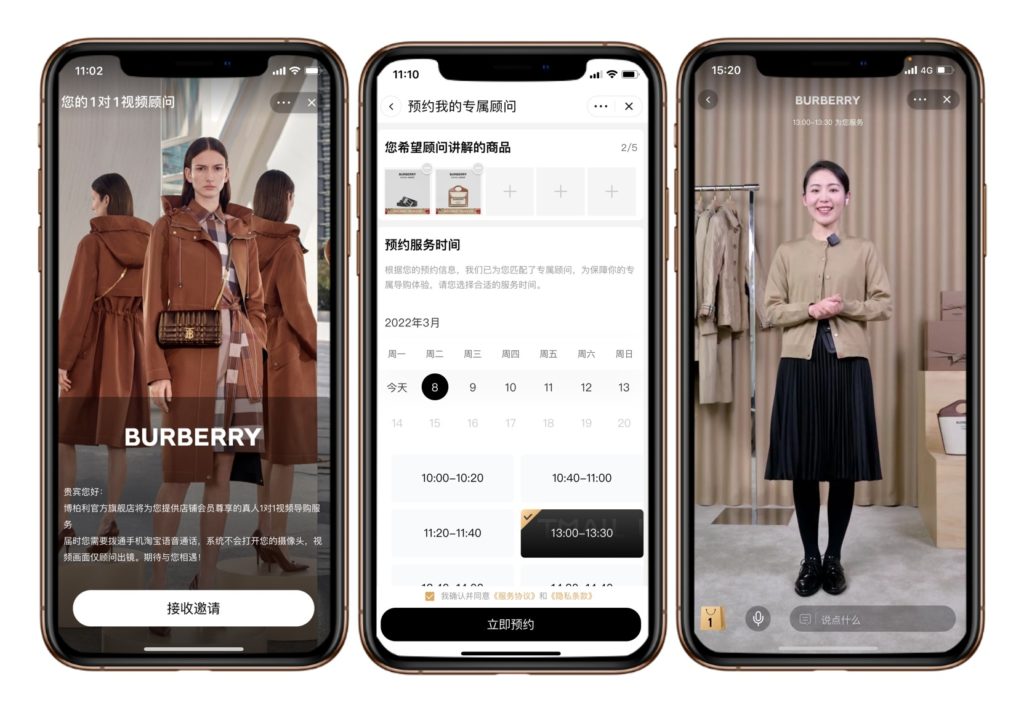 The one-to-one customer service covers products ranging from watches, accessories and clothes, which has drawn in brand opt-ins from global labels including Burberry and Cartier. It is understood that the new service can be pre-booked through Tmall's customer service, who will then send an invitation link where users can choose a live slot for 20 to 30 minutes. The booking can be rescheduled or cancelled any time before the session, giving customers more flexibility compared to offline visits.
Consumers can also add up to five products they intend to purchase before the live session so that video advisors can provide a tailored introduction of the chosen items. All advisors have received specialised training by brands and their verbal delivery of product specifications is coupled with 'try-on' demos in the live streaming.
Consumers can have instant communication with the advisor by switching on their microphone or simply by typing in a chat box – exactly like what they would whilst watching live streaming but without the worry that their messages will be buried amongst thousands of others.
With such a comprehensive service available with just a click, the new feature has been well received amongst savvy luxury shoppers. The online VIP rooms have already served several hundreds of consumers since the feature went on trial in the middle of February.
The move is also another attempt by Tmall to fortify its building of the online platform for luxury sales post-COVID. The disruption of the global pandemic pushed many consumers to go digital, furthering the growth of e-commerce and the live streaming industry in China, which has also provided opportunities for global luxury brands in this lucrative market.
The change in consumer behaviour together with the lingering impacts of COVID mean the digital space will remain a crucial battlefield for extravagant purchases. Therefore, it is another shrewd step taken by Tmall to empower its luxury brand users to improve their service and user experience for their target consumers in China.
Join our newsletter