The Hong Kong streetwear label CLOT, famed for its 'East meets West' design ethos, is marking its 20th anniversary with the launch of an exclusive merchandise range in collaboration with McDonald's China.
The launch doubles up as a promotion for McSpicy Chicken burger. The exclusive hoodie released as part of the campaign is emblazoned with a split McSpicy graphic, in which the burger patty is the CLOT logo. Other merchandise on offer includes a collared button-down tee with CLOT's signature 'Silk Royale' pattern and yellow McDonald's 'M'. Shoppers can purchase the limited edition items from March 16 via the McDonald's store on the e-commerce site Tmall.
CLOT has also announced the locations of five CLOT x McSpicy pop-up stores in Beijing, Shanghai, Guangdong, Shenzhen, and Chengdu. Images of the stores have already surfaced on Weibo, China's twitter equivalent, with the accompanying hashtag "McSpicy CLOT collaboration", helping to generate buzz. As of March 15, the hashtag has surpassed 1 million views.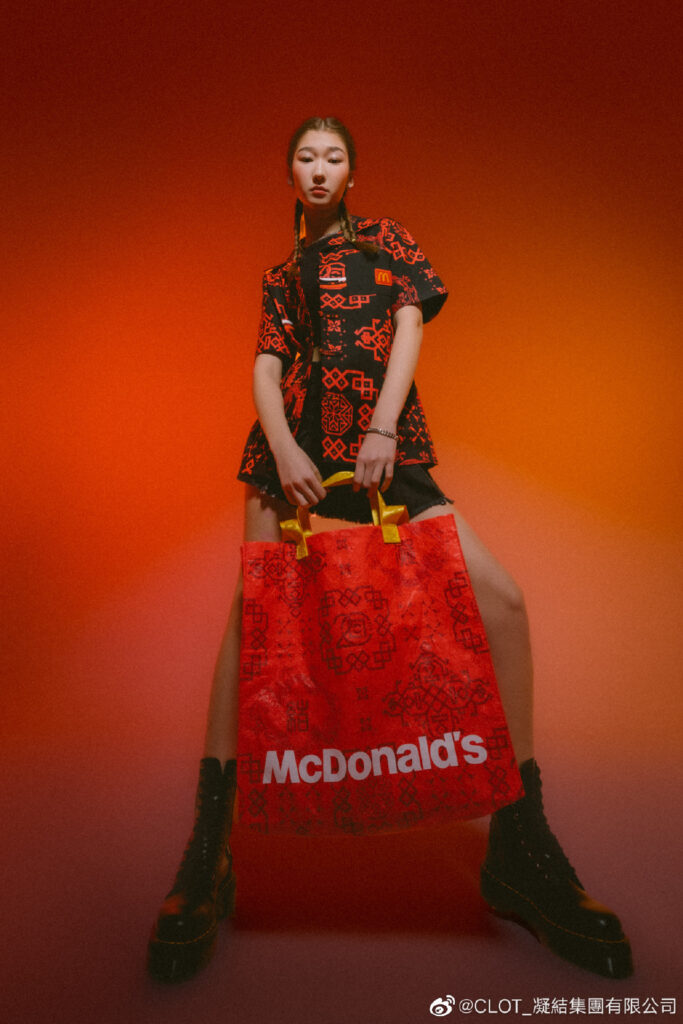 CLOT was established in 2003 by Canadian Chinese actor Edison Chen and Hong Kong entrepreneur Kevin Poon. The brand's modus operandi is "adhering to tradition and subverting the normal" simultaneously, creating cultural and temporal mash-ups in their designs. CLOT has collaborated with Nike on multiple occasions, most recently bringing together the Silk Royale pattern and Nike footwear expertise to create a flamboyant silk Nike Force 1.
As for McDonald's China, the joint campaign with CLOT is not its first venture into fashion, having teamed up with designer Angus Chiang for a "food fashion week" campaign in November 2022. The fashion show included a performance from former lead singer of the band Flowers and played on the theme of punk rock revival. Both the CLOT collaboration and fashion show harness the American retro-core trend among China's Gen Z, in which American consumerist iconography is given an edgy upgrade.
Join our newsletter