In March 2023, French cosmetic powerhouse Lancôme renewed and renamed its public welfare project "Write Her Future" to "Write Your Future". The campaign, made in collaboration with China Women's Development Foundation, continues to empower female college students in their initial career development.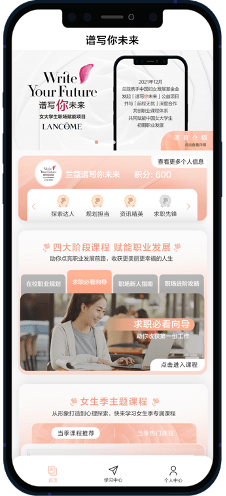 In partnership with 51job.com, an influential Chinese recruitment website with over 72 million registered members, the beauty brand fully upgraded its online mini-program for all female students to access high-quality professional audio and video courses combining lectures and training to help female college students develop clear career plans, cultivate professionalism and improve job competitiveness.
Consisting of 24 themed courses covering a total of 201 sections of course content, the curriculum focuses on four major stages of college students' career development: in-school planning, job hunting, career initiation and career advancement.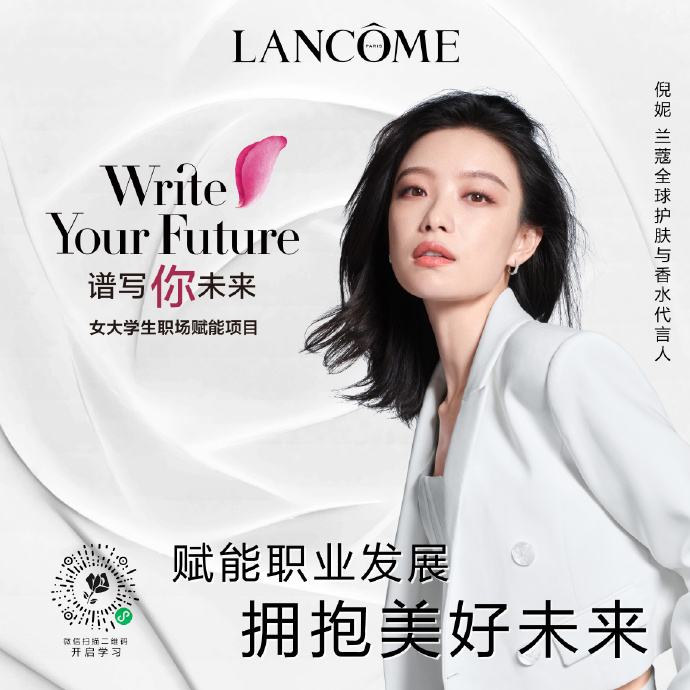 In order to call on more female college students to join the movement, Lancôme invited renowned celebrities to speak on behalf of the program and chatted about hot topics surrounding the career development of female college students. The brand invited global skincare and fragrance spokesperson Ni Ni (who boasts more than 24 million followers on Weibo), as well as Zhao Jinmai, Zhang Jinyi, Zeng Keni and Liu Lingzi to shoot short videos together for the campaign.
Since its launch in 2021, the project has reached more than 50 colleges in China with over 30,000 female college students registered to study. Meanwhile, the campaign has made some waves on the Chinese social media platform Weibo. In fact, as of March 14, the hashtag "Lancôme Write Your Future" has garnered over 53 million views and around 280,000 related topic discussions.
As the world's leading brand of high-end makeup, Lancôme has always embraced the vision of making women more beautiful and confident. By focusing on female empowerment in the nation, the beauty company embraces corporate social responsibility and passes another milestone in its global sustainability programme.
Join our newsletter