The Chinese coffee chain Manner has opened a themed store in Hangzhou, expanding the reach of their immersive coffee experiences into Zhejiang province.
The new Hangzhou outlet is built around the theme of pour-over coffee – one among many artisan coffee styles that have gained traction among China's urban professionals as the country's coffee culture booms. Situated in the city's historic Dajing Lane, the themed store features panoramic street views and a pour-over counter on the second floor where customers can admire an expert performance of the full process.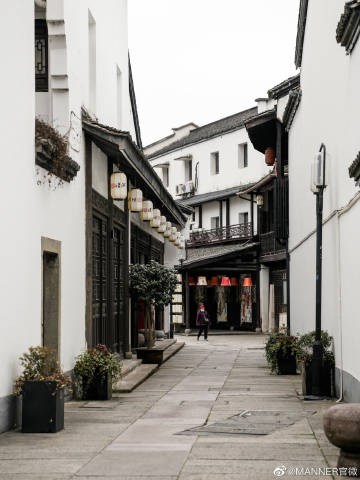 Another growing artisan coffee chain Seesaw Coffee similarly opened a pour-over themed store in Shanghai's former French concession in December 2022. The space featured an art exhibition and an open-plan layout surrounding the drinks bar, encouraging customers to enjoy their coffee in a slow and contemplative manner.
Pour-over is a coffee preparation method in which water is carefully and slowly hand-poured over ground coffee to give it an enhanced flavour. It is popular for its elegant aesthetic and the "sense of ceremony" created by preparing the coffee slowly and methodically.
The aesthetic of pour-over is fits with Manner Coffee's brand ethos, which centres on painstaking attention to quality and highly trained staff. Manner also makes a point of not using automatic coffee machines or offering delivery services unlike its competitor Luckin, which rapidly captured the nation's coffee market in 2019. Manner's ultimate goal is to become China's foremost coffee house, creating a national coffee brand that will be known everywhere.
Join our newsletter