Hot on the heels of their internet-breaking Moutai collaboration, Luckin gets cheesy with another collab for the first anniversary of their smash hit cheese latte. This time Luckin teams up with classic American cartoon Tom and Jerry for a special edition mascarpone latte.
The crossover comes with the tagline 'who took my mascarpone latte?', a play on the international bestseller Who Moved My Cheese? by Spencer Johnson. The mascarpone latte boasts a 24% increase in 'milky flavour' compared to the original cheese latte, thanks to its imported Danish mascarpone cheese.
The Tom and Jerry collaboration was first teased as a pop-up booth at the China International Comics Festival (CICF) in Guangzhou over the National Day holiday. The coffee comes with not only exclusive Tom and Jerry cups, cup sleeves and paper bags, but also a limited number of co-branded stickers. Kicking it up a notch, Luckin has also launched 3 themed shops and 75 themed shop windows across China, providing immersive cat-and-mouse experiences.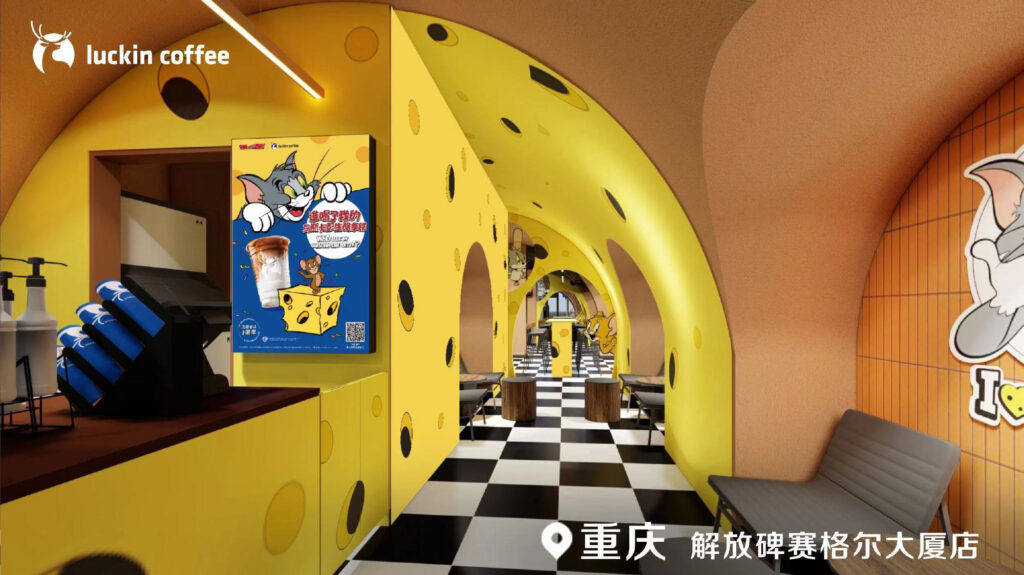 The Tom and Jerry mascarpone latte follows the blockbusting Moutai collaboration last month, doubling down on the collaboration streak. Interestingly, the original cheese latte was launched as a crossover with Japanese manga/anime JoJo's Bizarre Adventure and sold over 1.3 million cups on its first day, setting a record to only be surpassed by the Moutai collab's over 5.4 million nearly a year later.
Tom and Jerry, according to Daxue Consulting, is a childhood favourite of Chinese Millennials', with strong nostalgia value. With a 150 million views on China's Twitter equivalent Weibo on day one, it is safe to say that the Tom and Jerry collaboration has captured the attention of Chinese netizens. 
Join our newsletter