KFC has inked an agreement with Chinese National Geography to launch a new burger which comes packed with a substantial amount of cheese on 18 February, capitalising on its waterfall documentary as part of its newest campaign with Chinese actor Zhu Yilong.
KFC creatively produced a documentary, taking consumers on a journey of China's renowned waterfalls as part of a joint effort with Chinese National Geography (a domestic monthly magazine similar to the National Geographic Magazine), and the first scene is the 'cheese waterfall', KFC's brand-new burger.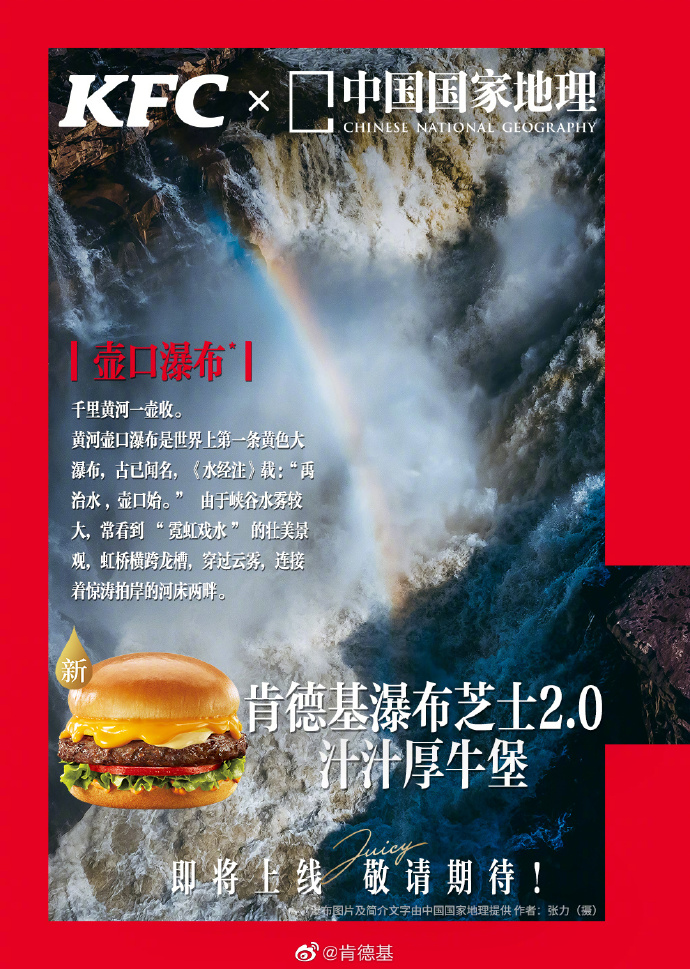 To largely increase online traffic, the fast-food retailer endorsed Zhu Yilong as the tour guide to take advantage of his huge fanbase. The eye-catching marketing campaign has so far worked well and has won over the hearts of Chinese netizens, with the crossover collaboration topic drawing in 80 million views on the Chinese microblogging site Weibo as of 20 February.
By teaming up with Chinese National Geography and presenting 9 waterfalls scattered all over the country, KFC has maintained its course with the ongoing travel sensation. Notably, China's tourism industry is bouncing back with local citizens' strong enthusiasm for travelling being observed during the first Spring Festival in the post-pandemic era. During which, more than 308 million domestic trips were made, which was a yearly increase of 23.1%, and tourism revenue reached 375.8 billion RMB ($54.79 billion), up 30% year on year.
Prior to this partnership, KFC initiated a photography exhibition featuring local landscapes with the travel magazine in 2017. By doing so, the fast-food retailer has not only refreshed its brand image with uniqueness but also showcased its commitment to the local market, which has laid the foundation for the fast-food retailer to further expand into lower-tier cities where most of these attractions reside.
This notable campaign can be considered beneficial to both sides by diminishing the boundary between fast-food and tourism, thus driving online traffic. For KFC, the 'cheese waterfall' documentary has effectively impressed consumers with its new burger and leveraged consumer awareness by hopping onto the travel rebound.
Join our newsletter