Belgian-based luxury chocolate brand GODIVA has fired the first shot for this year's Mid-Autumn Festival, a traditional Chinese festival that falls on 10 September 2022. To celebrate this occasion, the chocolatier has tapped into the digital hype of NFT-powered technology and the buzzword of the metaverse by launching a series of digital collectibles with limited availability of only 10,000 units.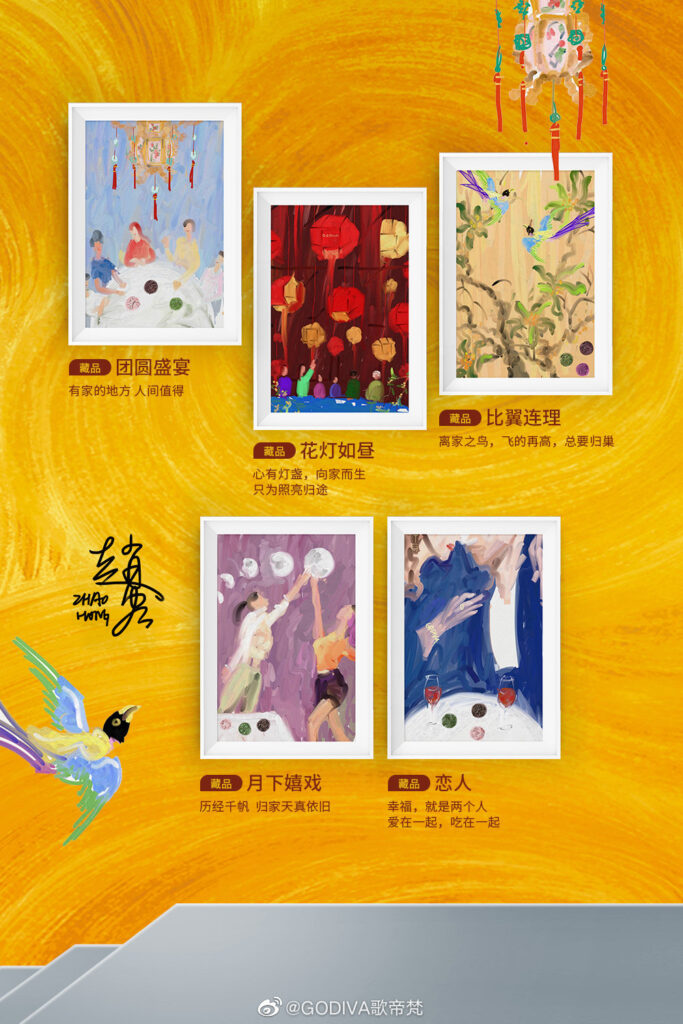 The Mid-Autumn-themed digital collectibles are a collaborative effort with Zhao Hong, a Chinese contemporary artist who specialises in crossover creation and digital paintings and found fame with posters he created for the then popular Chinese romantic comedy movie Myth of Love released in 2021.
The virtual collection includes five pieces with scenarios sketched out ranging from reunions with lovers and families and flying Kongming lanterns to children playing under the moon, all of which are traditions practised in the Chinese culture on this special day, therefore, resonating with the target audience.
In the meantime, GODIVA's mooncakes dedicated to the festival have been skilfully incorporated into the artwork through the background colours of these digital paintings, and the small in-picture replicas of the desserts are a nod to the brand's special offerings.
These virtual creations are accessible through the digital exhibition GODIVAVERSE, which has been built on an H5 page (an in-app web browser embedded in Tencent's super messaging app WeChat that has become commonplace for brands to create digital campaigns), where a total of 200 pieces will be made available each day until 15 August.
Join our newsletter