One-stop online grocery shopping has been a booming industry in China since the country's national COVID-19 lockdown in early 2020. With many residents choosing to avoid shops, e-commerce became the new norm for buying daily necessities.
Simultaneously, the pandemic spurred a trend for health and fitness which brought a growing demand for fresh products. As a result, the size of China's fresh e-commerce market grew 62.9% between 2019 and 2020 to 264 billion RMB ($41.3 billion).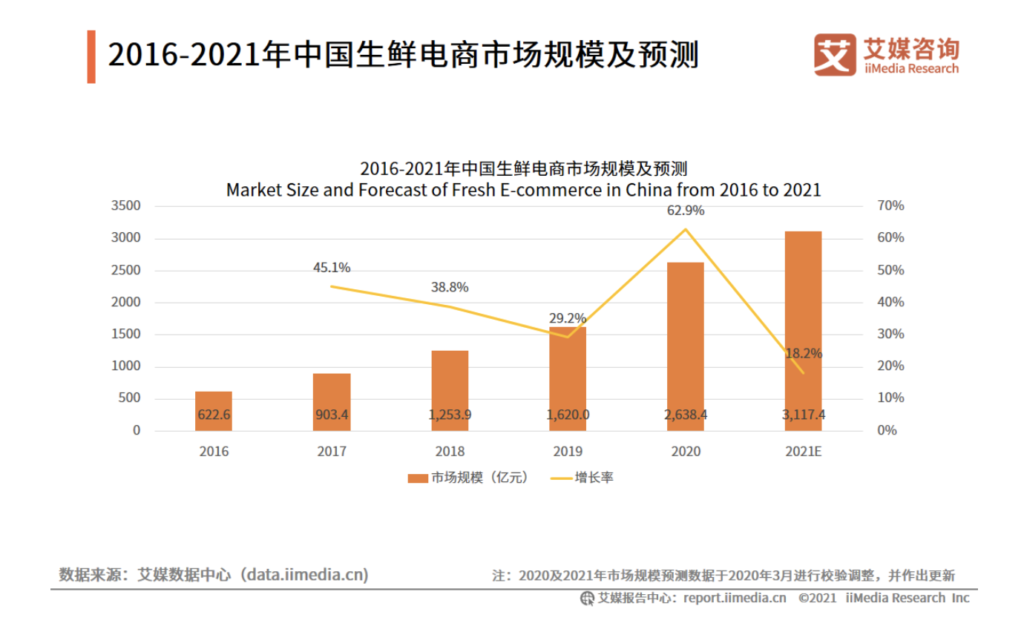 Online grocery platforms, such as Daily Fresh, Alibaba's Hema Supermarket, and DingDong Fresh, saw their sales increase exponentially. Due to this impressive growth, DingDong Fresh and Daily Fresh are planning to go public in the United States.
The GMV of DingDong Fresh 叮咚买菜 increased from 742 million RMB in 2018 to 13.03 billion RMB in 2020 ($2.04 billion). The company's prospectus shows that it plans to list on the New York Stock Exchange with the backing of Morgan Stanley, Bank of America, and Credit Suisse.
On the same day (June 9), Daily Fresh 每日生鲜 submitted its prospectus for a listing on the Nasdaq. The online grocery retailer also saw its gross revenue increase rapidly during the pandemic, from 3.55 billion RMB in 2018 to 6.13 billion RMB ($960 million) in 2020.
Read more:
Join our newsletter