In honour of Vogue's 130th anniversary, French fashion house Balmain teamed up with local artisans of China's Yi ethnic minority group to handcraft a silver-trimmed red velvet dress, headpiece and earrings. From October 9 to 23, the brightly-coloured design will be on display at Vogue World's 130th anniversary exhibition in Shanghai.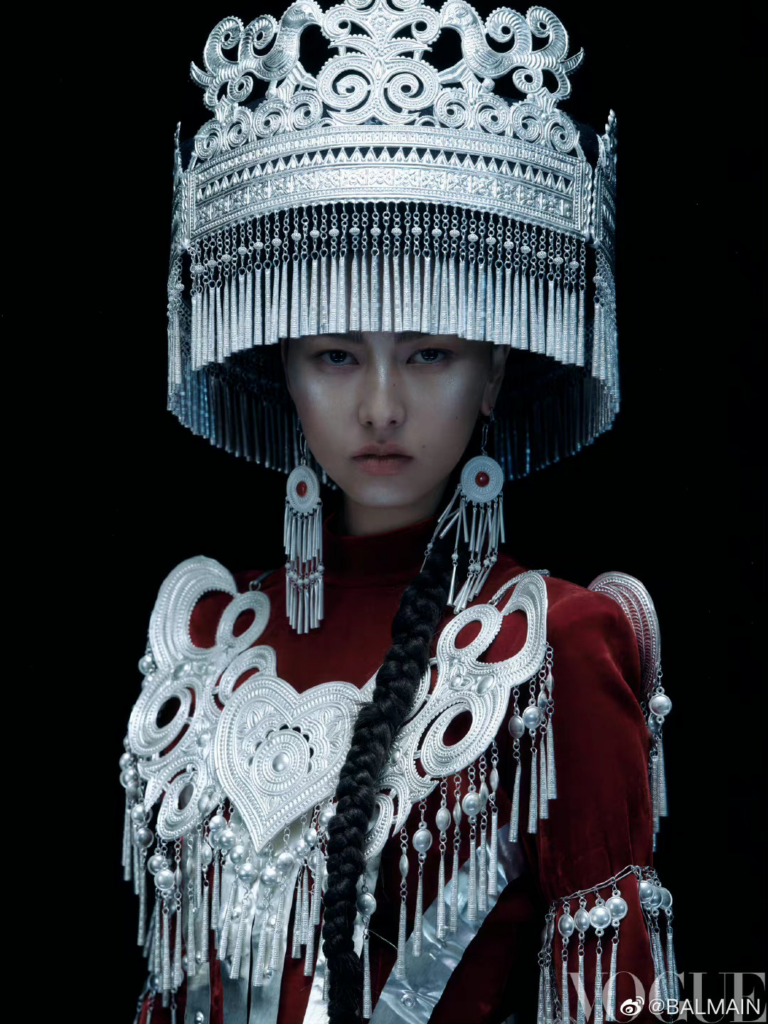 Designed by creative director Olivier Rousteing in collaboration with local Yi artisans, the Balmain Yi dress incorporates the traditional craftsmanship of Yi silver ornaments with contemporary French elements, which highlights both the strength and softness of the Balmain female image. The classic Yi silver ornaments wrap around the dress like an armour, symbolising strength and determination. Meanwhile, the heart located on the centre of the chest reflects a softer side of the female figure.
The latest collaboration reflects the revival and popularity of traditional culture in China. In July, Yi-style garments entered the international stage when world-renowned singer-songwriter Beyoncé wore an Yi-inspired cloak for her new album Renaissance which instantly blew up on Chinese social media.
Meanwhile, other luxury brands have also tapped into China's cultural heritage. In January, Burberry joined hands with China Women's Development Foundation to launch a welfare project that would promote women's employment and cultural heritage in 10 different ethnic minority areas in China. In August, international diamond jeweller De Beers launched a program dedicated to Miao embroidery in Guizhou.
Overall, the collaboration between Balmain fashion designers and Chinese ethnic minority artisans presents a balance between modern and traditional aesthetics. By pairing up with local artisans, foreign brands can not only explore new fashion aesthetics and tap into local culture, but they can also use it as an opportunity to fulfil its social responsibility duties by helping local artisans preserve their ancient traditions.
Join our newsletter