Although there hasn't been the level of demand for metaverse solutions that was expected and business models have been challenged, the metaverse is not over. Some aspects are still heavily used and very popular, such as large metaverses like Minecraft and Roblox. Others are still developing, just not as fast or in the ways that some had hoped.
Virtual worlds and Web3 are the inevitable next evolution of the internet, and despite the buzz increasing or decreasing, we need to look beyond the hype and prepare for it for our businesses, industries, and economies. Below is a short excerpt from my latest mini-book called Metaverses for Business: How China and the Rest of the World are Exploring Web3. It helps professionals to understand what metaverses are and explores the current state of metaverses and Web3 solutions for businesses in China and other countries.
Policymakers in different countries are operating at different speeds
Technology goals were included in China's most recent 5-year plan and in November 2022, The Chinese Ministry of Industry and Information Technology (MIIT) published a plan to develop the virtual reality (VR) sector and integrate it with industrial applications. This was China's first national-level policy on VR. The plan, recognizing that China is still currently dependent on hardware and technology from outside the country in some areas, also stresses homegrown tech development to avoid supply chain issues and to build tech resilience.
In January 2022, at least 10 Chinese cities and provinces, including Shanghai and Beijing, added metaverse-related industries to their economic development plans. According to a report released in August 2022, by the Beijing Municipal Bureau of Economy and Information Technology, by 2025, the Chinese capital hopes to cultivate one or two leading virtual human companies with annual sales exceeding 5 billion RMB (about 724 million USD) each, as well as ten other significant businesses with annual sales of 1 billion RMB (about 145 million) each. Another Shanghai government project is to build a virtual, fully functional city hall.
As an article by Meaghan Tobin stated "Beijing's acknowledgment of the industry and the impact it might have in the future shows that China is looking ahead to set standards in a sector that few other governments have yet to acknowledge, let alone come up with a concrete plan for growth."
It's worth noting, however, that cryptocurrencies, which many people link with metaverse and Web3 development, are illegal in China and many other countries. However, a lot of bitcoin mining still occurs in China. According to statistics in a BBC report, China accounted for 75 percent of the world's bitcoin energy use in September 2019, which had fallen to 46 percent by April 2021, around the time the government declared cryptocurrency transactions illegal.
China has very reliable digital payment solutions like Alipay and WeChat Pay. Alipay was developed by Alibaba early in its development because a reliable online payment system was needed for the company to see any progress. People in China are very used to these payment systems and others that work online and offline, like Union Pay so this likely presents no obstacle.
South Korea has also been an early metaverse adopter and released its Five-Year Plan for the Metaverse City on November 4th 2021. It intended to invest 3.3 million USD to make a Korean metaverse platform called Metaverse Seoul. Japan has also made the metaverse a matter of public policy. Prime Minister Fumio Kishida stated plans to invest in the metaverse and NFTs and spoke of metaverse development as an area of economic importance when he took office in 2021. The government established a Web3 Policy Office in July 2022 to enact policies in regard to user protection and security and implements regulations requiring crypto exchanges to provide user data.
Spain has financial incentives to support research, development, and innovation involving Web3 and metaverse technologies and Canada also has government initiatives like The Virtual and Augmented Reality Fund, which aims to support entrepreneurship in this emerging field. It was also one of the first countries to issue a report on the field in 1997, entitled The Future of Virtual Reality: An Internet of Intellect which set out specific recommendations in regard to the implementation of extended reality.
Barbados also has a metaverse strategy and aims to establish a virtual presence with an embassy in the Decentraland metaverse. In June 2022, Barbados announced plans to be a virtual country allowing individuals to purchase virtual land with real benefits on the island country.
Having said this, many governments don't engage in the overt public promotion of new tech sectors like the metaverse or set policies and guidelines. They see this as an issue for industry, innovators, and investors. There are also strong concerns about privacy and security, but little in the way of strong, concrete regulations and reliable enforcement.
Many governments seem to take a wait-and-see attitude only regulating late and little. The Chinese government, by contrast, has 5 and 10-year plans and it actively backs and promotes certain development areas. It's much more willing to back tech initiatives and allow them to make mistakes, iterate, improve, and rapidly develop.
Tech companies are going with what they know best
In her book Parallel Metaverses, Nina Xiang discusses the different approaches that big tech names like Meta, Microsoft, Apple, and Google are taking but notes that for most big Western tech companies, their strategies reflect their current advantages and tech specialties.
Meta's goals revolved around making Oculus, its proprietary VR goggles, the lynchpin for a virtual platform that will enable it to accumulate users, scale quickly and maintain its position as a primary social media player and a dominant ad placement destination. Apple seemed to be maintaining its focus on hardware and putting a metaverse into its walled garden of vertically integrated services.
Microsoft was adding metaverse options to its Windows system, creating AR for business uses and adding it to its gaming offerings. Google retained a focus on search and is making AR content and services for smartphones and its AR glasses. Now, most have strongly shifted their focus to AI and content generators fashioned after ChatGPT, which was created by the non-profit research lab OpenAI.
Google was one of the first tech companies to come out with a mass-market AR product with its virtually enhanced glasses, Google Glass. It didn't catch on with the public but now has business, education, and healthcare applications. Interestingly, the glasses have major advantages over both VR goggles and smartphones in that they are lighter and easier to wear than VR gear, the wearer can still see their surroundings clearly, they are hands-free and respond to voice commands. They may find their way to wider usage in the future.
In China, metaverse, VR, and AR development is strongly supported and guided by the government with the country's largest tech companies moving accordingly.
Although they have also now softened their focus, Tencent sees industrial, education, gaming, and entertainment potential for the metaverse. Alibaba is incorporating its metaverse into its retail platforms with a strong social element in addition to shopping features. Huawei is a contributor in research, hardware, and infrastructure terms and also has its own AR glasses. Baidu has already made what many consider to be China's first metaverse that can host concerts and has virtual conferencing solutions that allow 100,000 attendees.
People are very keen or not that interested
Metaverses in the West, at least at the moment, are primarily for young people. This creates a massive generational divide. 51 percent of metaverse users are 13 or younger. 78.7 percent of users are 16 or younger and 83.5 percent are 18 and under. This is largely because of the dominance of big platforms like Roblox, Minecraft and Fortnite (a metaverse-style game) which are used primarily by this age group to play, create games, build virtual spaces and socialize. Roblox is seen as the largest of these and has about 230 million monthly active players.
A report from Bain found that 53 percent of younger metaverse gamers would prefer to inherit a vacation home in the metaverse rather than on a real exotic island and a survey by McKinsey shows that Millennials and Gen Z expect to spend almost 5 hours per day on metaverse platforms in the future.
Many adults don't understand what metaverses are. They think they're video games, see them as childish, or consider them a waste of time, especially now, with so many urgent economic and health challenges. Their ideas are also tempered by having seen many technology predictions fail in the past and watching hugely popular tech fade away after a few years.
People in China will likely be adopting metaverses more quickly because of the Chinese government's strong support for technological transformation and the Chinese people's tendency to swiftly develop and adopt new tech.
Most people in China use smartphones to surf the internet, connect with others, make purchases, pay their bills, buy plane tickets, make appointments, hail cabs, and much more. Smartphones are very much all-in-one devices that people rely on for everything. People in China even buy things using facial recognition software, cementing the idea that cash is no longer a necessity.
A 2017 KPMG study found that 71 percent of Chinese people would prefer to lose their wallet rather than their phone and data from the China Internet Network Information Center (CNNIC) showed that by the end of June, 2022, 99.6 percent of Chinese people use a mobile phone and they spend 29.5 hours online every week.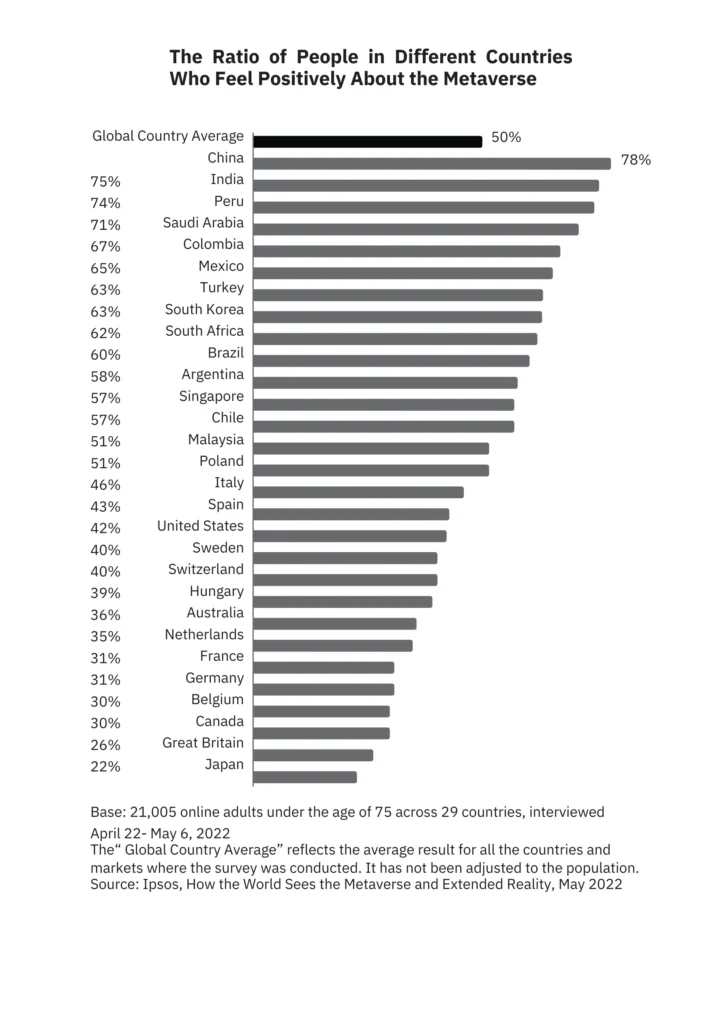 These attitudes showed up in a survey by Ipsos. When asked how they would describe their feelings about the possibility of engaging with XR in their daily life, 78 percent of people in China were somewhat or very positive. This was higher than in any of the other surveyed countries.
People in China also felt that metaverse and XR applications would significantly change the way people live over the next 10 years. They believed this more than respondents in other countries particularly when it came to virtual entertainment, movies and concerts, and virtual health resources like virtual consultations and remote surgery.
The areas where Chinese netizens have metaverse concerns are about addictions to virtual worlds, excessive time in virtual worlds creating social phobias in the real world and privacy concerns.
It's a given that China's metaverse will operate in parallel to any metaverses in the West in the same way the internet does today. The Great Firewall is expected to remain.
And China is in the same boat as the rest of the world in that it still has a long way to go before it can achieve the technological breakthroughs needed to fulfill the metaverse's true potential. Watch this space as there are plenty of implications for business in the meantime.