Digital collectibles came to the forefront of brands' digital campaigns during this year's Mid-Autumn Festival (also known as Moon Festival, which fell on 10 September), the second most important celebration on China's calendar, thanks to the country's continued digital fever driven by the tech-savvy Gen Z generations. Amidst the sensation, Alipay, the online payment arm under Ant Group, stepped up to empower brands to tap into the buzzword by offering digital collectible-related marketing solutions to online merchants for the first time during this special promotional season.
Powered by AntChain (a blockchain solution under Alibaba's affiliation Ant Group who also operates Alipay), digital collectibles are accessible through brands' mini-programs on Alipay. The in-app feature takes on the likeness of WeChat's mini program. Also serving as a digital storefront where brands can offer products and services to users, this little tool has been growing in importance within marketing practices.
With Alipay being one of the most used online payment tools and houses over one billion users currently, its mini-program platform offers brands plenty of potentials. In fact, more merchants have woken up to the new instrument in recent years, with the platform seeing a total of 3 million mini-programs launched as of 2021 and a 133% year-on-year increase in daily active users in June 2022.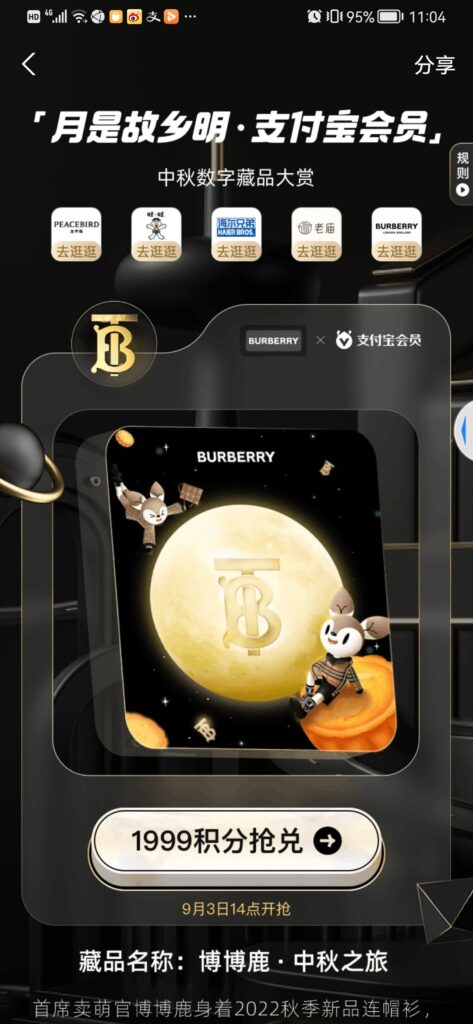 Six brands dipped their toe in the online space, unveiling moon-themed digital collectibles that can also be used as users' payment code skins on the platform, adding collection value to the digital artwork. Included was global luxury label Burberry, China's leading household appliance brand Haier, beauty brand MAOGEPING, fashion brand Peacebird, jewellery brand Liaomiao Gold, and food and beverage manufacturer Want Want.
Most of the digital collectibles launched by the six brands were snapped up very soon after release, as per Alipay. This is coupled with the additional bonus of increasing visits to participating brands' Alipay mini-programs. According to MAOGEPING, the number of visits to its Alipay mini program during this marketing campaign (1-3 September) nearly doubled compared with a few days before (29-31 August).
"This is the first time Laomiao Gold is trying a marketing campaign using digital collectibles," Jia Xu, New Retail General Manager of Laomiao Gold told Dao Insights, "We achieved good brand exposure, with the number of user visits to our mini program increasing about 20% compared to that of daily operations prior to the campaign."
As a long-term partner of Alipay, the Chinese jeweller also believes that the platform's large user base and high-frequency usage will help them to expand their consumer base, reaching users of different age groups. Moreover, by leveraging digital collectibles at the crucial marketing event, Laomiao Gold also hopes to "change the old-fashioned image" that gold is often associated with, since China's younger generations are starting to show a growing appetite for gold jewellery.
"The digital collectible we launched on the Alipay platform this time can not only be stored as digital artwork, but also as the skin of the users' payment QR code and red envelope. It can also be given to a friend of the user. Due to its uniqueness, the digital artwork not only satisfies users' needs, but also generates marketing for our brand."
"For us, the value of brand marketing far exceeds that of transactions. We can differentiate the target audience from the general consumer and explore more digital collectible collaborations in the future," Xu added.
Reflecting on this year's Mid-Autumn Festival campaign, Ming Li, Head of Alipay's digital solutions for the jewellery and luxury industry, said "As a leading digital open platform, Alipay has been providing tools and solutions for brands and merchants as they digitise their operations, including mini-programs, lifestyle accounts, and payment code marketing. Going forward, we are committed to continuously developing innovative solutions to support the evolving needs of our partners in the digital economy."