Key Takeaways
China's blind population numbers 17 million, but lacks products catering to them.
Haircare brand Rejoice breaks stereotypes by showing that blind people can lead happy lives too.
With the Chinese consumer becoming more socially conscious, brands are starting to become more inclusive as well.
---
It's not easy being a blind person anywhere, but perhaps even more so in China. In a country that counts 85 million disabled people as of 2018, 17 million of those are visually impaired.
What makes their life harder than most is that they are often met with daily hurdles that would be unthinkable for blind people in the West. Being denied access to a café because of their guide dog, or being asked at work whether one needs help typing are just some examples.
Chinese people's seemingly indifferent attitude to the needs of the disabled can also be attributed to their lack of representation in the media. Chinese beauty standards are also less inclusive than what we are accustomed to in the West, resulting in disabled people effectively leading their lives in the shadows.
But things are changing.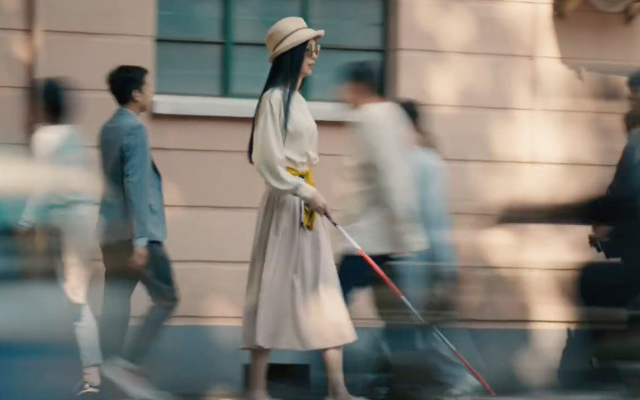 According to the Economist, in 2008, only around two-thirds of impaired children aged six to fourteen were enrolled in school. Last year, that percentage rose to 95%. A quarter of working-age Chinese who were classified as handicapped were employed in 2012. By 2018, the rate had more than doubled.
With this backdrop in mind, P&G's haircare brand Rejoice released a campaign tackling the stereotypes surrounding blind people in China, starting with a most insidious one: that disabled people are not beautiful.
"We want the world to see us"
Rejoice, one of China's most popular hair products brands, released an accessibility-themed ad in partnership with media outlet People.cn and the Guangdong Association for the Blind.
In the short film, four visually impaired women share their stories of how they interpret the world around them through their sense of touch. By drawing from their stories to redefine what beauty can be, Rejoice challenges the notion of beauty as a visual idea, and gives us a more inclusive definition. And not only that – we also see that disabled people can be happy, too.
One of the women featured in the ad sums this up perfectly: "We can't see the world, so let the world see how beautiful and happy we are."
Blind people also want to be seen as beautiful
The central message that Rejoice wants to drive home is that blind people have needs too. In fact, they are just like everyone else – and also want to feel beautiful.
Rejoice also challenged the preconception that because one is disabled, their life must be made up of misery after misery. Indeed, we do see that the women in the film face many more hurdles in daily life than most of us. But we are also shown that, in their world, things we find mundane can actually be very special – like the sound of people typing being likened to the pattering of raindrops.
Most significantly, Rejoice did not stop at the screen with this ad; it modified its products to put its message into action.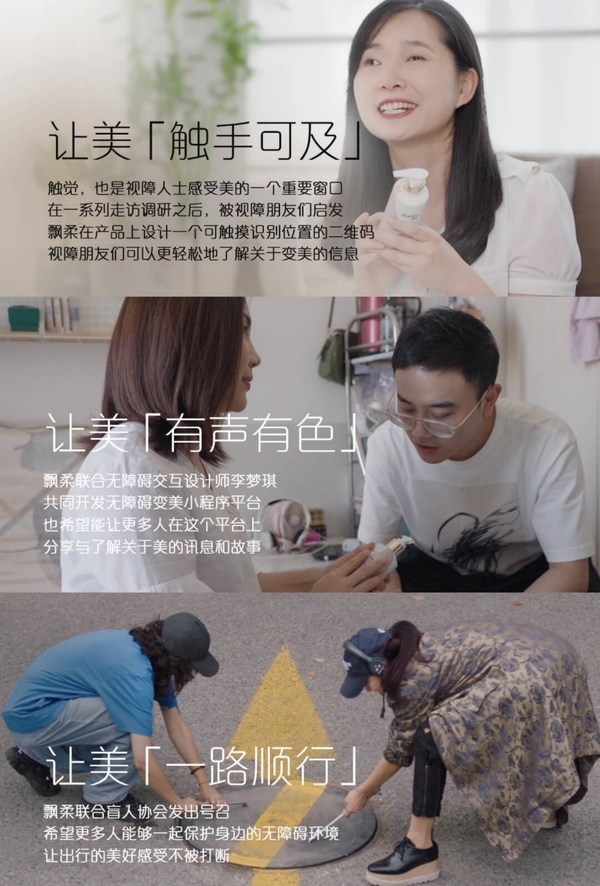 The four blind women in the commercial explain that among the numerous challenges they face, most items lack audio or braille instructions. Because they can't get an exact description, it's tough to buy exactly what they want. As a result, Rejoice launched the "Talking Shampoo and Conditioner," which allows customers to listen to an audio explanation of the product by scanning the QR code on the package.
Companies in China adopt a more inclusive approach
Blind people in China can often find themselves funnelled into jobs as masseurs or piano tuners. But recent advocacy for their rights has seen them take up other professions as well, such as voice artists for audiobooks (which we see in the video). And there have even been disabled beauty vloggers.
Furthermore, with the rise of feminism in China, companies that cater to women as their core customers have begun to adjust and reposition their brands. Rejoice's initiative not only helps the disabled but also sends a positive and inclusive message to women by defying beauty clichés.
And in a classic P&G way, they showed us that beauty can be found anywhere. One just has to look.
Read more: