Key Takeaways
MINISO teamed up with Barbie to release an exclusive range of hot pink accessories, stationery, and homeware.
A launch event was held at MINISO's flagship store in Changsha, which was given an interior and exterior Barbie makeover.
The campaign tapped into the Barbiecore trend sparked by the anticipation surrounding the release of Greta Gerwig's Barbie.
---
The lifestyle goods brand MINISO was one of few Chinese brands to launch an official collaboration with the Barbie IP ahead of the release of the Barbie on July 21.
MINISO is well-known for its adoration of IP (meaning franchises), with whole zones dedicated to beloved characters from popular animated franchises in the brand's flagship stores. As well as teaming up with Mattel to launch an exclusive range of hot pink Barbie-themed accessories and stationery, MINISO decked out its flagship store in Changsha to become a Barbie mecca.
More is more – pink maximalism
Customers who headed to the Changsha store were greeted by a giant Barbie magazine and a sparkling archway over the store's entrance – both of course in various shades of bright pink. The giant magazine was the designated photo opportunity zone, where visitors could create their own unique Barbie persona much like the "This Barbie…" selfie generator that swept the internet recently.
Shoppers could first take in the dazzling array of Barbie-themed items arranged on the display table immediately at the entrance of the store before heading up the hot pink staircase to the main Barbie IP zone on the second floor, where floor-to-ceiling magenta awaited them. Here the walls were lined with Barbie dolls alongside even more Barbie-themed items almost like a Barbie museum.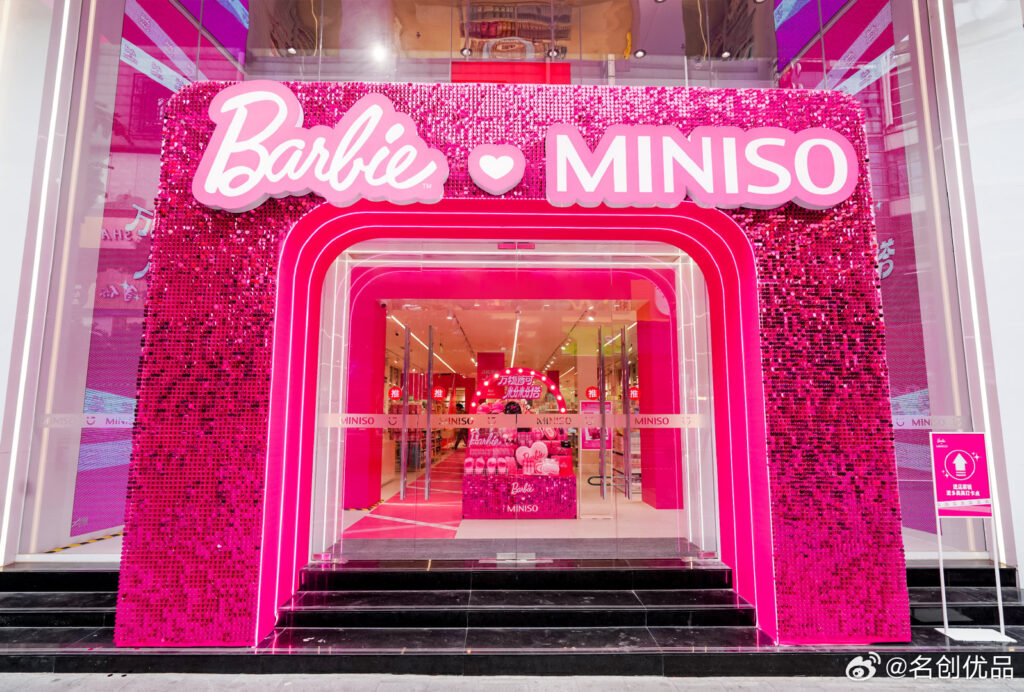 Slippers, baseball caps, water bottles, pompom pens, cushions, cat carriers, and more – the Barbie range at MINISO had everything to satisfy the aesthetic cravings of girly girls. A Weibo post from MINISO even showed pictures of two Barbie dolls sporting the very same clutch bag and cat carrier as seen in the exclusive range, creating the feeling of imaginative play being brought to life.
On top of that, the overwhelming amount of pink in the Changsha store created a joyful sensory overload and matched the sentiment of the recent Barbiecore fashion trend, which is all about standing out as much as possible as a form of radical self-acceptance.
A chance to celebrate being a girl
The campaign jumps off the recent popularity of Barbiecore among China's young female fashion bloggers, which has been brewing globally since casting announcements for the film were made last year. The tag "Barbie fashion party" has hit over 30 million views on Gen Z fashion bible Xiaohongshu. Barbiecore also collides with the rise of dopamine dressing, a China-specific social media phenomenon unique to China in which people dress in bright block colours to spark joy and express their mood.
Greta Gerwig's hit film paid homage to old Hollywood with a set design inspired by 1950s soundstage musicals and the choice of the 1975-1999 Barbie logo for the film's title. MINISO's campaign notably diverted from this choosing the present-day logo with its classic script typeface, which is also the same as the original design from 1959-1975.
By distancing itself from the film's distinctive aesthetic, MINISO could piggyback off its unprecedented hype and inclusive vision, while shying away from more complex themes of patriarchy, existential crises, and mother-daughter relationships. Instead, the campaign felt like a pure celebration of girlhood. The taglines "fashion fun" and "fashionable you" encourage an unabashed consumer-driven hyper-femininity that often comes loaded with societal baggage.
Some in China have dubbed Barbie-esque hot pink "dead pink" as they believe it makes their skin tone appear darker – a trait widely felt to be undesirable among East Asian women across the generations. Despite this, the hashtag "Come to MINISO to fulfil your Barbie dream" garnered 260 million views on Weibo, and one fashion blogger with over 5 million followers described herself as a former "cool girl" who had been won over by the trend as it "awakened the girly girl inside".
Another blogger hit back at the "dead pink" label saying ''when pink is put to good use, not only is it not 'dead', but it's trendy!". As MINISO's collaboration clearly shows, there is something irresistibly fun about embracing Barbie, even for chic Gen Z Chinese women.