Key Takeaways
The tech giants seem to have already reached their maximum GMV increase as this year's sales appear to have gone stagnant, with the big two, Tmall and JD, reaching sales of 540.3 billion RMB ($84.6 billion) and 349.1 billion RMB ($54.6 billion) respectively.
With the strengthened supervision and the continued promulgation of the Common Prosperity policy, platforms hosting Double 11 this year are becoming greener and more responsible to build a much more trustworthy image.
For the next 3 to 5 years, Double 11 will stay as an essential shopping festival in China. However, the festival will transform to focus on the discovery of new products, and strengthening brands and consumer connections. The platforms' ability to give back to society and consumers have become increasingly important.
---
Every year, tech giants would examine their own business model during the Double 11 Shopping Festival. They seem to perform well on GMV, steadily increasing for the last 13 years. But the growth rate of Tmalls' GMV 8.45% stayed in single digits for the first time in 2021 after four consecutive years of double-digit growth. This year, Alibaba's 13-year-old child, its Double 11 Festival, has grown up to the next stage where the increase of key targets like discounts and GMV no longer holds priority, instead, focusing more on how the child can give back to society.
With the business environment changing, what did tech giants do to adjust to the change? Is this year the turning point for Double 11?
Platforms are taking up more social responsibilities
This year is certainly a turning point from a social responsibility perspective. All major platforms have unanimously decided to spend much of their focus on social responsibility, minor consumer groups, and making Double 11 more sustainable.
Taobao launched the "Elder Model" scheme and the "Double 11 Elders Venue" event specially developed for the elderly which attracted 1.1 million silver-haired users per day. Elderly people were considered as a low consumption group, but statistics show that the sales volume of online shopping for elderly users this year increased by 4.8 times year on year.
Elderly people are more likely to spend more and it is predicted that by the end of this year the scale of the silver-hair economic market will reach 5.9 trillion RMB ($925.3 billion).
This year, JD has been trying to use recycled packing materials to reduce environmental pressure. It is said that each package could save an average of 210 grams of packaging materials, 11 grams of disposable plastic, and 25 cm of tape. The large number of packaging boxes was always considered a huge waste, it was more pragmatic to recycle packaging materials on the road to increase sustainability. Green consumption might go from being a trend to being mainstream.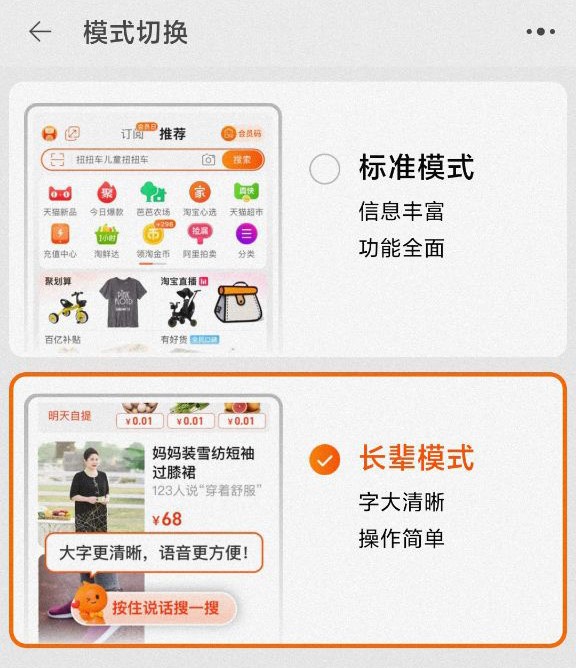 This year's Double 11 has successfully adapted to the changing environment and opened up a new stage. Previous Double 11 festivals used to focus on just numbers, whereas this year's Double 11 has heeded the national call of energy conservation and carbon neutrality goals.
It is no doubt that one of the reasons why platforms are taking on more social responsibilities is because of the tightening regulations. The continuing regulations for anti-monopoly on tech giants have made all players associated with Double 11 behave very cautiously. Previous rules for merchants to sell exclusively on their platform have been removed this year with brands and merchants now free to sell on any of the platforms. This is a huge move for brands as this can expand their sales channel and develop a multi-platform marketing strategy with reference to their brand feature and positioning.
Expanding marketing scenarios in the era of radical digitalisation
Other than the external environment change, what sounds the alarm for platforms is the ever-changing taste and preferences of consumers, which was also what made this year a turning point for Double 11.
As Gen Z comes to the forefront of society, the platform has to adapt to its considerable spending power. Having grown up with continuous digitalisation, Gen Z is tightly combined with the virtual world and even had a new business concept derived called the "metaverse economy". The concept of metaverse has rapidly entered people's vision this year and has been widely discussed, becoming a super hot topic for businesses.
This year's Double 11 has turned to embrace and try out this concept.
This series of new marketing attempts coincides with the current young people's pursuit of individuality and self-expression. Although the metaverse concept at this stage is more of imagination of the future, statistic shows that the scale of China's virtual idol core industry was 3.46 billion RMB ($542.6 million) in 2020, an increase of 70.3% year on year, and is expected to reach 6.22 billion RMB ($975.5 million) in 2021.
The continuous innovative ability that Tmall has successfully shown also conveys its ambition of winning the young generation and increasing user retention by offering a new consumption experience endowed by technology.
With a strong logistics system and low turnover days, JD.com has achieved good results in offline sales this year. JD achieved a turnover of 160 million RMB ($25.1 million) and a passenger flow of 250,000 in the offline self-operated stores within the first four hours of its opening. Suning, through intensive publicity and direct discount strategies, increased the number of visits to the store by 122% year on year.
We can see that e-commerce giants are successfully taking full advantage of their offline stores to directly contact consumers, accelerating the pace of online and offline integration and expanding the significance of Double 11 through promotion, attracting new customers, and increasing interactions. This year, the Intime Department Store has launched a WeChat Mini Program and provided counter-free shipping services. From October 20 to November 10, the volume of express orders increased by 44% year on year.
Social sharing has become a new strategy
As Alibaba introduced a 20-day recommendation period prior to the Double 11 Shopping Festival this year, consumers now have a longer decision period, bringing social sharing features to the table.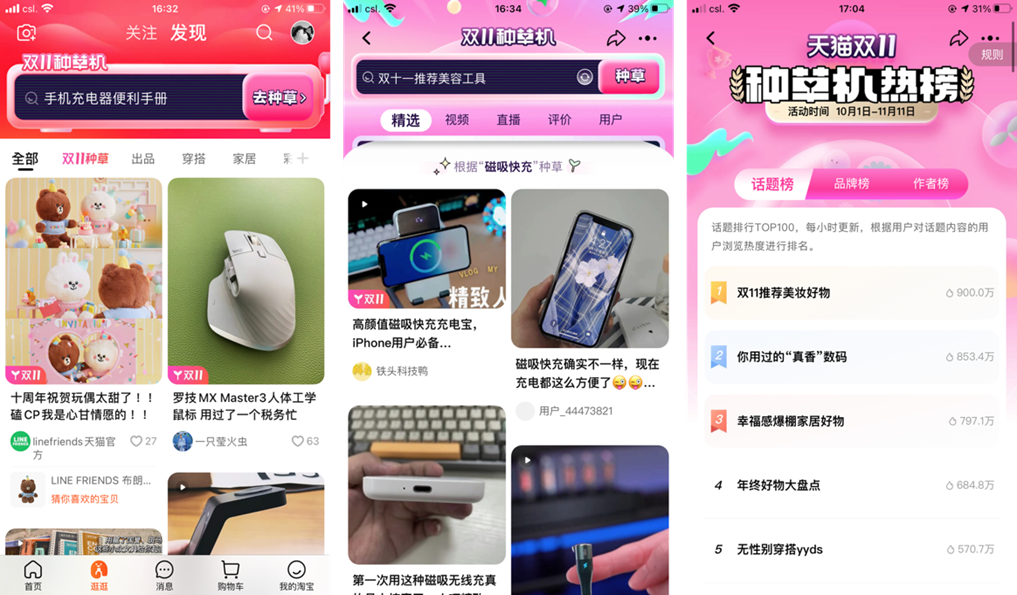 The Recommendation Machine that Taobao and Tmall launched this year has helped consumers easily find the products they wanted by searching up certain keywords and then further filtering the content format through short videos, live streams, and user feedback.
JD has also upgraded its content platform "Guang" with the theme, "Discovering Treasure" and the slogan, "Everyone is a discoverer. Everyone is a product ambassador."
Sharing on social media provides an opportunity for brands to test out whether their products are or will be popular among consumers, this is especially true for when they are about to launch new products. It also provides a better content consumption experience for consumers and helps further improve sales and user stickiness.
Trust crisis may emerge as consumers become more rational
After more than ten years of Double 11, consumers have become more rational. A survey of this year's "Double 11" from Southern Metropolis Weekly shows that 50.72% of consumers reported they have encountered false quotations when it comes to products purchased. Complex promotional methods and better alternative shopping festivals like 618 and Double 12 have also reduced the attractiveness of Double 11 to consumers.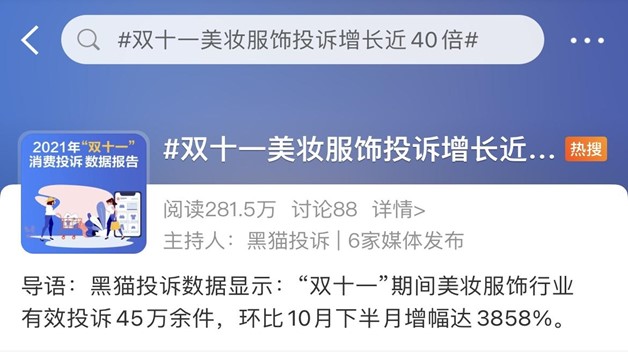 The duration of the Double 11 Shopping Festival was further stretched to 20 days this year and the sales volume increased significantly. But the data lacked horizontal and vertical comparability. The 7-day no-reason return and promotion policy allow customers enough time to recover rationally and return these products bought on impulse. Because of this, the GMV is unable to reflect the true sales of Double 11 to a certain extent. Some merchants said that the return rate of certain categories of goods on some platforms, such as clothing, could reach a maximum of 60% from Double 11 purchases.
As for now, the platforms seem to succeed in reconciling this contradiction and constantly trying to find a balance between user experience and platform revenue and gaming between consumers and brands.
What would Double 11 be like in the future
This year's Double 11 has been unique in showing new expectations of the future development of tech giants. The trend for big sales and overconsumption has passed and Double 11 is turning into a new stage where platforms are beginning to work hard to serve businesses and improve quality.
Since Double 11 now lasts for nearly a month, it has become the most concentrated time of the year for consumers to get personalised recommendations for niche and exciting products. Both platforms and brands should pay attention to how to effectively leverage this festival especially with the ever-changing technology, regulations, and consumer behaviour, all of which are able to reshape the industry.
With e-commerce giants focusing on attracting more and serving existing merchants in the future, they should prioritise providing an ecosystem that is able to empower brands through innovative marketing methods first. The future of Double 11 will revolve around launching new products, discovering new products, and building up a brand image. The content ecosystem is more efficient as it creates the shortest consumer journey from being recommended to finishing the purchase.
Additional research by Joanna Wang
Read more: