Key takeaways:
From 19 to 21 May, Hermès installed branded newsstands at Sky Mountain, the second coastal pavilion in the Haikou Bay area which opened in March.
Le Monde d' Hermès, the brand's own biannual magazine, was at the heart of the three-day time-limited event.
The public reading journey was coupled with a panel discussion involving artists and creative individuals from a wide range of industries.
---
The French luxury label Hermès occupied the centre of Sky Mountain, a new landmark in the Haikou Bay area, with branded newsstands between 19 to 21 May, leveraging the romantic festivities of '520', or 20 May, a Chinese internet 'Valentine's Day' where the pronunciation of the date is a homophone of "I love you" in Chinese.
An "imaginative" reading journey
Inspired by iconic Parisian newspaper kiosks, the Hermès pop-up embarked on its journey in Prague in the fall of 2021. It then travelled to Barcelona in April 2022, Singapore in May, and Nuremberg and Rotterdam in June. Prior to its arrival in Haikou, the Hermès pop-up kiosk also visited Tokyo, San Francisco, London, Hong Kong, Chengdu, Dubai, Toronto, and Kuwait, and returned to Barcelona in the second year. Its landing in Haikou marks the brand's second visit to mainland China following its presence in Chengdu Taikoo Li last year.
Adorned with the classic Hermès orange as its primary colour, the venue blended modernity with tropical vibes while Le Monde d' Hermès, the brand's own biannual magazine, was at the heart of the three-day time-limited event. The public was invited on a reading journey to explore the brand's "bold innovation, creative freedom, and imaginative ideas" that were presented in Hermès magazine.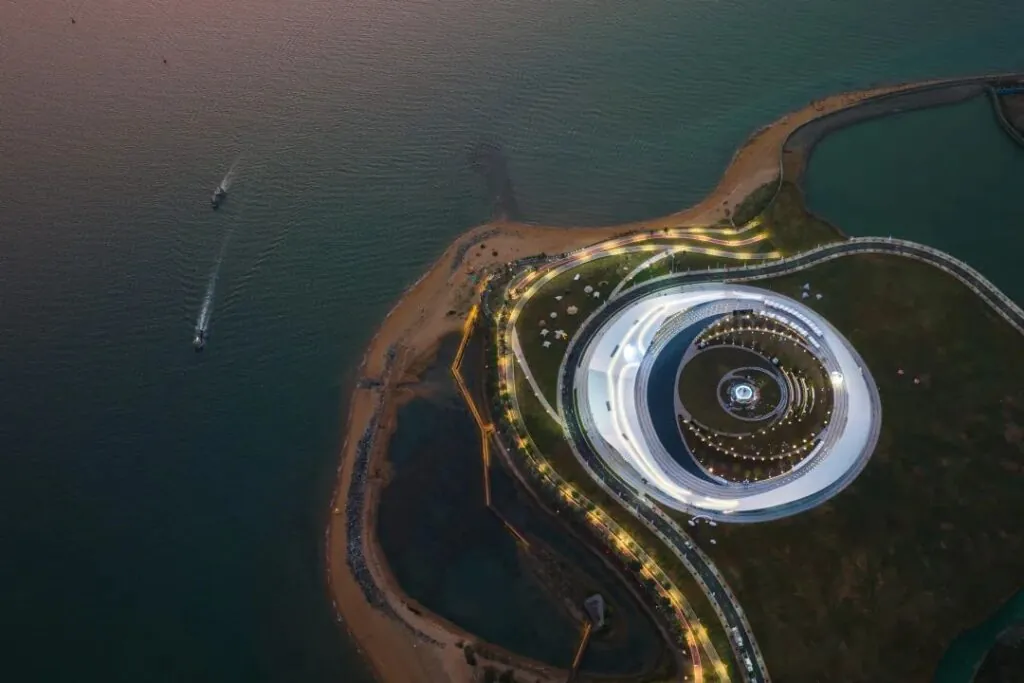 By giving insight into the world of Hermès, which was characterised by a diverse range of the brand's makings, it provided an opportunity for consumers to learn about its history while allowing a more effective way to deliver brand value, therefore, strengthening its relationship with their target audience.
Meanwhile, on-site activities including DJ performances and creative workshops such as origami folding and drawing were also introduced to engage visitors, in an attempt to unleash public imagination while giving a nod to the event tagline, "Sky is the Limit".
Exploring Hermès' source of inspiration
The offline pop-up was accompanied by a series of discussions, which was in collaboration with Juanzong Bookstore, a bookshop that boasts about its architectural aesthetics. The panel session saw a speaker line-up including Oliver Wicker, editor for Le Monde d'Hermès magazine, and Cao Weiming, Hermès' president for Greater China as well as various artists, creators, and creative individuals from the fashion, media, and film industries, who shared their insights and experiences in the realm of creation.
The themed conversations discussed "The beauty of surprises in life" and "How does a sense of being surprised bring inspiration to artistic creativity". While the fusion of ideas sparked new energy in the realms of fashion and artistic living, an interactive activity such as this further spread the brand's voice in pursuit of continuous innovation.
It is understood that the magazine's Spring/Summer 2023 edition introduced augmented reality (AR) technology for the first time, presenting a new series and creative inspirations from Hermès' 16 major product categories. Additionally, digital animations injected youthful energy into the print, enabling readers to transcend the boundaries of reality and imagination, and experience the joy of exploring the world of the brand. The public could also discover hidden surprises within the magazine through the "Hermès World" mini program on WeChat, which meant capitalising on digital advancements to help deepen its penetration of China's social media savvy consumers.