It's 10 pm on a Sunday evening and after coming home from a friend's gathering, Zhao routinely checks in on an online self-study mobile app. There are several others like this that Zhao played around with before deciding to stick to this one, which is called CoStudy, where the 21-year-old postgraduate candidate (or 考研党 in Chinese) has spent at least 3 hours per day over the past several months in preparation for her exams.
Inside the virtual study space
The app is set in an animated world, where the homepage recreates a virtual campus in a cartoon style with several teaching buildings in different designs such as European or traditional Chinese. On top of the page, a notice board held up by an avatar shows another 4,381 users have already entered the virtual study space.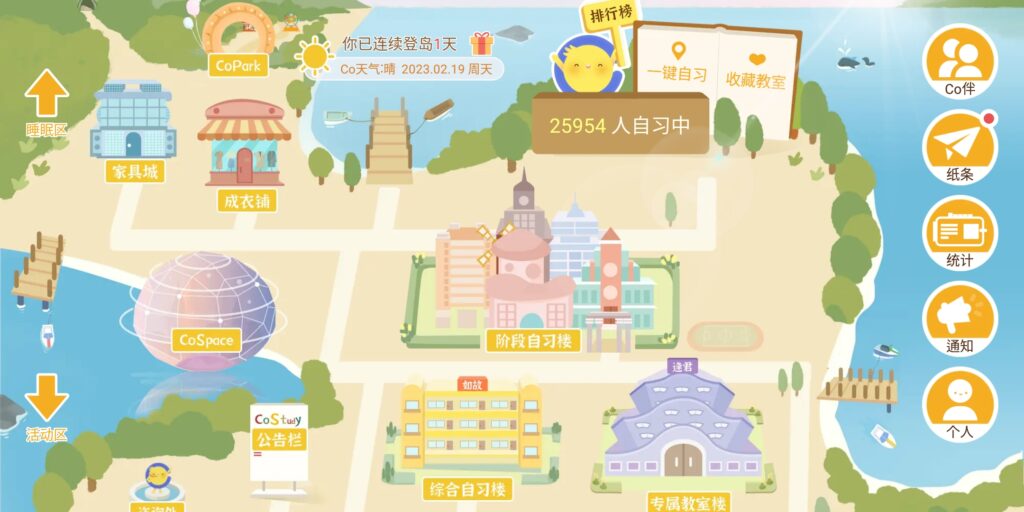 A globe-shaped installation known as CoSpace sits right next to the teaching buildings, which is a virtual space for institutions. Qingbei Daoyuan, an online education service provider, is by far the only institution tenant, offering learning materials for middle and high school students. Pre-recorded teaching videos are also available at a digestible length between 3 and 20 minutes, which can be watched at one's own pace. 
In the other two sections, imaginative facilities for entertainment and lifestyle have been built to give users a place to wind down during their study break, which includes a convenience store, communal and customised accommodation, a Culture Palace, and a market where users can shop anything from digital clothing and accessories to home furniture. Just a stone's throw away, there is an open-air space for some after studying.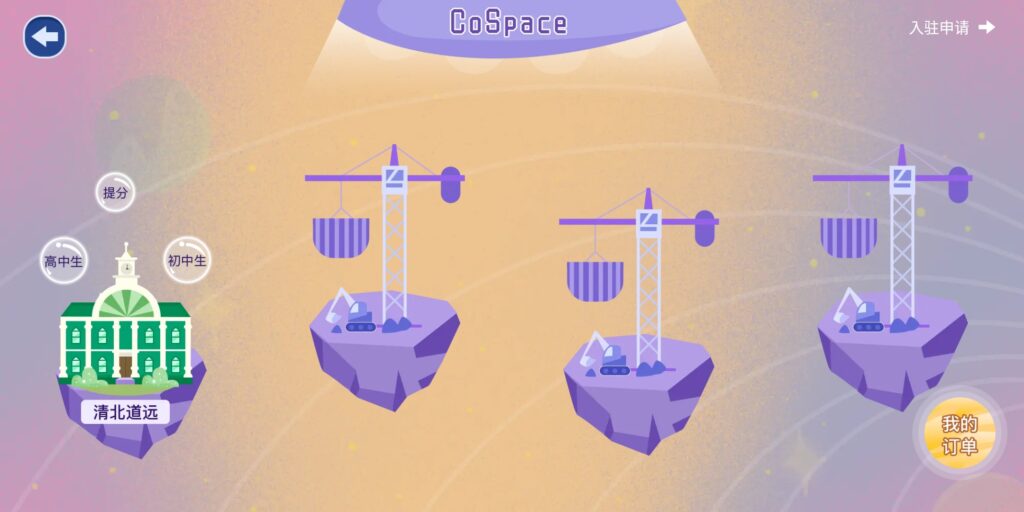 Zhao's fictional avatar enters an ordinary study room rather than an exclusive one, which is a themed space. She has been low on funds after purchasing an outfit for her avatar and used almost all of her savings – coins which are awarded for each successful completion of a self-study session. The higher the focus mode level one chooses and the longer it lasts, the more coins one will earn. Zhao then settles into a seat and sets an hour of "Focus Time" for herself to do some reading. In the same virtual study room, there have already been over 60 users, and another 50 in the online classroom next door with "Focus Times" ranging from 1 to 2 hours for activities, including revision, homework, and reviewing lectures.
"I like the atmosphere there," said Zhao in an interview with Dao Insights, "seeing others focus on their study and not checking phones motivates me and helps me to control myself, and not be distracted by social media."
Tapping into the digital transformation
As a digital extension of traditional self-study rooms, the online provision has been thriving in China in the past couple of years. Chinese Gen Zers are no strangers to the concept of self-study rooms, which were initially a campus invention with classrooms serving its purpose when there were no lectures.
However, with the competition escalating for some of China's most-registered exams such as the Postgraduate Admission Test, Civil Servant Entrance Examination and other qualification exams, on-campus facilities no longer fulfill the demands. This has resulted in private businesses springing up to offer alternatives, which have been highly sought after by high school and university students, as well as early-career workers and entrepreneurs who seek self-development.
It was reported that approximately 1,000 paid study rooms were set up across the country in 2019 with cities including Beijing, Shanghai, Shenyang, and Xi'an housing most of these study lounges, as per the state media People's Daily. And this service continued to gain steam in the following year with online searches for shared study rooms recording a 10-fold surge year-on-year in 2020, according to Meituan, a Chinese service-focused e-commerce platform.
Such facilities are believed to have further expanded its footprint even during the pandemic. Liu Kangcan, founder of Studying Together Space, a startup based in Shanghai estimated that China had a total of 15,000 paid study rooms nationwide according to an interview with another state media, China Daily in April 2021.
The popularity of physical study rooms shows no signs of slowing down; the enthusiasm has simply spread to the digital space. In addition to emerging mobile apps, those jumping on the phenomenon also include tech giants Tencent and Zoom, introducing "Cloud Self-Study", while major Chinese social media including YouTube like video streaming platform Bilibili, Chinese TikTok Douyin and lifestyle-sharing platform Xiaohongshu have been swift to follow suit. It was understood that during the past winter holiday, some online self-study rooms drew in over 1,000 attendees at one time, as reported by the Chinese media outlet Banyuetan.
A community for motivation
The occurrence is partly driven by those examinees who are tired of hunting for and reserving seats at traditional study rooms and have instead found refuge online, and for Zhao, there's more that has drawn her into the virtual substitute.
"It saves me effort in commuting as sometimes the study room can be far from where I live. Also, those facilities normally have scheduled opening times, which means it's less flexible for me. This is on top of all the other worries including disturbance from others, such as those going on a break and vice versa."
The social media-savvy Gen Zer has experimented with almost all similar mobile apps that are currently available and shared her verdict of each product. "In general, there are two types of online self-study room apps, one is animated like the one I use. The ambiance is virtualised and looks like a game, which could easily become addictive. Adding to the drawback is the use of a digital avatar, which requires high self-discipline as nobody would know if you were actually studying behind the screen."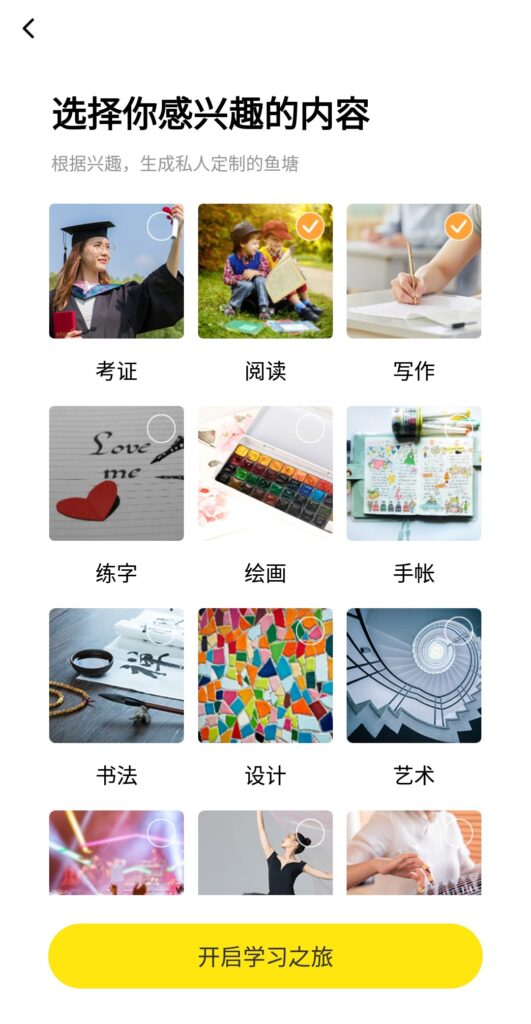 "Another type is closer to real life, such as Fan Yu (番鱼)," Zhao continued, "the layout is clean with features including daily check-ins, timed study, and online study streaming where you can choose to turn on your camera. Most users turn their camera to the desk to include books in the frame, enhancing the sense of studying. This allows for mutual supervision, which could be helpful too."
It is not only the academic environment that appeals to Zhao but the sense of community that she has found through this online practice, which contributes to this endorsement. "This is where I can go to make friends and socialise by discussing questions together, or simply by sharing our study progress and encouraging each other," Zhao told Dao Insights, "study can be dull so it's always good to have some company."