Following yesterday's news that netizens called for a boycott of H&M after its statement on Xinjiang was uncovered, a considerable number of Western brands have been in the firing line. More and more brands are finding that their previous decisions not to use Xinjiang cotton have been unearthed and are facing consequences from Chinese netizens.
Currently, over 40 famous Chinese celebrities have terminated contracts with global brands including H&M, Nike, PUMA, Converse, Calvin Klein, Adidas, Tommy Hilfiger, Uniqlo, New Balance, and Burberry. In statements, they criticised these companies and expressed opposition to "acts which smear China". In the immediate aftermath, several figures announced that they had already taken up contracts with Chinese brands in similar industries. Chinese superstar Wang Yibo almost simultaneously announced the termination of his contract with Nike and his new role with Chinese sports brand Erke. The celebrities who have terminated their roles are listed below:
Yang Mi, Dilraba Dilmurat, Eason Chan, Liu Yifei, Jackson Yee, Jackson Wang, Angelababy, Eddie Peng, Deng Lun (Adidas)
Zhang Yixing (Calvin Klein and Converse)
Li Xian, Yang Yang, Liu Haoran, Liu Wen (PUMA)
Wang Yibo (Nike)
William Chan (Tommy Hilfiger)
Ouyang Nana (Converse)
Song Qian, Huang Xuan (H&M)
Zhou Dongyu, Honor of Kings (Burberry)
Jing Boran, Ni Ni (Uniqlo)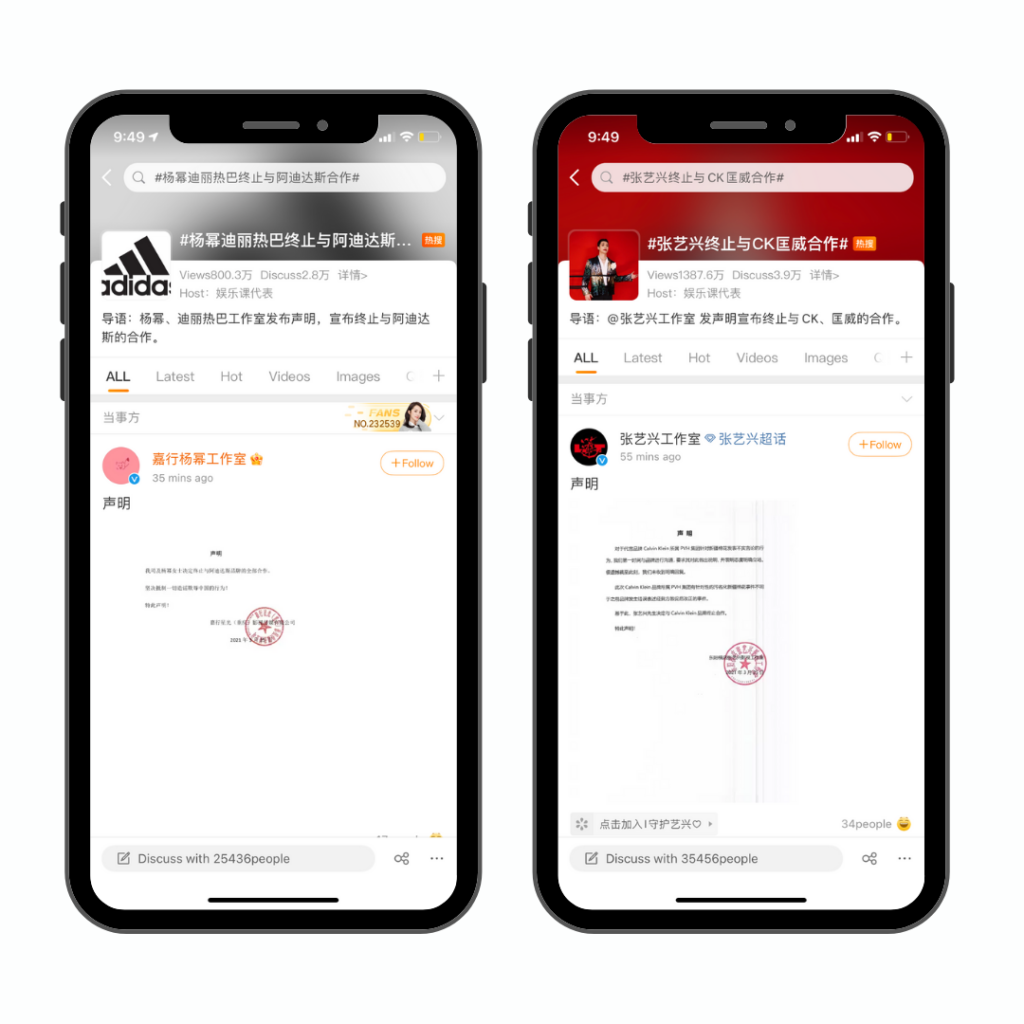 The event has also resulted in the termination of partnerships between brands. Gaming business Honor of Kings broke off its contract with Burberry, while League of Legends Pro League ended its esports partnership with Nike.
Apart from H&M, no other brand has yet issued a statement in response to the situation. However, netizens were not satisfied with the response from H&M and continued to call for a boycott against the brand's goods.
"We do not represent any political position. H&M Group respects Chinese consumers as always. We are committed to long-term investment and development in China. "

H&M's statement in Chinese
This storm has triggered a spending spree of consumer nationalism as online users expressed outrage at the brands involved in the social media blow-up. One Xiaohongshu user even posted a video of him setting a pair of Nike trainers on fire, while others have sought to remove logos of the brands involved from pictures online. Consumers have been quick to show their loyalty to domestic brands that are sure to benefit from the ongoings. Consumers have shared their purchases from domestic sports brands, such as Li-Ning, Anta, and Erke, on social media.
People's Daily released a long list of Chinese brands that have confirmed that they use cotton from Xinjiang. Several non-Chinese companies have also been quick to show their support for Xinjiang cotton so as not to lose the favour of Chinese consumers. Japanese homeware retailer MUJI released a statement on e-commerce marketplace Taobao that they still use Xinjiang cotton.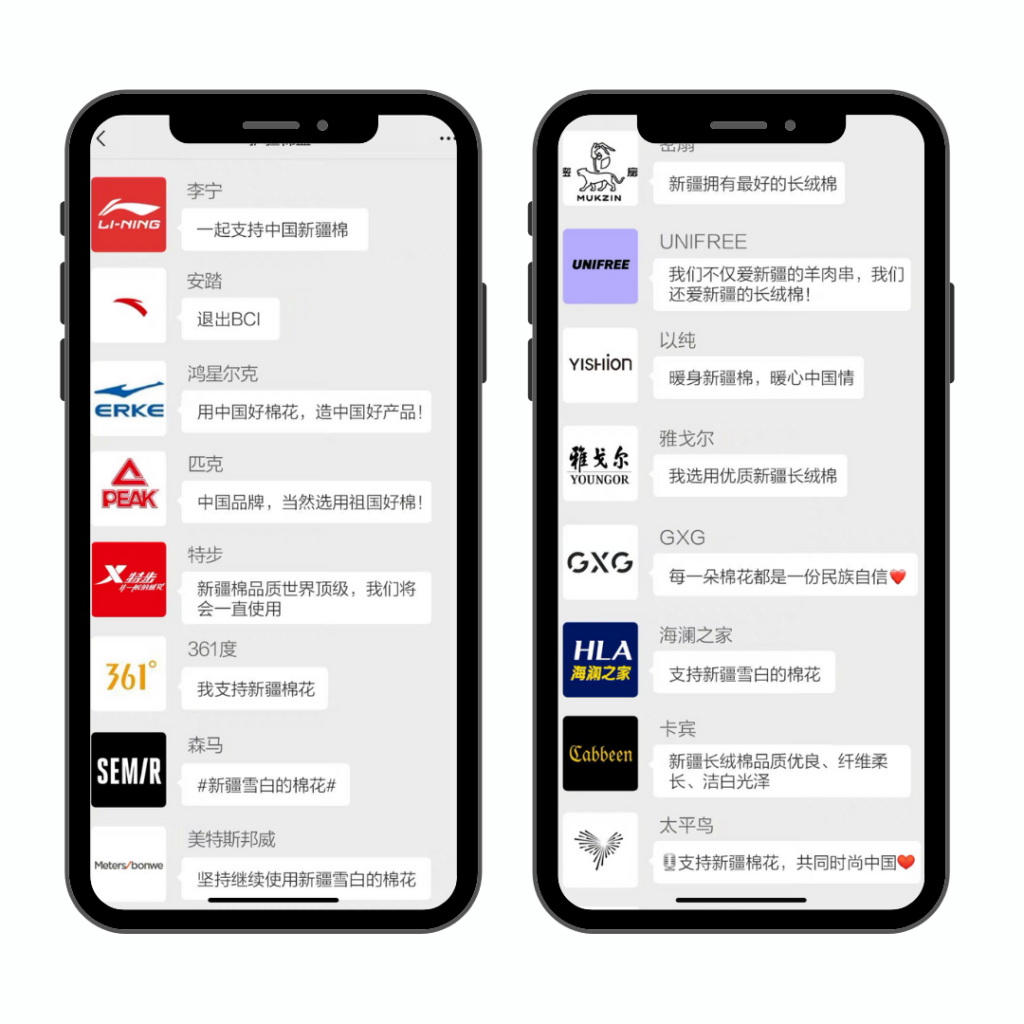 Read more:
Join our newsletter