The Chinese lifestyle goods store MINISO is taking its global expansion to the next level with a flagship store in New York City's Times Square.
MINISO Times Square opened on May 19 welcoming in throngs of Gen Zers, many of whom were overseas Chinese familiar with the beloved brand. The store boasts 400 square metres and 10 distinct product zones covering all the MINISO classics, including blind box collectibles, plushies, snacks, electronics, and stationery.
Blind box collectibles have been one of MINISO's most successful product categories in recent years, with the hashtag "MINISO blind box" currently standing at almost 100 million views on trend hub Xiaohongshu.
Another major cash cow for the brand is its IP (intellectual property) ranges, which feature characters from successful animated franchises on miscellaneous cute household items. The new Times Square outlet is stuffed with IP zones featuring these products, with themed items for fans of Toy Story, Frozen, Care Bear, Hello Kitty and more all up for grabs.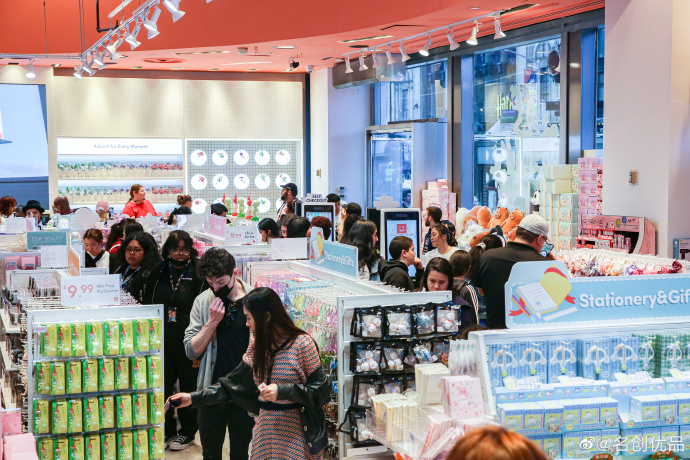 MINISO CEO Ye Guofu has big ambitions for the brand, telling the South China Morning Post he wants MINISO to rival Nike in its ability to capture current trends and become an essential part of the consumer zeitgeist.
"In the future, every consumer in the world will use MINISO's products like they turn to Nike for clothes and sneakers, Starbucks for coffee and Coke for drinks.", Guo said. Of MINISO's 5,500 stores, 2,100 are outside of mainland China and Guo plans to open more 200 square metre "mega stores" in the future.
Whilst MINISO has seen success overseas so far, this is in large part due to the presence of many young Chinese overseas and the brand is still far from being a household name in the West.
Join our newsletter