China's sportswear label Li-Ning unveiled a trendy product release on 12 April in Oasis World, a 3D-immersive virtual realm installed in the video game Peacekeeper Elite. Officially launched on 29 March, Oasis World claims to be "an integrated digital experiential space that combines digital twins, social interaction, casual gameplay and brand collaboration."
The move, therefore, marks Li-Ning as the first brand to land in the new space of one of the most sought-after video games. Staged in the section known as The Centre of Future, one of the two experience scenarios built in Unbelievable Park, which is a commercial area in the digital space, the virtual event is set to run from 12 April to 10 May, between 8 and 9 PM local time, showcasing 12 sets of Li-Ning's 2023 Spring/Summer collection. 
The fashion pieces will be displayed by virtual models, recreating a hyper-realistic show space, thanks to Oasis World's technological advances including projection technology and virtual reality. The runway show is to be flavoured by stage performances such as street dancing, further fanning the digital enthusiasm while giving a nod to the trendiness that the featured products intend to exhibit.
Leveraging the gaming ecosystem, the two partners initiated a Parkour Charging Activity with one of Li-Ning's hero products Yunyou C4D as another protagonist, which was presented by Gilly, Peacekeeper Elite's own virtual influencer and serves as a core aspect that connects players' experiences.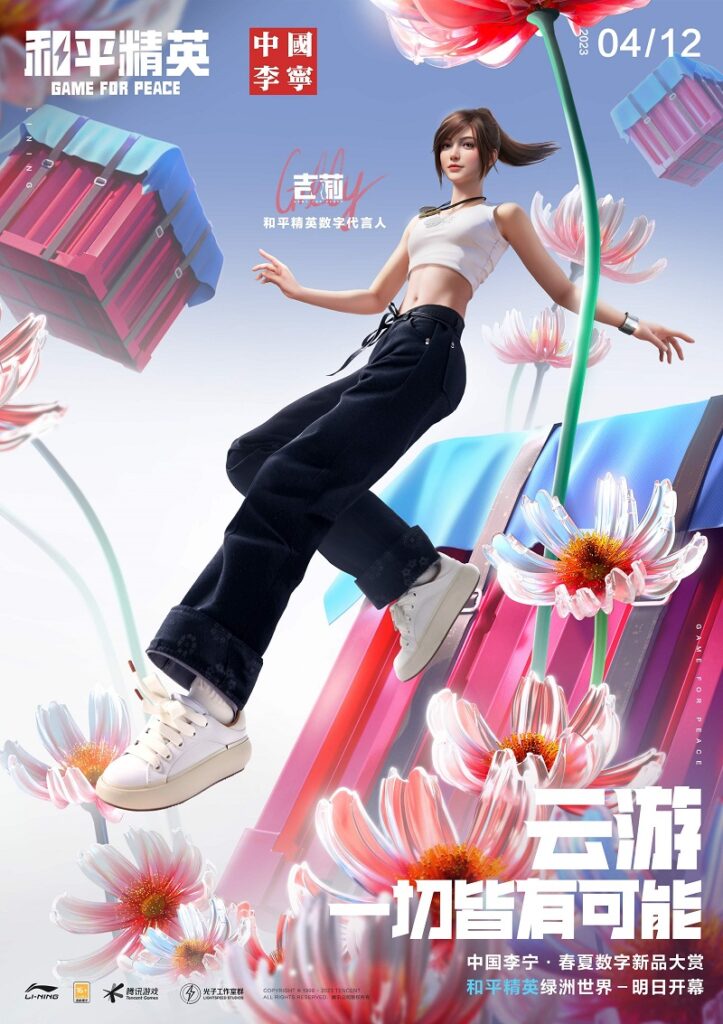 Gamers can participate in the Parkour Charging Activity on a daily basis, where they are guided to certain routes and check-in points in order to "charge" their Yunyou C4D shoes. Users who complete the running mission will see the status of the shoes updated and then be able to exchange for treasure boxes, win game coins and other exclusive benefits offered by Li-Ning.
With players rushing to check out the new space, it propelled the hashtag "First fashion product release in Peace Oasis World" to garner over 22 million views on China's biggest microblogging site Weibo within 24 hours, and another tens of thousands of reads on Xiaohongshu with users sharing clips of themselves doing daily check-ins and other in-game activities on the lifestyle-sharing platform.
The latest collaboration has shown that the new digital space bears great potential in enabling brands to tap into the Web3 sensation and further connect with China's young demographics. It also demonstrates how video games are a powerful marketing tool, and that gamification acts as a crucial medium between brands and their target consumers.
Join our newsletter