In celebration of the Lunar New Year of the Rabbit, American beauty label Elizabeth Arden has teamed up with the loveable rabbit character Miffy, jointly rolling out a pop-up event in Hainan to greet customers with good wishes until 28 February. During this time, a limited edition Miffy collaboration tote bag and cosmetics pouch will be offered as a gift with purchases.
The interactive pop-up focuses on Elizabeth Arden's iconic range of Ceramide serum capsules with each targeting a different set of skincare concerns, as well as functions including strengthening, nourishing, smoothing, plumping and brightening. An interactive digital e-book powered by a motion sensor will also be provided at the event to assist customers in learning all about the Ceramide serum and to find the most suitable one for individual use.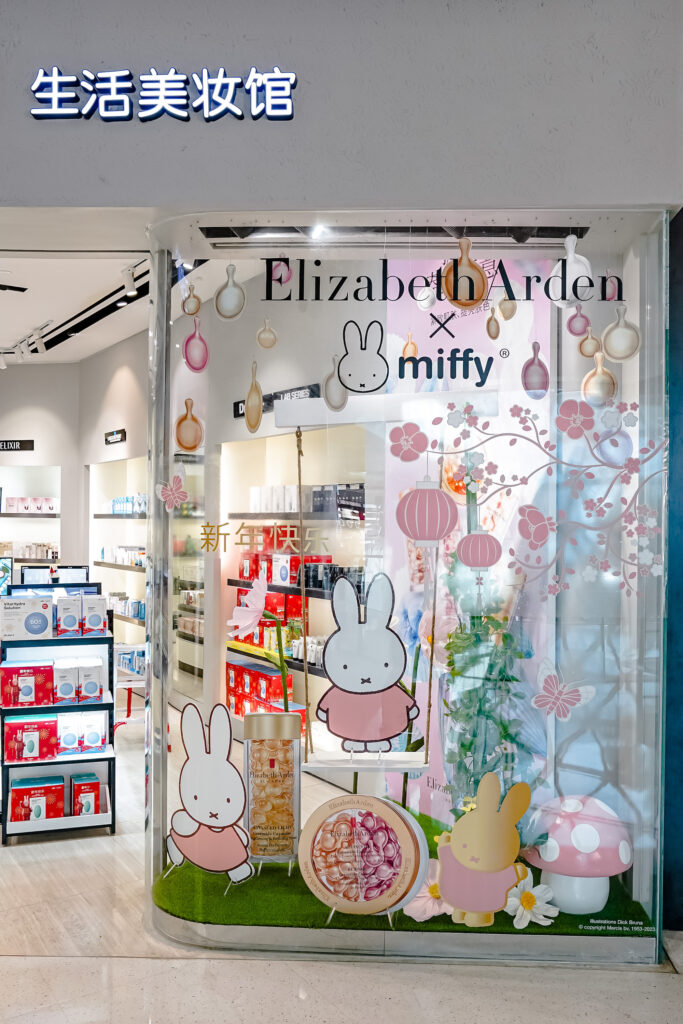 The highlight of the event comes in the form of an enchanting capsule house, with an adorable Miffy display sitting inside, next to a gold wishing tree decorated with Elizabeth Arden capsules. Consumers are encouraged to embrace the opportunity to enter, to hang their new year wishes as well as 2023 skincare resolutions on the wishing tree, while a camera will be on hand to document these memories.
An immersive shopping experience with further joyous discoveries for travellers to dive into has been prepared at the brand's boutique shop which sits on the second floor of Sanya International Duty-Free Shopping Complex. For example, snapping pictures with a holographic dancing Miffy at the entrance, a photo-taking corner within the shop, the interactive e-book on Ceramide capsules as well as promotions being offered throughout.
According to a document shared with Dao Insights, General Manager of Elizabeth Arden Asia Pacific Travel Retail, Yumie Chia, commented on the reason behind this partnership, "Miffy has a longstanding history since its first picture book in 1955, just like Elizabeth Arden's rich heritage. Both our brands have withstood time and demonstrated strength, as well as continuously aiming to excite our increasing fanbase."
In a similar response, a spokesperson who manages the licensing copyright for Miffy said, "We are delighted to work together with Elizabeth Arden on this beautiful promotion and hope these beautiful designs will put a smile on every consumer's face."
By collaborating with the appealing rabbit image of Miffy, Elizabeth Arden is able to capture a larger market amongst different age groups as it's a character which is widely used in stationary in China and is favoured by both adults and kids.
Not to mention part of the experience is to encourage users to write down their skincare wishes, which means not only leveraging consumer sensation with the brand's culture but also enable the American beauty label to get to know the ongoing market needs. With Spring Festival on the horizon, Hainan, is already set to be a hot travel destination and will soon see an influx of tourists, therefore, the collaboration between Elizabeth Arden and Miffy has a high chance of endearing travellers during this holiday break.
Join our newsletter