As the Hangzhou Asian Games heads into its final few days, China is enjoying a much-needed boost to the national mood following a summer of sluggish economic growth. As expected, China is currently dominating the international multi-sport event with 155 gold medals and 273 medals overall, well ahead of Japan's 33 gold and 124 total medals in second place.
While many are tuning into their favourite sporting disciplines on television or the video-sharing platform Douyin, AI developers are coming up with new ways for consumers to immerse themselves in the national celebration.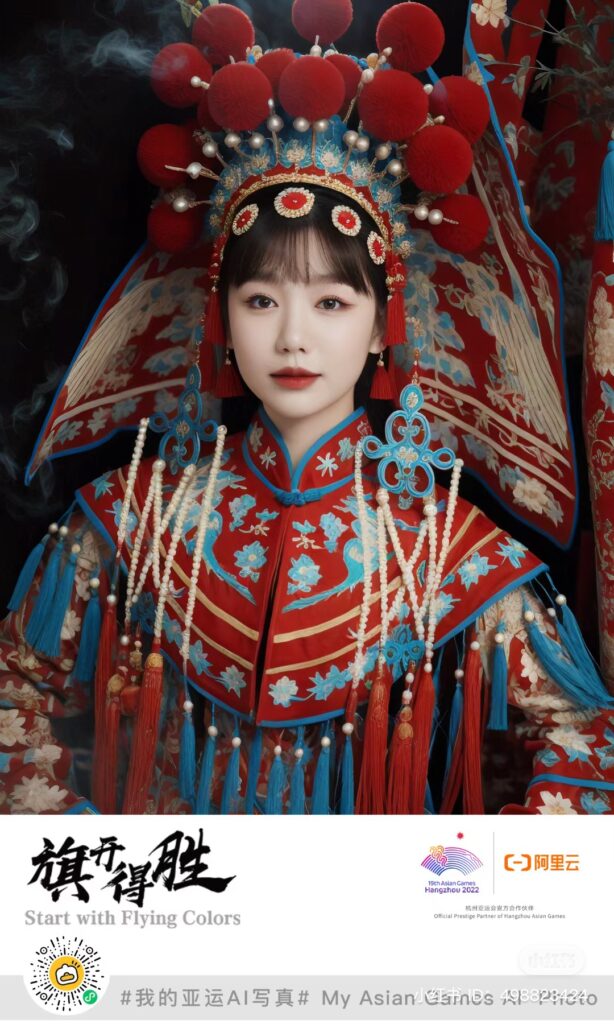 An AI applet called Miaoya Camera has released a new feature called "Moment of Glory" for the occasion, which generates a personalised Asian Games medal winner portrait from users' photos. The new pack also includes Beijing opera and Mulan portrait themes.
The AI-generated portraits have become so popular that netizens are joking that the Moments feed on the messaging app WeChat, where people share pictures, musings, and life updates with friends, is now almost exclusively full of Asian Games AI portraits.
On the Twitter-like platform Weibo, the topic "WeChat Moments flooded with Asian Games AI portraits" has clocked up over 13 million views while on the lifestyle sharing app Xiaohongshu, the equivalent hashtag has 1.4 million views.
The top post under the hashtag on Xiaohongshu was from model and actor Huang Xiyan, whose own version of the champion portrait garnered 7914 likes and 1200 comments (as of October 3). The AI-generated photo was so realistic that some of Huang's fans took to the comments section to ask what the star had won a medal for, with frisbee and tai chi among the guesses. 
Miaoya Camera was China's first popular AI app, having been released in July weeks ahead of when the first batch of homegrown ChatGPT rivals were green-lit for mass market release. The product was reportedly incubated by Alibaba Cloud Intelligence Group, the Alibaba subsidiary soon to be spun off as an independent company.
The app caused a huge sensation when it was first released, becoming so popular that users had to wait 10 hours for the AI-generated images to be completed due to the high computing power the technology demands. Daily usage of Miaoya Camera has since drastically declined, as most users have not found it to be an essential application for daily life, but more of a one-off novelty entertainment.
Join our newsletter