China is home to a number of organisations that offer support to the LGBTQ+ community and seek to educate society; one of them being ShanghaiPride, which, until last year, held China's largest Pride event. During Pride Month, the Dao Insights team spoke to Raymond Phang, one of the co-founders of ShanghaiPRIDE. He discussed the progress and challenges for ShanghaiPRIDE and the LGBTQ+ movement in China, and how brands are joining the conversation.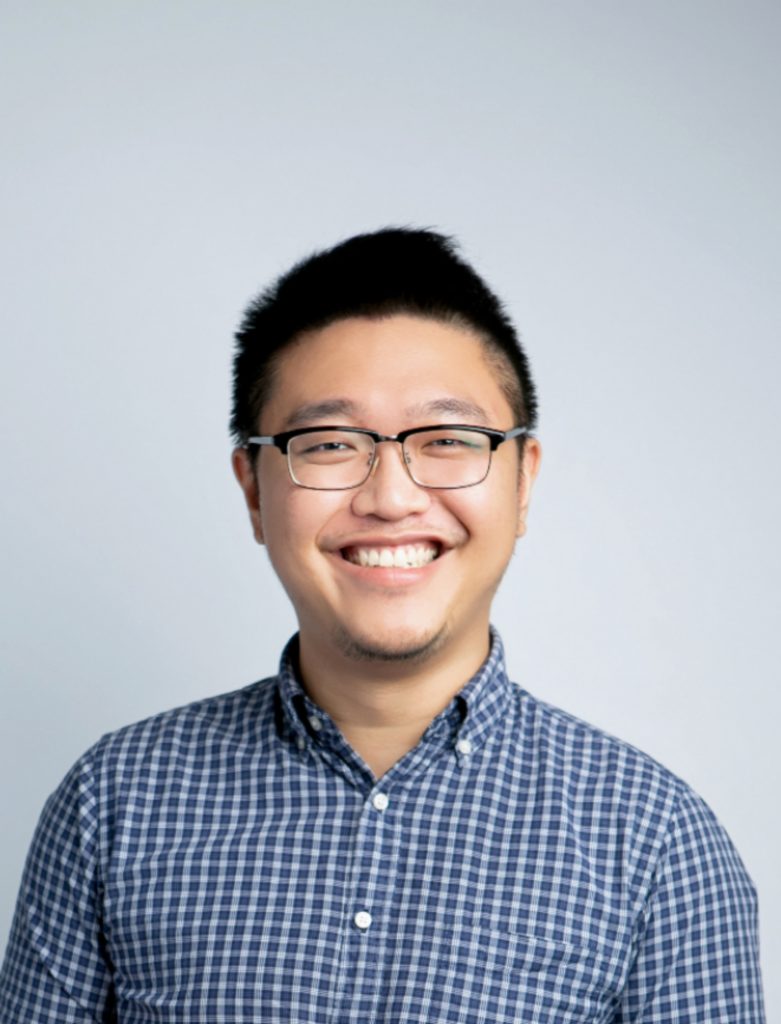 Raymond Phang is a professional in tech marketing and part of the founding team of ShanghaiPRIDE. He manages various operations and events within the festival, including corporate and foreign consulate partnerships. Raymond is a sought-after speaker in diversity and inclusion in China and often gives talks at corporate conferences, TEDx series, and top educational institutions.
Shanghai is one of the most open places for the LGBTQ+ community in China but how accepting is the rest of the country?
Beijing, Shanghai, Guangzhou, Chengdu and Xi'an all have large-scale LGBTQ+ organisations and there are some smaller support groups in tier 2/3 cities.
There has been no formal research in terms of acceptance of the LGBTQ+ community in China. We are becoming more accepted culturally, especially among younger generations, but this isn't always reflected in policy, benefits, and family relationships.
Asian culture is very focused on the family unit and huge value is put on reproduction and raising the next generation. Many parents or grandparents don't regard surrogacy or adoption as viable options, so they view LGBTQ+ family members as unable to continue the family line. Their views also come out of a sense of concern that their offspring will be discriminated against or unable to find a partner. As a result, there is a prevailing attitude that "others can be LGBTQ+ but not my child". This makes coming out to family a huge challenge for many people. Nonetheless, every family is different and there are multiple layers to the conversation in Chinese society.
How accepted is surrogacy as a family planning option among China's LGBTQ+ community?
There are a lot of moral issues involved so it's not for us to judge whether surrogacy is right or wrong. Although surrogacy is illegal in China, finding a surrogate parent overseas is a solution for those in the LGBTQ+ community who are capable of it.
ShanghaiPRIDE has panels that discuss rainbow families and whether surrogacy is a viable solution. We don't want to sweep it under the carpet because it is important that couples share their experience and assess what is best for them and the growth of their child.
What kind of difficulties do the LGBTQ+ community encounter when it comes to…
The workplace?
It very much depends on your company as to whether coming out will affect how others treat you and promotion. Following similar trends globally, support groups and employee resource groups are becoming more common and are creating LGBTQ+ 'role models' within businesses. Gen-Z will bring changes to the workforce as they are very open and dynamic, and want to feel part of an inclusive community.
A lot of multinational companies are trying to work towards forming a more diverse and inclusive culture through benefits, training, diversity days, talks and policies. HR departments are trying to localise what is happening in global policy, but often they aren't fully aware of the rights of the LGBTQ+ community. Some have been reaching out to local organisations, like ShanghaiPRIDE, to hold courses or talks to educate employees. Chinese companies, such as ByteDance and Xiaomi, have also been making internal efforts, but they are not willing to speak out externally in the same way as MNCs.
We also invite companies to speak about how they are creating a more inclusive workplace at our job fairs and conferences. Many small, local businesses have participated in these events and offered rainbow packages to show support.
Relationships?
Technology has assisted people to find like-minded individuals, create a community, and date. For example, Blued is a social network that offers a safe platform for the GBTQIA (Gay, Bisexual, Transgender, Queer, Intersex, Asexual) community. However, eventually, we have to speak to our family about our sexuality/ gender identity which poses challenges. Many people in Shanghai's LGBTQ+ community are not originally from here so must face family and friends with less accepting attitudes.
Media?
In terms of media, there are still limitations and restrictions. Even the famous trans TV show host Jin Xing won't actively promote her true identity because her career will be limited in China if she is too vocal about being trans (although this hasn't prevented her from being more outspoken abroad when she gave a talk at the World Economic Forum in 2020). Despite this, her subtle message of advocating for being who you are has made her popular among the LGBTQ+ community.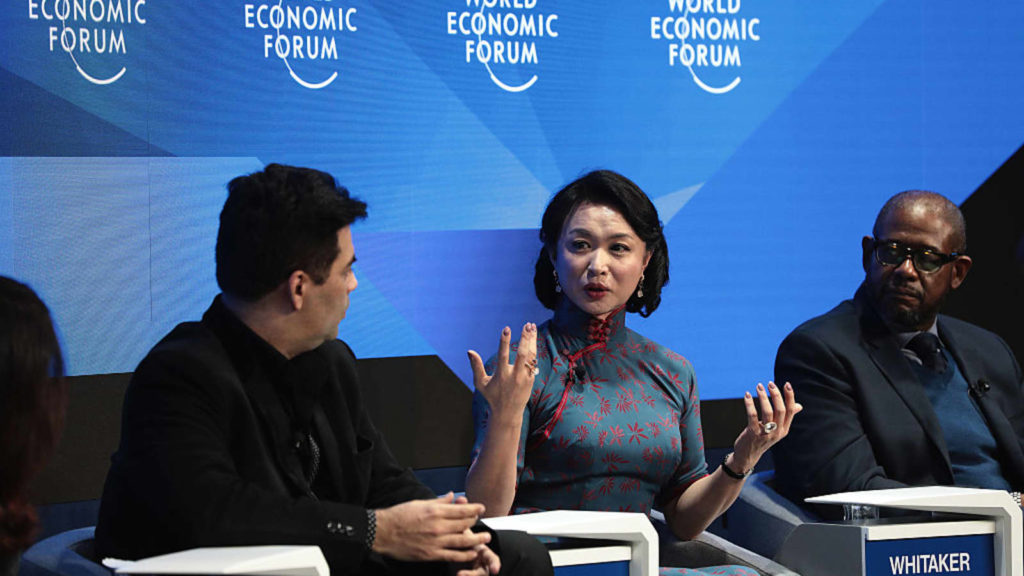 Medical care?
In 2001, homosexuality was removed as a mental disorder in China but conversion therapies still exist in health institutions. There have been cases of conversion therapies being brought to court and 'patients' winning. Within the trans community, there is a database sharing which hospitals and medical communities are trans-friendly. There is a large-scale awareness about HIV/ Aids and educational organisations are located across the country.
Education?
Sex and gender education hasn't yet been integrated into China's curriculum. The tools that young people get their information from – celebrities, bloggers, and content channels – are very diverse. Yet, interest groups have also become a very important part of Chinese society and essentially act as social bubbles where people's knowledge of other issues are restricted. How do we reach out and breakthrough that bubble? This is the challenge that the LGBTQ+ movement was founded on: how are we going to talk to others about our sexuality/ identity?
How has the conversation about LGBTQ+ rights in China changed over the last few years?
The conversation is overwhelmingly limited to certain times, notably Pride Month. Currently, we're finding that outreach is poor and predominantly remains within the community and at LGBTQ+ friendly venues.
It often feels like the movement is taking three steps forward and two steps back. The community does reach a point at which the question is: what's next? We are trying to figure out how to push the conversation forward, but, in the meantime, ShanghaiPRIDE is running events, partnering with companies, and conducting outreach with families.
What sorts of activities/ events has ShanghaiPRIDE held to support the LGBTQ+ community? What results have you achieved?
ShanghaiPRIDE is mostly focused on Pride Month (June), but we also hold smaller-scale events throughout the year. We keep our events as diverse as possible to show that there are LGBTQ+ individuals in all walks of life. We've organised sports events (running, cycling, yoga), parties, trivia nights, Pride's Got Talent, film and theatre festivals, and art exhibitions.
We also host educational panels to discuss all kinds of topics (coming out, mental health, relationship management, and trans community). We try to collaborate with as many organisations as we can, including international partners. For example, we use films from other LGBTQ+ film festivals as many countries face similar challenges, for example, many southeast Asian countries place a similar importance on the family unit.
It is hard to compare ShanghaiPRIDE's achievements to that of other global LGBTQ+ organisations as we're much more recent than many (ShanghaiPRIDE was founded in 2009) and operate in a different environment.
What challenges has ShanghaiPRIDE faced since it was established?
As event organisers, we're always quite nervous about new rules and the media. The latest social restrictions forbid any form of parade (for everyone, not just Pride), and so events need to be restricted in size. Our events are also limited by a sponsoring venue's capacity.
Volunteer-led organisations have the challenge of manpower and resources, as well as securing sponsors. We often have difficulties finding speakers; coming out to your family and friends is already enough of a challenge, let alone speaking out as an advocate or role model.
We also must tread carefully in terms of our marketing strategy. Are we going to be provocative or focus on a more personal level? We've become quite smooth in terms of promoting our events and have a presence on social media but, currently, that's all that is possible for us.
How have things changed since ShanghaiPRIDE was cancelled permanently last year?
Shanghai was home to the longest-running Pride in China, and so, the announcement that it will be stopped until further notice is heartbreaking for us. It's been a setback for a lot of organisations that are working in different areas to support the community (mental health, family support, research etc.). Pride was unique in the way that it bridged these different areas and organisations. However, it is positive to see some community organisations doing more events as a result, including those in other cities who have been inspired by ShanghaiPRIDE.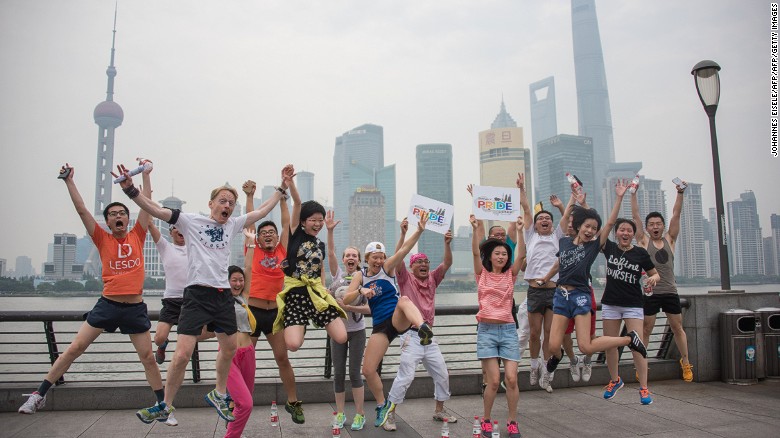 As an organisation, it has given us time to rethink and regroup. We are still running events but on a much smaller scale than previously. We have picked a few events to focus on to maintain the conversation, for example, our job fairs, conferences, parties, and open mic night Proud Stories. We are also sharing resources with partner organisations to enable them to play a bigger role in organising and promoting events. While it has been a sad moment for the community, there have been some positives to come out of it.
What does ShanghaiPRIDE mean to you and to other volunteers?
It means different things to everyone. To me, ShanghaiPRIDE is a community and a family. I joined as soon as I arrived in Shanghai in 2010 having come from a small city where there was no LGBTQ+ community and the topic is not discussed. The aim of the organisation is to let people know that they are not alone. For at least one month of the year, we want the community to feel like they are the majority and that individuals can fully be themselves.
I feel a sense of accomplishment that, despite the challenges, we have created momentum and had an impact. Motivational feedback, including from family members who have attended our events, provides us with encouragement.
We have helped put China's LGBTQ+ community on the global map. We often get asked about launching in other cities. While we don't currently have the resources to do that, we want to provide inspiration for people who can form a community to do so. For those who can't, we always welcome them to travel to Shanghai and connect with us.
How have brands' Pride campaigns evolved in China?
A growing number of international brands (Nike, Converse, Coca-Cola etc.) are launching their Pride campaigns in China by adding a rainbow to their logo or launching rainbow products. These campaigns are purely for marketing purposes as companies are unable to donate proceeds to LGBTQ+ organisations as they do in other countries.
Pride campaigns are often criticised for 'rainbow washing' or being insincere; however, as an organisation, we appreciate any brand that shows support for the LGBTQ+ community in China because it gives our cause more visibility. We can't just keep the movement in first-tier cities and, if we want to make progress, we need to spread awareness across China. People in smaller cities are less familiar with the rainbow flag so, if they see a company's rainbow logo during Pride month, they may enquire and learn.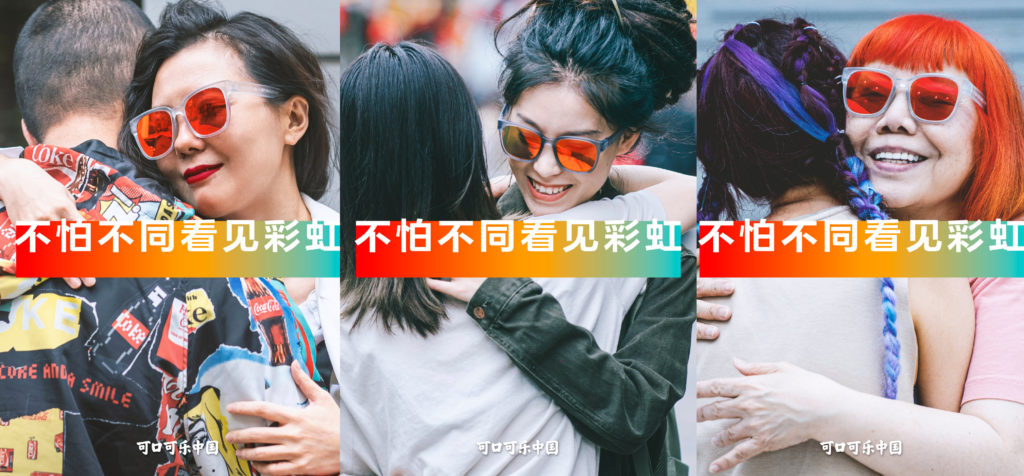 Due to China's difficult relationship with LGBTQ+ rights, brands are very strategic when incorporating the topic into campaigns. They often use indirect messaging which will be picked up by the community themselves but may not be spotted by less supportive members of the public.
This is especially true of Chinese brands: you're less likely to see a tech giant, like Douyin, branding a rainbow logo. Yet, there have been some references, for example, Alibaba's Tmall featured a gay couple in their humorous 2020 Chinese New Year campaign and Oppo produced phones that light up in rainbow colours. There are also some brands that are being more outwardly vocal, such as, Ugg and Farfetch who have featured LGBTQ+ influencers in campaigns. Businesses are accepting that LGBTQ+ individuals are a consumer group that cannot be ignored, while remaining aware that Chinese culture can be conservative and more subtle.
One way that brands are doing this is by launching campaigns on 20 May, the date of the love-themed festival 520. In the last couple of years, many brands have focussed their messaging on celebrating all kinds of love, creating a more inclusive campaign that can also appeal to the LGBTQ+ community and be applied to Pride Month. Again, the tone is often subtle with slogans, such as "be true to yourself", and the rainbow is sometimes used as a symbol of summer. However, if you're from the LGBTQ+ community, you understand the real message.
What are ShanghaiPRIDE's future plans?
We have decided to focus on a few select events that are easier to hold in the current environment and best utilise our experience. We are looking at changing the ShanghaiPRIDE label next year and, instead, running all our events independently under their own name e.g. ShanghaiPRIDE Pink Party will be marketed as Pink Party. However, we are still investigating if this approach will be sustainable.
We want to continue advocating for the community and maintain the momentum of the movement. We also plan to carry on working with more organisations from across the world and increase our role in the global LGBTQ+ community to create more visibility for Shanghai and China.
---
Read more: