Key Takeaways:
After a lacklustre 2022, Tmall and Taobao built Chinese New Year-esque festivity around Double 11 this year through CNY Gala-style teasers.
High-tech AI, AR and metaverse promotion was combined with hyper-localised out-of-home (OOH) advertisement.
Double 11 Gala returns for the first time since 2021, this time with more integration with livestream channels and sales promotion.
---
Double 11, the annual shopping extravaganza centred around the titular November 11th, returned this year after last year's rather muted affair. This year's festival sees Tmall and Taobao bring back the Double 11 Night Gala, which was skipped entirely last year, in a bid to revive enthusiasm for the shopping festival.
Double 11: the new New Year?
Leading up to the presale of Double 11 this year, Tmall released a series of 15-second commercials reminiscent of the state-sponsored Chinese New Year's Gala, or how many remember the Gala to be. To be precise, the video, more similar to content than a commercial, was in the style of classic moments of early 1990s galas. From the set design to the studio audience, everything in the videos is modelled after the classic spring festival variety show.
The singer Cai Guoqing, a true CNY Gala staple, recited poetry, the actress/comedian Cai Ming recreated her famous robot sketch with a younger actress, while newcomer actor Wang Yaoqing handed out cash to the audience. The recreated Gala walked the line between nostalgia and parody, as there was a surreal sense of comedy with all acts. The series was followed by a fourth clip, this time for Taobao instead of Tmall. It featured actor/comedian Tang Jianjun paying homage to his mentor Zhao Benshan's classic rural fashion show sketch.
The very New Year-y topic, #给您拜个早双11# ("Wish you an early happy Double 11"), garnered a whopping 2.43 billion views on Weibo, the Twitter-like Chinese microblogging platform.
The other Cyber November
Similar to previous years, Tmall worked with 60 brands for their collaborative posters. However, what is special this year is that Tmall teamed up with 18 brands for AI-generated posters. For the first time, Tmall released a video of a parade with 50 AI-generated brand-themed floats to further build excitement before the main sales events. AIGC is one of the themes this year and a Taobao vs Tmall AI-generated image competition was launched for users to prompt their own images for the team they support, the team getting the most likes would win.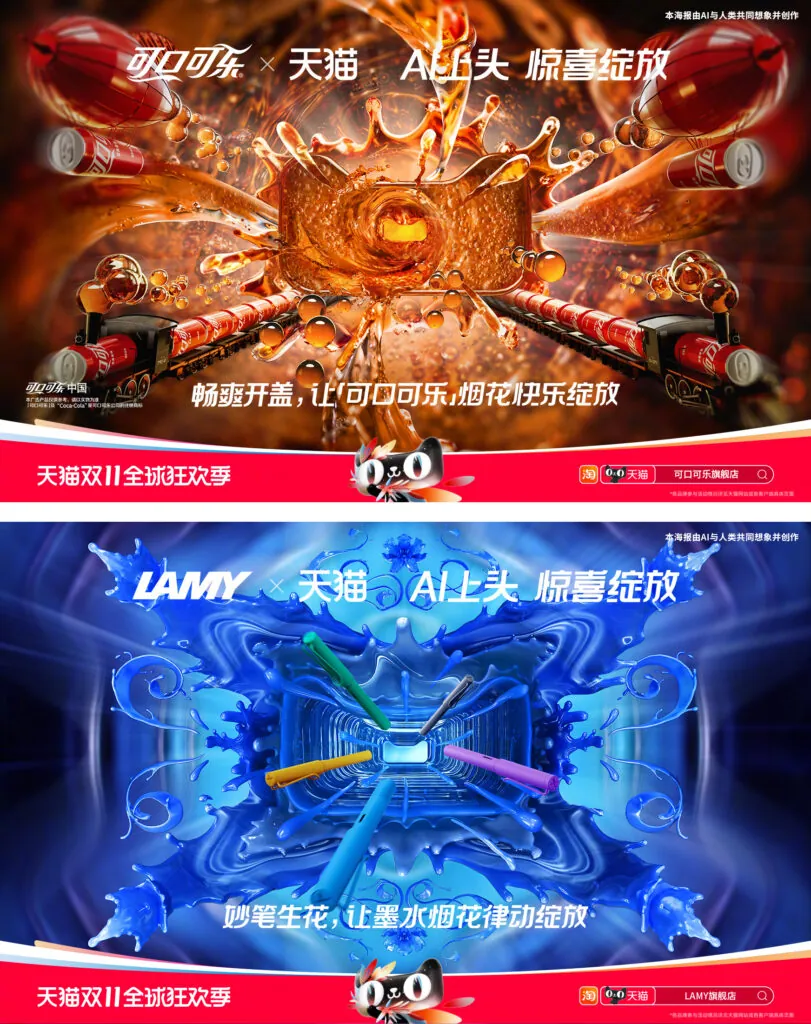 Metaverse was also an important thread this year. Tmall launched a virtual online space called "Tmall Happy Land". Collaborating with 9 different IPs, the virtual land contains 9 concept spaces with IP themes for users to explore and treasure hunt. Another effort in the metaverse is Taobao and Tmall Group's Alimama launched its own "曼塔沃斯" (transliteration of "metaverse") and hosted a virtual concert of Elva Hsiao. 24 "Brand Planets", or themed brand spaces, were included in the metaverse, where users could explore, get exclusive outfits for their avatars, take pictures of these outfits, or even participate in virtual events.
In real life
Alibaba's build-up towards Double 11 was not limited to online channels, especially for Taobao. A giant inflatable Tao Xiaobao, Taobao's mascot, embarked on an 18-day 18-city tour all around China. Smaller costumed Tao Xiaobao and Tmall's cat mascot Mao Tiantian accompanying it on this hyper-localised tour. A shipping box recycling campaign aimed at students was started on campuses around the country.
Meanwhile, in small towns and rural areas, huge billboards in the style of certificates of commendation from schools or workplaces thanked people, especially sellers, for their work. Nostalgic wall-painted slogans popped up around the country, promoting Taobao's 15% off. In total, Taobao painted 550 walls in 12 cities across China.
Grand finale
The Double 11 Night Gala started in 2015 and has continued as an annual event, apart from last year. With a roster of international A-listers like Taylor Swift, Benedict Cumberbatch, David and Victoria Beckham, as well as domestic stars such as TFBOYS, Joker Xue and Jay Chou, the gala has been known to attract a huge viewership. One of the highlights of previous galas was the announcement of the total sales number of that year's Double 11 festival, which was missing along with the gala last year.
This Double 11, the gala returns with a slightly altered title, changing from "狂欢夜", "Night of Revelry" to "惊喜夜", "Night of Surprises". Also changed was the partner, from Zhejiang Television on TV and Youku online, to Hunan Television and its sister web broadcaster Mango TV. The gala also forwent international celebrities and focused on celebrities from China, such as Jackson Yee of TFBOYS, TNT and Hua Chenyu. As expected, no total GMV was announced this year, but growth was recorded.
Technology played a big part in the gala this year. Not only was Yee's headlining performance aided by AI-generated augmented reality (AR) rose petals, but the gala also incorporated livestream channels. The channels were streaming simultaneously with the gala, with segments in the gala connected with the streaming channels. Prizes and offers were given interactively between the "big screen" and "small screens". There were also walls of screens in the studio projecting the livestreams during the gala.
There were more online and OOH campaigns during the period, such as the highly memeable Gold Peach Awards. But the main focus was to bring festivity back to the shopping festival. At a time when even Chinese New Year is often criticised for lacking a festive atmosphere, Taobao and Tmall are seeking to bring that feeling forward, shifting it onto the festival once known as "Singles' Day".