Key takeaways:
On World Oceans Day, Xiaomi teamed up with the world's largest ocean exploration organisation – PADI – for the second time to continue their "Underwater light, infinite life" campaign.
Xiaomi's smartphone campaign caters very well to the needs of the fast-growing middle class, who not only seek high-quality cameras for their multimedia projects but also value socially and environmentally responsible companies.
92% of Chinese millennials demand business involvement in social issues, showing corporate social responsibility is central to securing customers within their target demographic.
In honour of World Oceans Day on June 8, Xiaomi paired up with PADI – the world's largest ocean exploration and diver organisation – to raise funds for the protection and restoration of coral reef ecosystems.
Nicknamed "rainforest of the sea" for its biodiversity, coral reefs support 25% of all marine life. However, due to warming waters caused by the escalation of climate change, coral reefs are currently at risk of dying out completely. In fact, scientists expect that 90% of coral reefs will die by 2050. To make matters worse, a 2021-2022 survey conducted in Australia's Great Barrier Reef revealed that 91% of reefs have already suffered greatly from mass bleaching.
Sensing the urgency of the matter, Xiaomi created promotional advertising in partnership with PADI to raise awareness while seizing the opportunity to market their latest smartphone. Part of the proceeds from Xiaomi phone sales was donated to PADI's future coral reef conservation fund, whose current goal is to restore at least 5% of coral reef habitats. In addition, those who make their purchase in Chinese flagship stores would be able to get a coral planted in their name of choice.
Believe it or not, this is actually the second year that Xiaomi embarks on this deep-sea adventure. Last year, the smartphone enterprise carried out its first "Underwater light, infinite life" expedition in the southern island province of Hainan, using the then-new Xiaomi 11 Pro and Ultra to document a team of divers who ventured out to repair broken coral branches and plant new nursery-grown corals back onto reefs. By the end of the month, the initiative managed to garner over 25,000 phone sales, translating to 25,000 new corals planted.
This year, a similar expedition was carried out. Only this time, the adventure was captured by the latest Xiaomi 12 Pro to showcase the growth of the already-planted corals. Throughout the advertisement, the director narrated the challenging ins and outs of the deep sea photoshoot which included poor weather and underwater light conditions. Despite such strenuous environmental constraints, the phone was able to vividly capture the corals planted in the previous year, thus sending the message that Xiaomi 12 Pro possesses a high calibre camera meant to be used in any given setting.
Catering to the target audience
Xiaomi has a very well-defined target audience: the fast-growing but nascent middle class. The vast majority of this group are millennials (and some older Gen Z), who are getting more involved in various artsy projects which, of course, require photography. As a result, people in this demographic attach great importance to their phone's camera for high-quality photography and videos.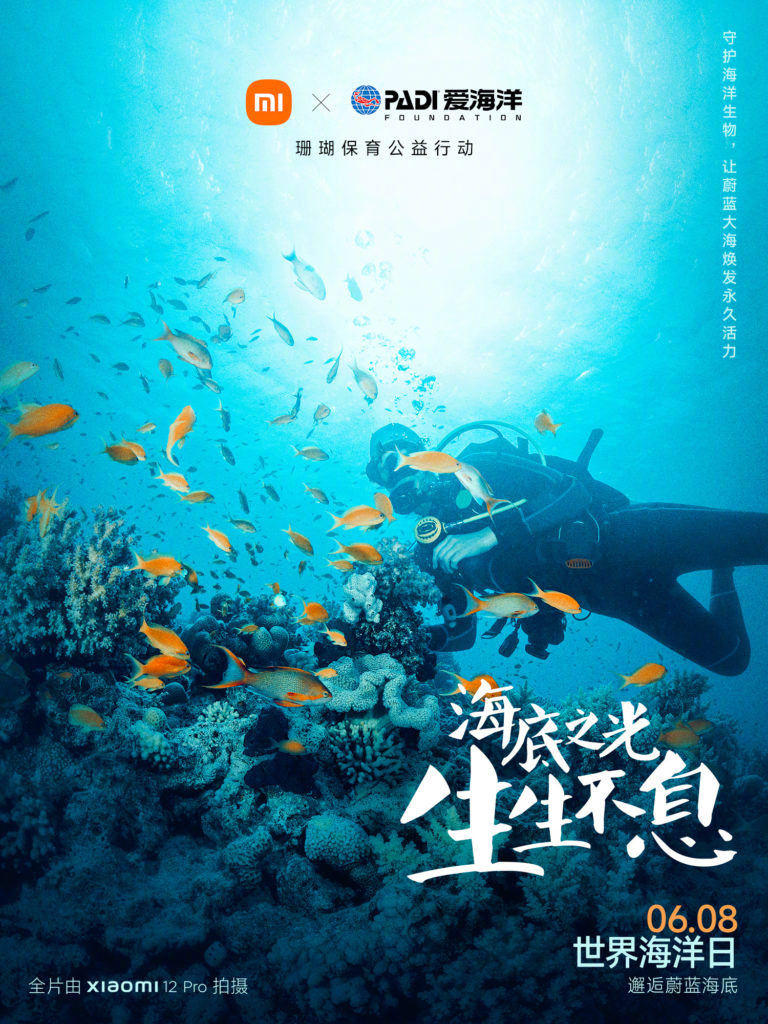 Personality-wise, Xiaomi tends to market to the "easygoing, determined and ambitious" buyer persona. These are people who enjoy taking on new tasks and are open to new experiences. It is therefore extremely fitting that the advertisement uses pathos to appeal to thrill-seeking millennials.
Beyond the need for adventure and camera quality, though, lies the expectation for companies to make a public commitment to good corporate citizenship. According to a survey conducted by communications agency MSL Group, 92% of Chinese millennials surveyed demanded business involvement in social issues.
Corporate Social Responsibility in China
Corporate Social Responsibility is a recent phenomenon in China. In fact, ten years ago, the vast majority of companies in China were primarily focused on economic performance more than anything else.
It was not until the devastating 2008 Sichuan earthquake that the concept of CSR finally began to gain traction in the nation. Facing an inconceivable amount of loss and damage, the Chinese public demanded that companies contribute to the recovery – to which they thankfully did. By May 20, Chinese companies had donated more than $645 million in cash and goods, setting a new precedent for companies across China.
Aware that corporate social responsibility is central to securing customers within their target demographic, Xiaomi has engaged in several social and environmental initiatives over the past few years. In fact, according to Xiaomi's first-ever sustainability report released in 2021, Xiaomi reduced plastic waste by 60% for Mi 10T and Mi 10T Pro series packaging. Xiaomi has also recently developed and embedded an earthquake alert system into its smartphones as part of its commitment to the UN Sustainable Development Goals.
Overall, Xiaomi's reef restoration initiative demonstrates the significance as well as the effectiveness of corporate social responsibility when properly executed. With great power comes great responsibility to induce positive change, and with concerted effort perhaps we can still turn the tide.