For most of us, the word "jazz" conjures up images of American musical stars, think Louis Armstrong, Billie Holiday, and Miles Davis, strumming, improvising, and syncopating their way through the classics. However, jazz has a lesser-known branch, with artists from China forging their own path in a genre rarely associated with their homeland. China has its own jazz scene, one that is "vibrant and fast-developing", and growing in prominence.
Ren Yuqing's JZ Music
Shanghai has become an incubator for talent thanks to Ren Yuqing, CEO and founder of JZ Music, with Ren known amongst the insiders (and outsiders) of China's jazz scene. JZ Music, his Shanghai-based organisation, is an important catalyst helping to promote the genre in China and a key reason behind its recent boom.
One of their most renowned events is the JZ Festival, which for ten years has been the biggest jazz festival in China and the second biggest in Asia. Ren's festival in Shanghai helps to unite bands from both China itself and visiting musicians who flock from around the world to perform.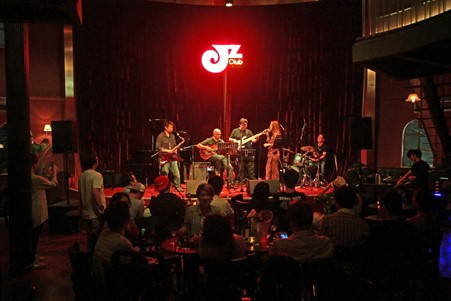 An accomplished bass player himself, it is obvious that music is Ren's passion, not the profits he might make from his clubs and festivals.
"I am not promoting the sale of music. I am promoting music. I am a music promoter. It has never changed."

Ren, founder of JZ Music
Liu Yuan, the "Father of jazz in China"
Ren has played with musicians such as Cui Jian and Liu Yuan, with the latter first encountering jazz as a genre on a visit to Romania in the late '70s when he was part of a touring band in which he played the suona. He was instantly compelled to hear more, buying his first saxophone and teaching himself by listening to the limited recordings available to him.
He has also become known through his work with Cui Jian, but he is most importantly seen as a "legendary jazzman" in his own right. Now, decades after his trip to Romania, he has managed the successful CD Jazz Café in Beijing, being known as one of the city's "most established jazz players".
Li Gaoyang – the new generation?
Eugene Marlow, the author of Jazz in China, has called Li Gaoyang "the most famous jazz saxophone player, educator and composer of his generation in China". This is high praise indeed for a player who is even now only in his late twenties. However, if you start learning the saxophone at 8 and practice for "ten hours every day", then you can reach the heights of a virtuoso that Li Gaoyang has.
As well as paving the way for younger jazz musicians in China, Li has also been the first Chinese artist to be interviewed in All About Jazz, the prestigious international website that has covered the genre's best talent for years.
Li has played at numerous festivals, opening both the Hong Kong International Jazz Festival (2011) and the Nine Gates Jazz Festival, Beijing (2012). Li Gaoyang is surely a musician to watch and in a time where Jazz music is rising in prominence within China.
Venues and clubs
All musicians need a space in which to perform, and China's cities don't disappoint. With there being a growing number of venues to see both up-and-coming and more established artists in some of the country's most cosmopolitan cities.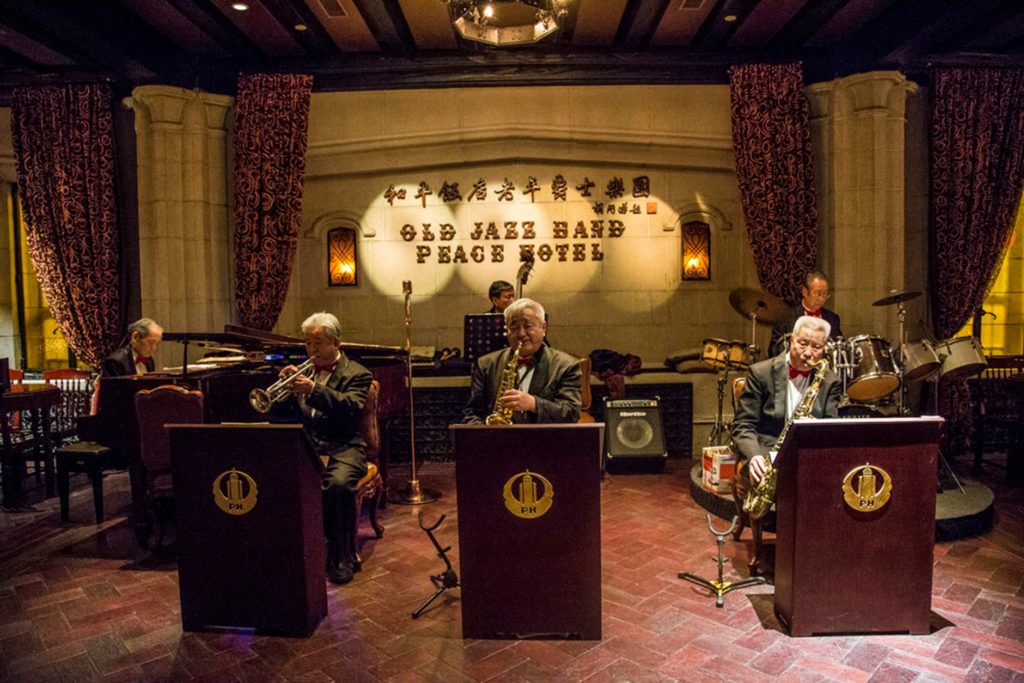 Shanghai's Peace Hotel, for example, is home to a band of octogenarian musicians who make up what many assume to be the oldest jazz band in the world.
With an average age of 82 and one of the trumpet players reputed to be 97, the "Old Jazz Band" has been entertaining audiences since the 1980s. The line-up has remained substantially the same, although they have been joined by some starry guest performers: did you know that Bill Clinton plays the saxophone?
In contrast stands Blue Note Beijing, a branch of the "world-renowned franchise" that has clubs in New York, Tokyo, and Milan. Recently opened, the club is attracting talent from China and abroad, located close to Tiananmen Square, it is well worth a visit if you're ever in Beijing.
Musical inspiration
China's jazz scene is undoubtedly a growing phenomenon and one that will influence new musicians. Even Beijing- and Shanghai-grown jazz from the past has inspired artists around Asia and further afield. Americans Dave Liang and Sun Yunfan form The Shanghai Restoration Project, an electronic duo known for tracks such as Nanking Road and albums such as the recently released Brave New World Symphony. Although their sound is more electronic dance than jazz, the genre's influence is still apparent in the duo's work as Liang started his career playing tributes to Shanghai jazz from the 1930s and 40s. 
Given the energy and distinctive sound of China's new jazz-playing generation, it is clear we have much to look forward to, with this a time of jazz development and ingenuity that is already exciting the population.
Read more: