Alibaba's e-commerce empire has been expediting the hype of NFT-powered technologies at full speed with Tmall launching a new zone dedicated to digital collectibles on its mobile app, according to the Chinese technology media outlet TechWeb on 30 June.
More than 50 virtual collections from a total of 40 brands have debuted in the first round of issues. Included are global labels such as Adidas neo, Burberry, PUMA, and Versace as well as domestic brands including designer toy maker IPSTATION and smartphone brand Xiaomi.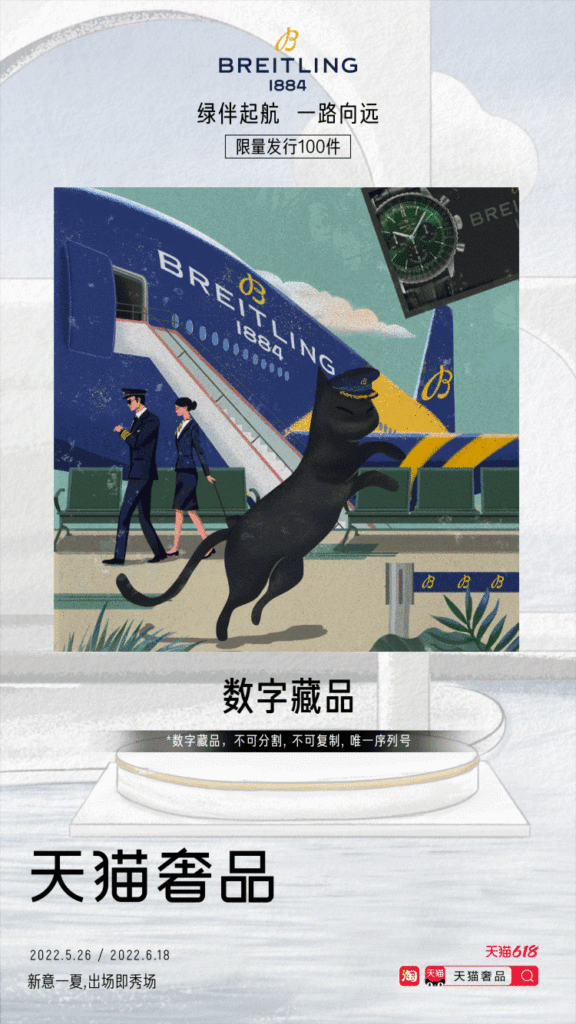 Unlike similar existing platforms where digital collectibles are listed as products for purchase, Tmall's digital initiative focuses on the sale of actual items with digital collectibles becoming giveaways for shoppers. And those virtual items cannot be purchased on its own or resold. In addition, the new platform has also incorporated the traditional marketing practice of blind boxes.
It is understood that consumers who make a purchase with a participating brand, for example, IPSTATION, can get a digital blind box that contains a virtual toy made by the brand, which users can interact with, with assistance from AR (augmented reality) devices.
While designer toys have seen popularity due partly to its playful nature, luxurious objects have also been sought after with digital collectibles of Versace's "Queen Pin Brooch", Burberry's Teddy bear key chain, and Breitling's Navitimer watch all being given out.
Having adopted a reverse approach by turning digital collectibles into freebies and encouraging consumers to purchase real items, Tmall is able to leverage the hyped technology to drive actual sales for brand partners and grow its own ecosystem. In the meantime, by doing so, it limits their involvement in controversies arising from potential violations considering the close scrutiny on this new technology in China.
In addition to the launch, an insider from Tmall also revealed that more digital collectibles are set to debut on the platform. Meanwhile, the team has also been looking into further possibilities of enabling a 3D virtual shopping experience on its mobile app giving users who hold digital collectibles an automatic pass to its future "Meta" version app.  
Join our newsletter