Tmall Mart, an online supermarket under Alibaba, announced on 28 September that they would be bringing a "Hermès-level" glamping experience to China's holidaymakers as the country sprints towards the National Day holiday. Also known as "Golden Week", the seven-day public holiday starting on 1 October is expected to see another tourist peak season after the pent-up demand for outdoor experiences during 2022's first long holiday, the May 1 Holiday.
Predictions from China's major travel agencies such as Ctrip and Qunar suggest short-distance trips will continue growing in popularity considering uncertainties posed by China's strict COVID policies. Meanwhile, rural and natural regions appear to have held its appeal to eager travellers and continue to remain sought-after destinations, particularly, for the post-95s and post-00s cohorts.
Tmall Mart, therefore, decided to tap into China's continued camping sensation by unveiling a limited series of snacks that are imprinted with the Tigre en Miroir series designed by Anne-Margot Ramstein for the luxury label Hermès. From pickled plums to Lay's chips and coffee, a total of 15 different snacks are covered in lively and floral designs, giving a nod to the tagline "Rêve Dans La Forêt" (or Dream in the Forest) whilst also intending to enhance the joy of camping with the added visual freshness.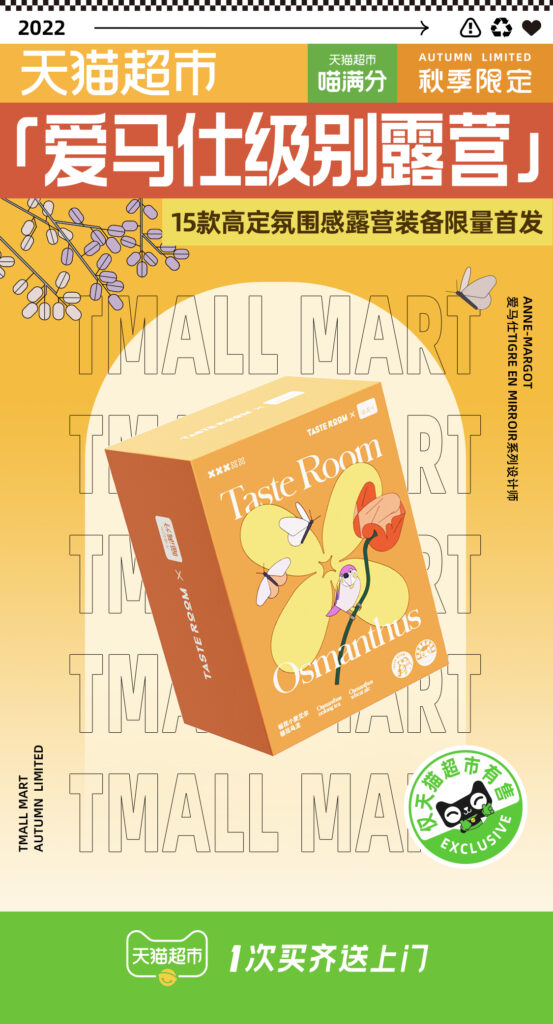 The online retailer is also making an attempt to capitalise on a "high-end snack" image by likening this collaborative series to "haute couture" with the glamping package promotion only available on the 28th. This allows the online supermarket to leverage Hermès' luxurious DNA more effectively into its small bites.
The "luxurious" offer coupled with reasonable prices soon won over the savvy generation of consumers, with the hashtag "Tmall Mart Hermès-level Camping" drawing in more than 140 million views on China's Twitter-like platform Weibo as of 28 September. Many praised the offer as being "timely and comprehensive" while others jokingly said, "it is probably the only Hermès series that I can afford."
By skilfully leveraging the extravagant characteristics, Tmall Mart is able to level up its snack products and increase its appeal to China's young consumers. Meanwhile, it also helps the luxury brand to connect with China's campers, allowing them to further penetrate the lucrative demographic during a crucial marketing season.
Join our newsletter