For the first time, the world's leading snowboard brand Burton has teamed up with the world's most popular online videogame League of Legends to release a brand new line of winter sports clothing and gear.
Based on two popular characters in League of Legends, Jinx and Ezrael, the joint series consists of a full range of women's products, including snowboards, helmets, goggles, sweaters, and wool hats. For a limited time, the Burton x League of Legends joint series will be available on its official Tmall flagship store as well as in offline outlets.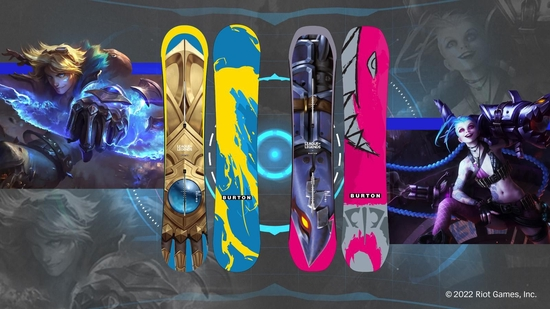 In the last few years, esports apparel brand collaborations have greatly risen in number. Top esports organisations like G2 Esports, Cloud9, and FaZe Clan have collaborated with well-known fashion brands like Ralph Lauren, Puma, and Casio to create a range of gaming-related merchandise. Some brands such as luxury giant Tiffany & Co. have even gone as far as handcrafting championship trophies in order to secure their spot in the up-and-coming gaming industry.
The trend comes as older brands seek to reintroduce themselves to a younger demographic and expand their reach to the increasingly brand-conscious gaming audience in Asia-Pacific. At present, over 200 million fans engage with esports on a regular basis worldwide, 73% of whom are under 35. As of 2021, China alone had attracted 490 million esports fans with $400 million in revenue, accounting for 36% of the global esports economy.
Meanwhile, sparked by the 2022 Winter Olympics, China's winter sports industry has become one of the fastest-growing in the world. Looking forward, the industry is estimated to reach $172 billion by 2025.
From esports to snow sports, Burton's collaboration with League of Legends is a win-win for both companies and caters directly to young Chinese consumers. With China currently standing as one of the largest esports powerhouses, fashion brands can collaborate with esports companies to promote gaming as part of a lifestyle.
For more latest trends and market insights into China's fashion and luxury industries, join us for the first Dao Insights event – Dine by Dao on Thursday 1 December 2022
Join our newsletter