China's dairy company Mengniu has collaborated with the NBA once again in its second attempt at launching digital collectibles combined with basketball and straw elements on 20 February. The launch is closely followed by their partnership a month ago in celebration of the Spring Festival.
Dubbed "Xi Yin Ren" (吸隐人), the amusing name refers to milk straws whilst sounding the same as "attractive" in Chinese. This set of NFTs consists of six different characters, drawing inspiration from milk straws with a limited number of 200 for each one, and features five classic slam dunk moments in NBA history. Basketball fans were encouraged to exchange their favoured ones on the WeChat Mini Program of Mengniu with points, and more points can be gained after completing certain activities on the platform. At the moment, all digital collectibles cannot be gifted or traded.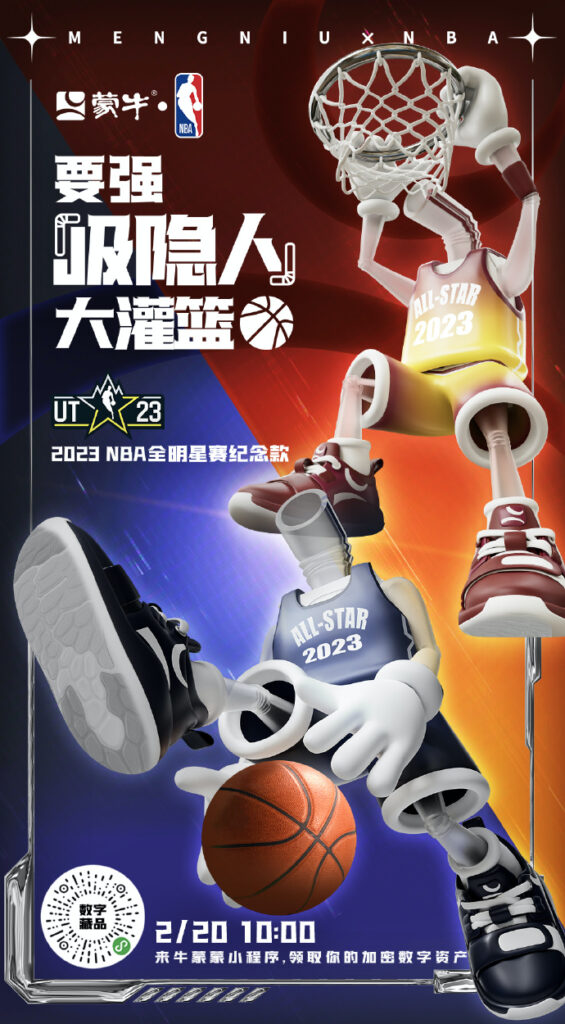 This crossover collaboration marks another attempt by Mengniu at diving into the digital world by capitalising on the basketball fever at home, with the first partnership taking place on 12 January featuring NBA mascots to deliver good wishes to local basketball lovers during Chinese New Year.
The professional basketball league has amassed an accumulated following of 170 million in China across domestic social media platforms, indicating a vast fan base for basketball at home. As per a report disclosed by Tencent sports, a digital media platform, NBA penetration increased by a whopping 83.8% at the end of 2018, with the post-00s cohort showcasing the strongest enthusiasm towards basketball and willingness to purchase NBA peripheral products like jerseys and hoodies.
By spotting the lucrative opportunities, domestic fintech giant Ant Group inked an agreement with NBA China on 21 February to jointly develop video content, digital collectibles, and other marketing activities to target local fans.
Teaming up with NBA for the second time whilst setting a foothold in NFTs, Mengniu refreshed its dairy company image to the Gen Z demographics with a twist of technology, as well as maintained its course with the booming NFT sensation and local basketball phenomenon.
Join our newsletter