In honour of World Environment Day on June 5, global fast-food chain KFC has unveiled four offline Green Pioneer Stores in some of China's major cities such as Beijing, Hangzhou, Chengdu, and Guangzhou.
Launched as part of its annual "Be Natural, Be You" campaign, these eco-stores serve as hubs for showcasing environmental protection technology and green art, providing visitors with an immersive and educational experience on sustainable practices. Upon entering the space, visitors can see discarded straws transformed into art, neon signs illuminated by cycling power generation, and leather pillows made from recycled coffee grounds.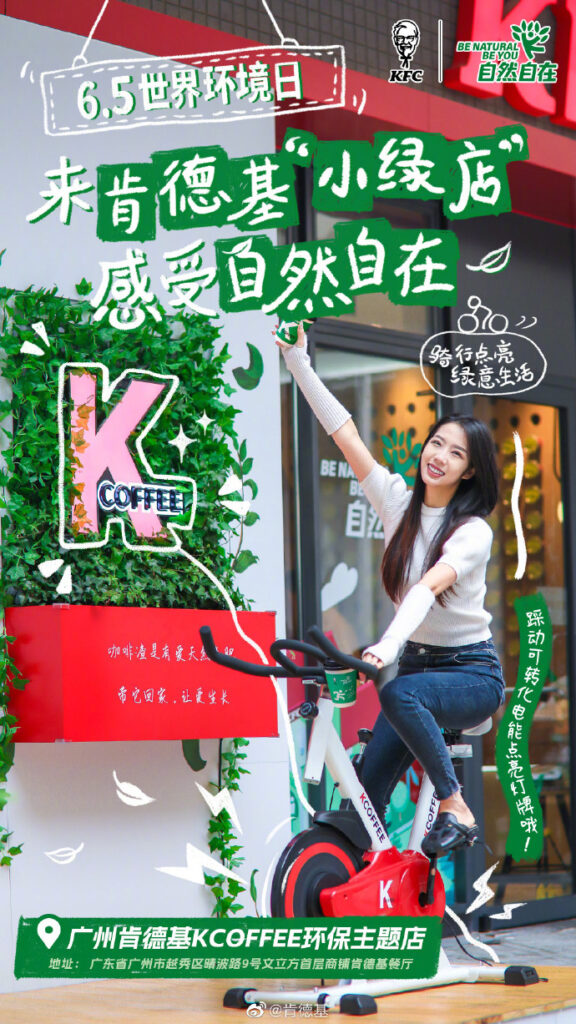 Each of KFC's green stores uses integrated solar panels on their umbrellas to generate electricity for night-time lighting and is constructed floor-to-ceiling in environmentally friendly materials. In addition, the company has implemented various low-carbon measures, including energy-saving practices, plastic reduction, and waste sorting across its stores.
For those residing in other cities, KFC has promoted its online initiative called 'Kentucky Online' (or '小绿店'), which has garnered a whopping 16.971 million views on Weibo to date. By clicking on the provided web link, individuals can engage in carbon reduction tasks, earning carbon beans as rewards. Participants have the chance to win exclusive 20% off coupons for the "natural zero carbon" oatmeal latte and actively contribute to the reforestation efforts for the planet.
KFC's commitment to environmental sustainability continues to make waves, as they proactively integrate green practices into their operations, inspiring others to follow suit. On the social media platform Weibo, the campaign hashtag "Be Natural, Be You" has already amassed 150 million views and over 178,000 related topic discussions.
With over 9,000 KFC restaurants in more than 1,800 cities across China as of March 2023, this growing powerhouse serves as an example of how businesses can actively contribute to preserving the environment for generations to come.
Join our newsletter