In his seventh visit to China, Argentinian football star Lionel Messi made a special appearance on Alibaba's Taobao Live platform to digitally connect with fans before an upcoming match against Australia scheduled for later that week.
Given Messi's ever-soaring popularity in China, word of his upcoming online appearance managed to stir up a frenzy on social media. In just two days after landing in Beijing, Messi's name topped Weibo's hot search charts with as many as 20 related hashtags. The fact that Messi's in-person activities were cancelled and switched to online for security reasons further fuelled public anticipation for the online event.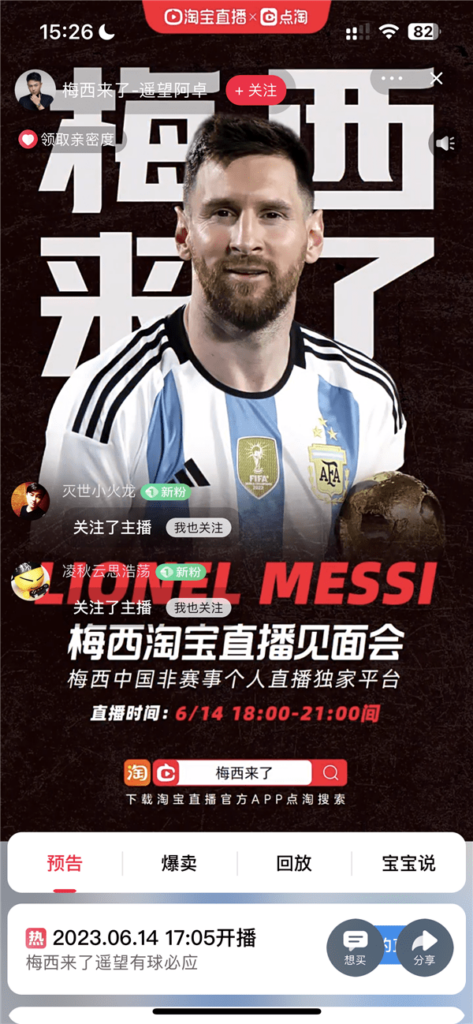 At first, many fans were dissatisfied as what was thought to be an interactive live stream on Kuaishou ended up being a minute-only clip of what seemed to be a pre-recorded video. However, it was later revealed that it was in fact an exclusive sneak peek at Taobao's upcoming live broadcast on June 14, which would be the only platform to host the football star.
Both platforms' efforts tap into the Messi mania appear to be a move to draw much-needed traffic and viewership in light of growing competition with established rivals like Douyin and Pinduoduo.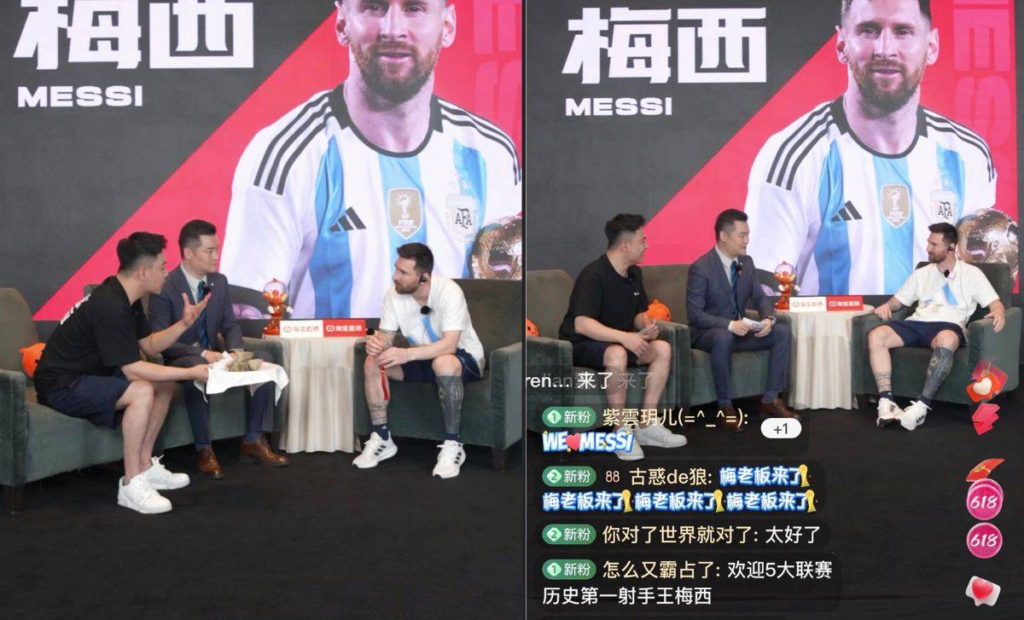 On Alibaba's Taobao Live, Messi's appearance managed to gather an audience of over 2.5 million viewers. The event, hosted by renowned e-commerce influencer Li Xuanzhuo and Chinese football commentator He Wei, was a 20-minute conversation that left fans eagerly hanging onto Messi's every word.
During the live stream, Messi took the opportunity to express his sentiments about his visit to China, reflecting on the warmth and hospitality he experienced from the Chinese people. The football icon also opened up about his remarkable football career, sharing insights into his journey and highlighting the defining moments that have shaped his success.
Towards the end of the conversation, hosts Li Xuanzhuo and He Wei presented Messi with a special wine, a traditional red herb sachet and triangular rice dumplings that are traditionally enjoyed during China's upcoming Dragon Boat Festival on June 22.
Although no products were sold during the live stream, searches for Messi-related T-shirts and shoes, the South American caffeinated herbal drink yerba mate and other items topped Taobao's most-searched rankings shortly after the broadcast.
All in all, the event managed to showcase the global reach and influence of both Lionel Messi and Alibaba's Taobao Live platform as the e-commerce platform tries to give its live stream business a leg up.
Join our newsletter