Fliggy, one of China's major travel agencies under the tech giant Alibaba, has been disrupting the country's tourism industry by introducing "Attraction Jubensha (or scripted homicide)", a service that combines visits to tourism hotspots with a mystery-like, role-playing board game which has been the go-to pastime for over 9.4 million young Chinese.
The special offer was tested last May with Fliggy launching a Jubensha on a cruise sailing down the Yangtze River in Chongqing, leveraging one of the must-do tourism experiences in the Southwestern municipality at the confluence of the Yangtze and Jialing rivers.
Unlike existing practice which has mostly been taking place indoors with players sitting around a table, participants were invited to engage in activities including obtaining evidence and tracking down a crime on the cruise, therefore, enhancing the immersive experience, which drew in hundreds of applications just one week into the participant recruitment process. The idea has since been replicated online in May in collaboration with the fast-food chain KFC, with more than 80,000 people tuning into the live stream on 28 May.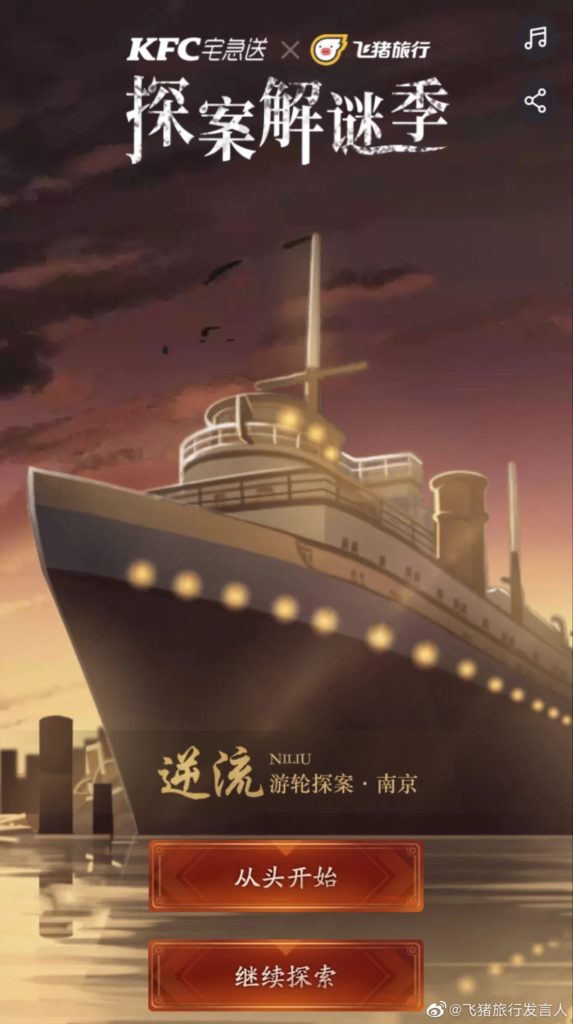 Following these positive reactions, Fliggy has now gone one step further to upgrade the tourism experience for young tourists with its invention of  "Attraction Jubensha" as the country is heading towards the upcoming tourism season during the Dragon Boat Festival (from 3 to 5 June), which is also signposted by China's gradual reopening from local lockdowns.
The new product has also been released in celebration of the second-largest promotion season '618', in partnership with Mango TV, a local Chinese TV channel that gave life to Jubensha with its popular variety show Who's the Murderer.
The package which includes a limited ticket to the Jubensha experience at Hengdian (known as China's Hollywood, the world's largest film studio in Hangzhou) is open for bookings with human NPCs (non-game characters) guiding a treasure hunt adventure in the cultural tourism town during the holiday season.
It can be seen, as one of China's young generations' obsessions, Jubensha has played an important role in diversifying tourism scenarios, therefore, creating new opportunities for the industry to innovate their services and ultimately engage with the lucrative young demographics more efficiently.
Join our newsletter