The meeting of a young Chinese influencer He Shijie and the CEO of Apple Tim Cook has gone viral on Weibo. The student who is known by the ID '老师好我叫何同学' (Hello teacher, I'm student He) is influential on Chinese social media sites Weibo, Bilibili and Douyin (Chinese TikTok). He first emerged into the public eye when he posted a video testing the speed of 5G and has since developed a large following with his technology-savvy insights.
In the interview, He asked if there were any features that had been developed based on the feedback of Chinese consumers. Cook replied:
Cook also shared his advice to Chinese young people about how to find jobs that they are passionate about. He shared the post with his 2 million Weibo followers, and it was reposted by Cook who commented: "There is no challenge young people can't solve and no limit to the creativity a fresh perspective can bring. It was a pleasure talking to 'Hello teacher, I'm student He' about the opportunities we all have to learn, grow and help others in the Year of the Ox".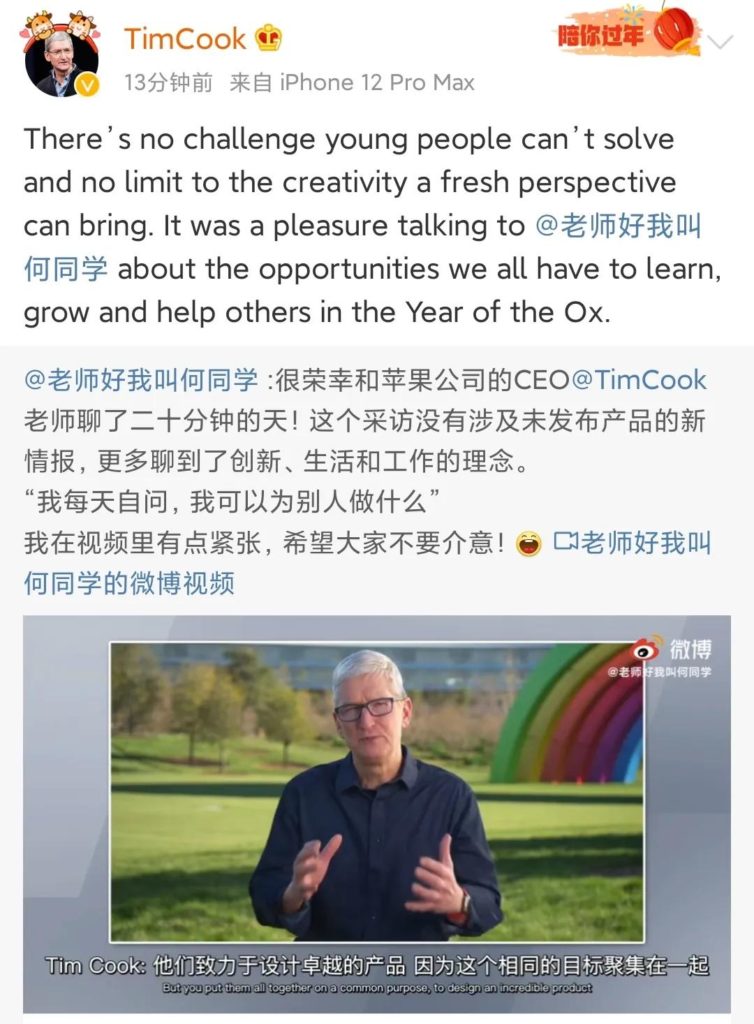 The hashtag '#Student He interviews Apple CEO' gained 250 million views and the video has been watched 27.6 million times on Weibo.
"He interviewed the CEO of Apple at the age of 22, and I'm still buying Apple products in instalments when I'm 22."

A netizen's response to the video on Weibo
Giving a young Chinese influencer the opportunity to speak to Apple's CEO was a clever strategy to grow Apple and Tim Cook's following on Chinese social media. Many young netizens also expressed that the interview inspired them.
Read more about Apple in China:
Join our newsletter