For the first time in 50 years, sportswear giant Adidas has unveiled plans to release its new label Adidas Sportswear around the globe with a special plan to reel in China's Gen Z. Launched in early February, the collection is specially designed for light sports and everyday activities.
While in the West, the sports brand taps into the likability of American star actress Jenna Ortega and basketball player Trae Young as global ambassadors, Adidas handpicked some of China's favourite sports athletes to advertise its brand-new clothing line. Chinese star athletes including Hu Mingxian, Wang Qiang, Xie Zhenye and Li Yuting will participate in the clothing campaign.
Each athlete featured in the lineup shows a dual side to them that reflects the versatility of the sportswear collection. For instance, outside the court, professional basketball player Hu Mingxuan is an e-sports fan and hip-hop lover. Meanwhile, competitive tennis player Wang Qiang is known to take on extra challenges of horse riding, archery and boxing outside of tennis, yet on her days off she prioritises comfort and spends time at home relaxing and watching TV like any ordinary girl.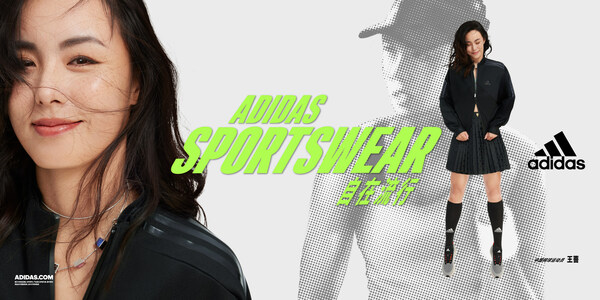 In this way, the collection speaks directly to the diverse interests of China's Gen Z, who are known to have a wide variety of interests and hobbies and may seek garments for different aspects of their social lives. Hence the collection's concept of "free fashion", which integrates sports and style so that wearers can effortlessly blend no matter where they go.
Designed with Adidas' latest sportswear technology, the items featured in the clothing line include the Tiro Suit Collection of tracksuits, the Avryn shoes, the Express Dress, Express Jersey and the Coach jacket. Not only do the pieces offer a comfortable design, but the designs also closely align with the constantly changing fashion trends of the rising Gen Z consumers. 
Given that Adidas faced severe challenges in a pandemic-stricken Chinese market with a 35% drop in revenue, the sportswear brand is adamant about reconnecting with the market's rising younger consumers as the country opens back up to the world.
Join our newsletter