Most companies in China embrace Singles' Day as the opportunity to deliver record-breaking sales but YEATION took a completely contrasting approach this year as they discouraged consumers from taking a consumerist approach to the shopping festival. Single's Day, also known as Double 11, is the world's largest shopping festival which takes place every year on November 11. Record-breaking levels of spending taking place with Tmall raking in 498.2 billion RMB during this year's event.
YEATION is an e-commerce site and lifestyle brand which is commonly known as "Chinese MUJI" for its simple and good-quality lifestyle products which appeal to Chinese young people. The company was founded in 2016 and is operated by NetEase, one of the largest Internet and video game companies in the world, which provides online services based around "diverse content, community, communication and commerce".
Last year, YEATION expanded to operate an offline business with stores in Hangzhou and Shanghai. The simple and light design of the stores reminded people of MUJI's aesthetic.
Good life is not that expensive

YEATION's slogan
YEATION's unique Singles' Day campaign
Tmall (the founder of Singles' Day), JD and China's other e-commerce platforms all promoted 2020 Singles' Day heavily with extended promotional periods, gala events and massive discounts for consumers.
However, prior to the festival, YEATION released an announcement saying that the brand "wouldn't participate in" this year's "Double 11 shopping war" because they wanted to remind consumers to buy the right products instead of the most expensive ones. The brand's campaign was a reaction to overconsumption and misleading advertising messages during previous Singles' Day promotions.
"We are bombarded with promotional advertising and marketing messages during every Singles' Day festival. We often hear advertising phrases like 'Having an expensive face mask can change your destiny; Five-star hotels and luxury afternoon tea can help you get a higher social status; You need to treat yourself better when you are 30 years old.' But they are not real. We are just persuaded by these adverts which promote consumerism. So we decided to not promote overconsumption and not reveal our sales revenue to the public this year. We don't have any complicated strategies to encourage you to buy products. We are just offering you the lowest prices for Singles' Day."
YEATION's aim was to show that their sole interest wasn't in making profit, in contrast to Tmall and JD who share their record-breaking revenue from Singles' Day on social media. YEATION highlighted the importance of its message during this year especially: due to COVID-19, consumers had a strong desire for "revenge buying" as a result of pent up demand. As such, YEATION wanted to remind consumers that they should consume rationally.
The brand's message was displayed in a promotional video, as well as being plastered on billboards in high-traffic areas such as alongside busy roads and bus stops to attract the attention of passing pedestrians.
Netizens respond with positivity toward rational consumption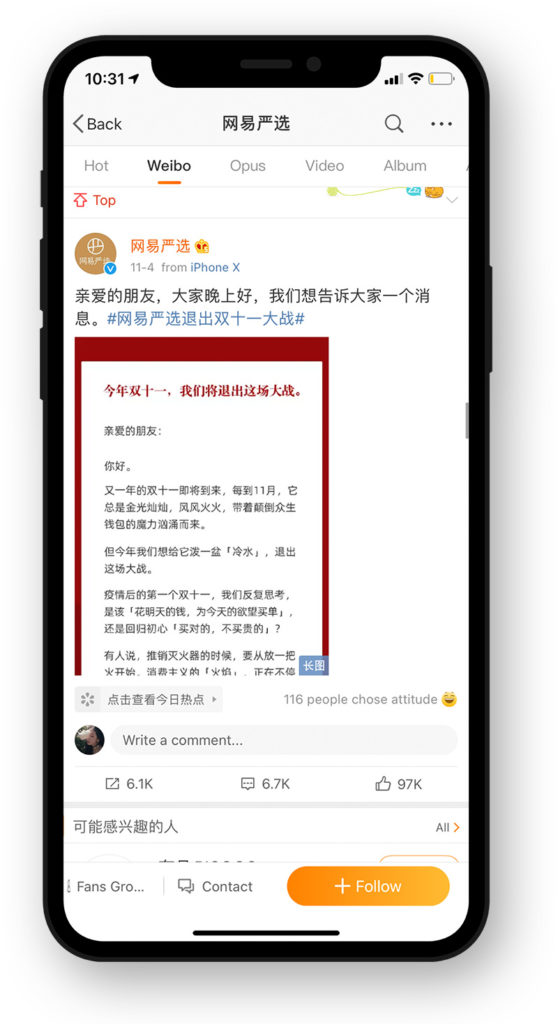 A campaign which actively encouraged people to reconsider their shopping needs was the first of its kind in China. So what did consumers actually think?
The campaign certainly stimulated a lively discussion online with the hashtag #YEATION won't participate in Double 11 war gaining 41.63 million views and the announcement video hitting 3.2 million views on Weibo.
However, netizens were not impressed that, despite the campaign's message, the brand still participated in Singles' Day by providing discounts. Some users commented that the reason that the brand shared their thoughts against the consumerism provoked by Singles' Day was because YEATION knew that they were not able to compete with Tmall and JD. As such, some commented that YEATION should have made it clear that they would still participate in Singles' Day just without the emphasis on consumerism.
Nonetheless, users also expressed that rational consumption is a positive trend that should be encouraged among consumers. Many agreed that there should be a focus on only buying products that you need rather than buying products with massive discounts. These comments are in line with Chinese consumers' growing awareness and concern about sustainability which has come to the forefront since COVID-19 (read more in our case study about the rising demand of second hand clothes).
Rational consumption will become a hot topic
YEATION's campaign contained a thought-provoking message which resonated with consumers and stirred up a discussion about consumerism online. However, they also expressed scepticism towards the brand's real motives in launching the campaign as it continued to participate in the shopping festival. In this way, the campaign wasn't as beneficial as it could have been in attracting consumers and developing a positive brand image.
This year, with the backdrop of COVID-19, was a fitting time for YEATION to launch this campaign. As Chinese consumers, especially young people, become increasingly concerned about the environment, rational consumption will become a discussion that permeates China's retail circles in the near future.
Learn more about Singles' Day: