During lockdown, many people in the West looked to alcohol to ease their concerns and stresses, and alcohol purchases rose by 22% in March in the UK.
BUT the same was not true in China…
According to McKinsey's consumption report, alcohol is what Chinese consumers purged during the lockdown months and the total revenue of alcohol companies fell 8.59% compared to the same period in the previous year.
China's alcohol culture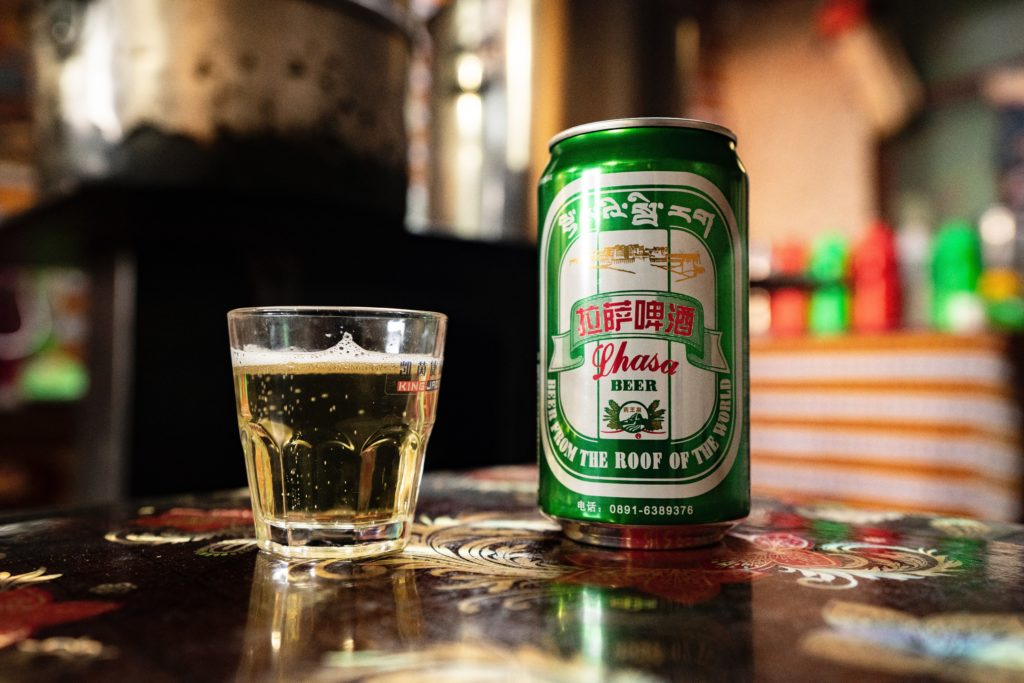 In China, the consumption of alcohol and culture surrounding it is very different to the UK.
Alcohol in China is predominantly consumed at home or in restaurants, and, these two venues were where 80% of China's alcohol was drunk in 2018.
While trends are changing among the younger generation who are increasingly going to bars or clubs to enjoy alcohol, drinking is still not as popular a social activity as in the UK and fewer of China's social activities are based around alcohol. However, alcohol plays a role in China's business culture and social customs dictate the drinking of alcohol in a business environment.
The four most popular spirits in China are baijiu, whisky, brandy and vodka. According to Tencent Advertising's "2019 Baijiu Industry Digital Report", Chinese consumers prefer to drink beer and spirits, such as whisky, for social activities but tend to consume Baijiu during business activities.
Growth of China's spirits market
The spirits market in China has been flourishing since China rolled out a special tax policy which reduced the average import tax for spirits to 10% in 2018.  The rise of e-commerce platforms (Taobao and JD) has also helped Western spirits brands enter the Chinese market: JD is home to 279 brandy and 324 whisky brands, while a total of 398 brandy and whisky companies have a presence on Tmall and Taobao.
Another reason why spirits have experienced growth in the Chinese market in recent years is because of affluent young consumers who have lived abroad. According to the FT's 2019 "Investment Reference" report, people who travelled or studied abroad prefer whisky to other alcohol. Indeed, since 2019, alcohol enterprises have invested heavily into the production of whisky in China. Pernod Ricard, a French alcohol company, invested 1 billion RMB into building a factory in China to produce malt whisky. 
COVID-19 reduces China's alcohol consumption…temporarily
With restaurants and bars forced to close due to the pandemic, Chinese consumers had restricted access to some of the social settings where they would normally drink. What's more, the virus caused Chinese consumers to become more conscious of their health and some turned away from unhealthy foods and beverages, such as alcohol. As a result, alcohol intake fell among Chinese consumers.
Yet, it seems that this trend will just be temporary as 60-70% of those surveyed by McKinsey reported that their alcohol consumption will bounce back to pre-COVID levels.
New consumer behavior in the wake of COVID-19
Due to the pandemic, all offline stores ceased business and e-commerce became the key channel to deliver essentials and goods. According to China's Ministry of Industry and Information Technology, the proportion of consumers shopping on e-commerce channels increased by 54.6% during the epidemic.
Even when lockdown restrictions were lifted, Chinese consumers continued shopping online as they were cautious of returning to physical stores and had become accustomed to the convenience and accessibility of e-commerce. In addition, businesses responded to lockdown by moving online and developing their digital strategy to appeal to consumers, and this expansion of online commerce did not revert post-COVID.
The alcohol industry's digital response to COVID-19
Despite overall alcohol consumption falling in China during lockdown, the transaction volume of alcohol on e-commerce platform Tmall grew by 42.5% per day during February. As a result of changing consumer trends, many alcohol brands shifted their marketing efforts online and strengthened their online presence by launching various initiatives on Chinese e-commerce platforms and social media platforms.
We've picked out some examples of how platforms and alcohol brands responded to COVID-19.
Direct alcohol purchases through JD's online club
JD.com partnered with Taihe Music Group to launch an online clubbing initiative in February. Every week they hosted different DJs to livestream their performances and invited alcohol brands, including Pernod Ricard, Ballantine's, Jacob's Creek and Absolut Vodka, to sponsor each event.
The livestreams had direct links to the alcohol products so viewers could purchase with a single click. After featuring in JD's DJ livestream, one whisky brand increased its sales by 70%.
Tmall & Taobao provide a platform for alcohol brands
Tmall and Taobao rolled out several campaigns to boost sales for alcohol brands following the COVID-19 outbreak:
Their "New Domestic Brands Show" which promoted Chinese brands with discounts and adverts featured many domestic alcohol brands including Yanjing, Tsingtao, Wuliangye and Luzhou Laojiao.
Taobao hosted an online clubbing livestream on Taobao Live with Ballantine's and Budweiser on March 13th.
Tmall launched a campaign with Tsingtao – "Cloud bartending at home" – to help viewers improve their bartending skills while also promoting the brand.
Tsingtao expands its presence on Weibo
In the wake of COVID-19, Tsingtao Beer turned to Weibo to promote their campaigns and products. This was reflected in a large increase of posts on the platform – from 7 in February, to 21 in May.
Tsingtao released a campaign video called, "Tsingtao Pure Draft gives you a fresh life" on Weibo which was endorsed by one of China's most popular singers, Hua Chenyu.
The campaign received high engagement with over 1 million reposts, 467,000 likes and 396,000 comments. The brand included a direct purchase link in their Weibo post, and, as a result, 135,000 people showed an interest in buying Tsingtao Pure Draft.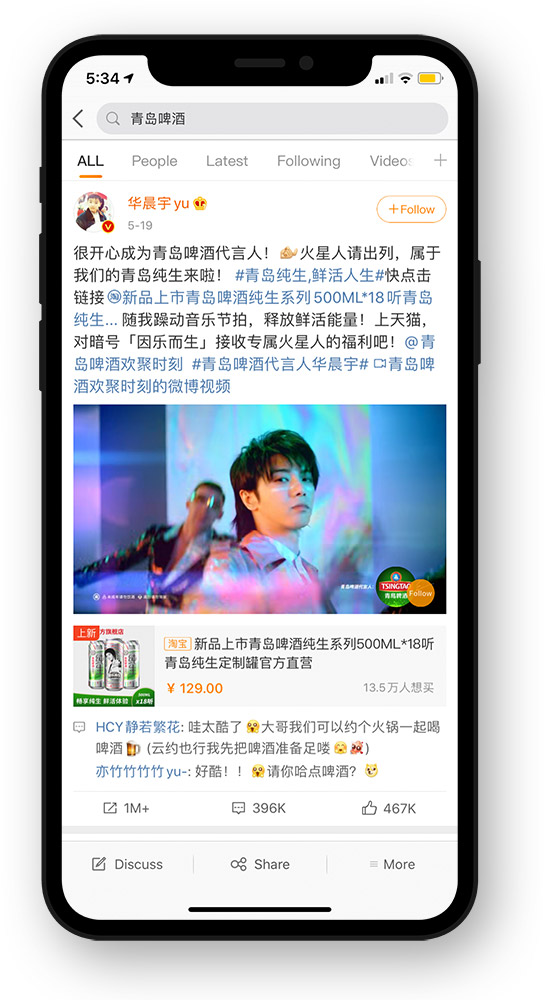 Tsingtao's video promoting their Pure Draft beer was just one of a number of promotional activities that the brand took part in during May:
They launched contactless delivery maps on Weibo which allowed people to see where they could purchase Tsingtao and who they should contact. The feature was accessed by scanning a QR code and was available in 324 cities.
They featured in the Tmall's Foodie Festival on May 17th.
Tsingtao participated in Nestle's "Eat Well, Live Well" campaign on Weibo which encouraged people to pursue a healthy lifestyle and commended key workers for their sacrifices during the outbreak.
A virtual boogie with Budweiser
Budweiser hosted several online electronic dance music festivals in May for users in Changsha, Wuhan and Zhengzhou, and their event in Zhengzhou gained 2 million views on Weibo. Budweiser also worked with Tmall to launch online clubbing and Tmall's famous cat mascot hosted the show as a DJ.
The brand also released a new beer with a red background during May to celebrate 520, China's Valentine's Day. As numbers have huge significance in Chinese culture, Budweiser chose to release only 1314 bottles of their new beer as 1314 means "forever" in Chinese.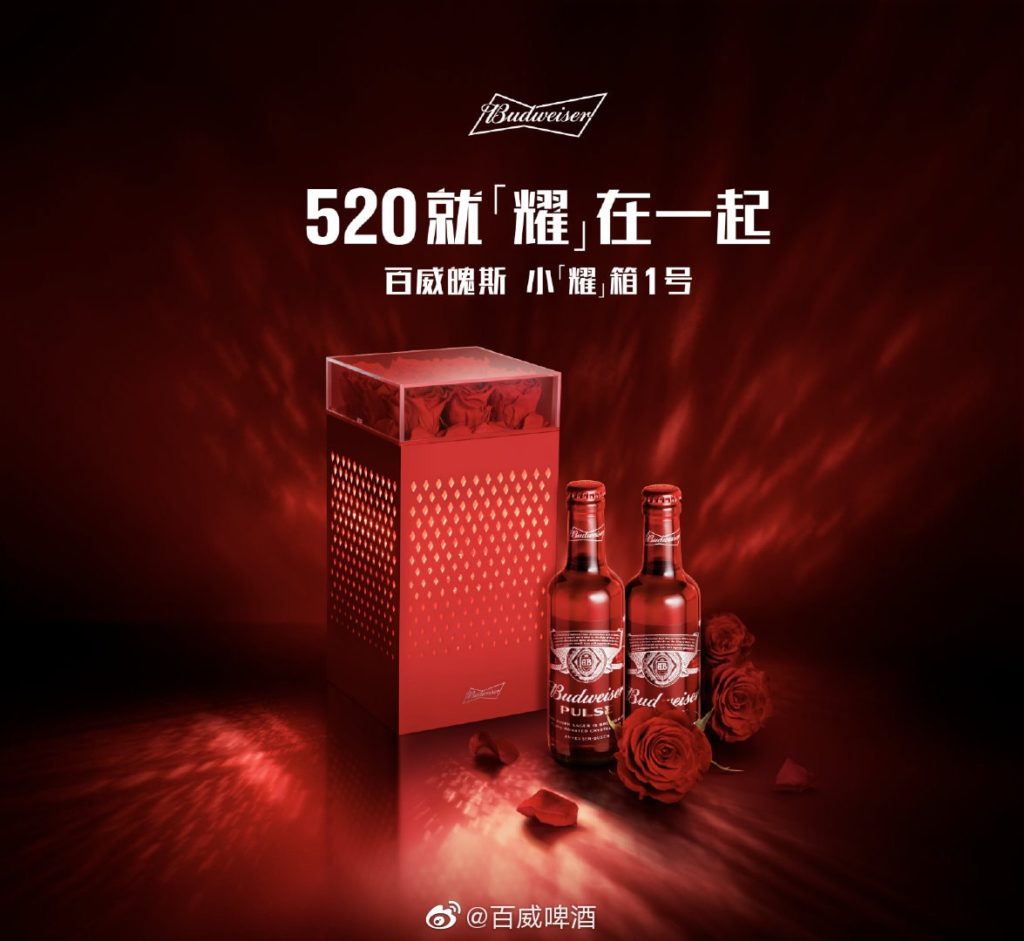 Learn about whisky with Ballantine's
Ballantine's partnered with brands from a variety of industries to launch online clubbing livestreams. Among its partnerships were food delivery platform Eleme, gaming company NetEase, e-commerce platform Taobao and China's most popular game, Honor of Kings.
The brand also worked with several whisky KOLs to host livestreams to teach their audience about the background of whisky and Ballantine's products.
Digitalised drinking – alcohol brands' response to COVID-19
The examples showcased above reveal how alcohol brands have adapted to the pandemic and recovered in its aftermath. With consumption patterns of consumers rapidly changing to online means, brands have been forced to integrate online and offline business and improve, or adopt, a digital marketing strategy.
Alcohol brands have had to find ways to encourage consumers to still drink, despite spending more time at home. They have used online means to recreate environments where young people usually drink, for example, by holding clubbing livestreams.
Alcohol brands have also teamed up with e-commerce platforms, where Chinese consumers are spending more of their time and money, to promote their products and have appealed to traditional Chinese festivals and shopping festivals in order to boost sales.