Founded in Nanjing in October 2008, SHEIN, is an e-commerce platform with products ranging from clothing, accessories and beauty products to decorative objects. The latest trends can easily be found among SHEIN's expansive range of products and at a price which is often too good to be true.
Often called "China's mysterious billion dollar company", SHEIN grew up in the shadows over the past 12 years as the cross-border fast fashion company kept a low profile. Indeed, very little information about the brand's founder and CEO Xu Yangtian (Chris Xu) can be found on the internet.
The company started life as SheInside when it was founded back in 2008. Six years later in 2014, the brand formally acquired its rival ROMWE, enabling SHEIN to expand and acquire new product categories. In the same year, Chris Xu decided to set up the company's own supply chain in Guangzhou which was then moved to Panyu (a district also in Guangdong Province) shortly after.
In 2015, SHEIN also acquired Shenzhen Kushang in order to improve the layout of its mobile site: this was an important move at a time when the number of global mobile users was exploding. Pei Yang, the founder of Shenzhen Kushang, had many years of cross border e-commerce experience on mobile channels which he brought to the company. The acquisition also marked a turning point for the company as it began investing heavily in the development of its mobile sites.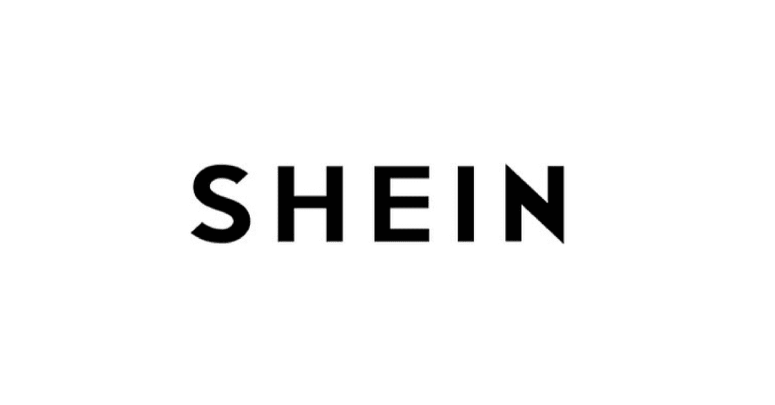 Since its launch, the company's goal has been to become an international Chinese clothing brand which operates through online e-commerce channels. Certainly, the brand was founded at a time when China was facing a boom in the entire cross-border e-commerce industry: many multinational B2C websites were appearing and gaining strength.
Currently, SHEIN is present in more than 220 countries and has more than 10,000 employees.
The company describes itself as:
Cheap fashionable items attract Gen-Zers
SHEIN aims to attract young women who are on the constant lookout for stylish new clothes. To appeal to this audience, the company claims that they add 500 new fashion items to their site per day. As well a huge choice of items, SHEIN ensures that it constantly follows the latest fashion trends to attract its young price-conscious consumers. SHEIN's unbeatably priced items which replicate high-end looks are particularly attractive to Gen-Z consumers, the social-media generation. Its fashion flashy items with rock bottom prices are considered to be very "instagrammable".
Gen-Zers spend more time on the internet than any other generation and tend to discover fashion brands through social media. According to these young consumers, what makes SHEIN unique is the brand's diversity of sizes which other fast-fashion brands don't seem to include.
SHEIN has engaged with the growing conversation around body positivity and acceptance with its Curve+ Plus section where plus size customers can easily find fashionable apparel which fits. The website provides a comprehensive size chart and customers can also share reviews and photos of SHEIN's products on the website in order to help to determine the product's fit. As a result, SHEIN has built an engaged community across their channels.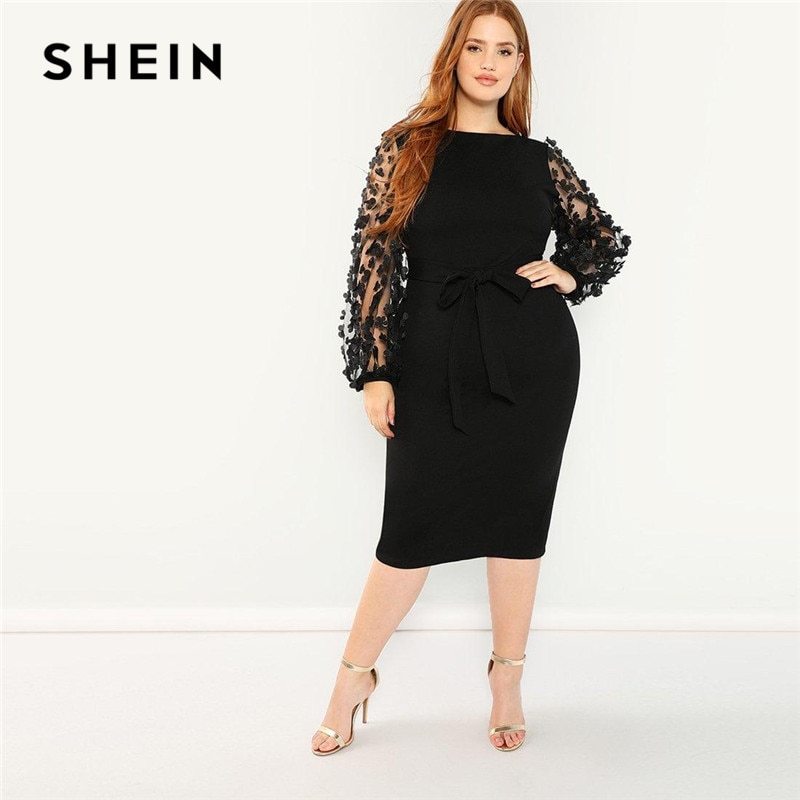 SHEIN's reliance on influencer marketing
SHEIN is highly adept at social media marketing, having been a vanguardist in terms of using influencers to promote products and attract new customers. The brand began this marketing strategy as early as 2011 when it could easily partner with internet celebrities at a low price. As a consequence, almost 100% of traffic on the site came from the recommendations of high-profile influencers. Pinterest was SHEIN's key traffic source because, like Chinese social platform Xiaohongshu, it is based on product reviews and recommendations from users. In addition, the majority of Pinterest's users are women – SHEIN's main target consumer.
However, as influencer marketing became more popular, the cost of Internet celebrities grew and SHEIN started looking for new options. The company began investing in genuine insights through social media sites such as Instagram, Facebook and TikTok.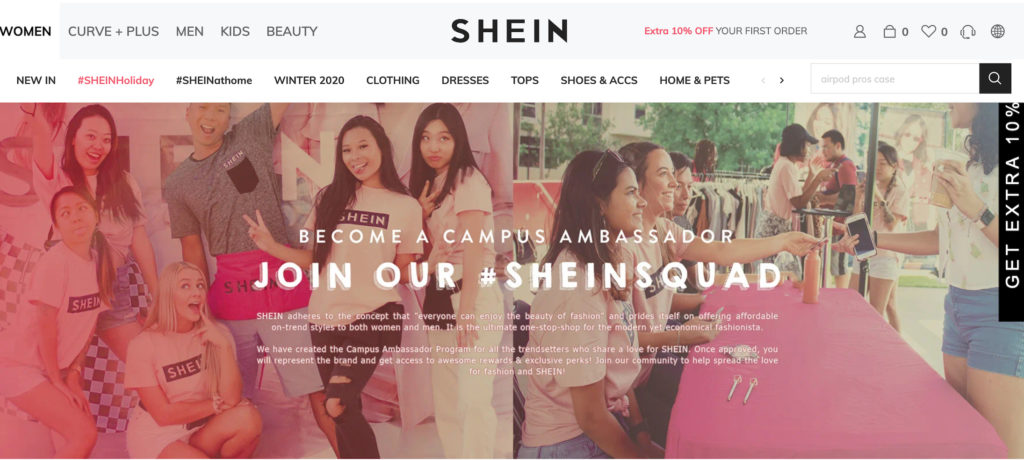 Through these platforms, the brand goes directly to the customer. SHEIN recruits KOLs, which it calls ambassadors, who promote the brand by posting reviews (SHEIN haul) and sharing rewards codes with their followers. Usually, the ambassadors receive free SHEIN items in return for promoting the brand's clothes on their social media accounts and interacting with their audience. Customers benefit from coupons and sales, a crucial point to Gen-Zers who consider price to be the most important factor when shopping for clothes. Although SHEIN may not compete with other brands in terms of delivery, the cost of savings are worth it to young customers.
SHEIN adapts during the 2020 pandemic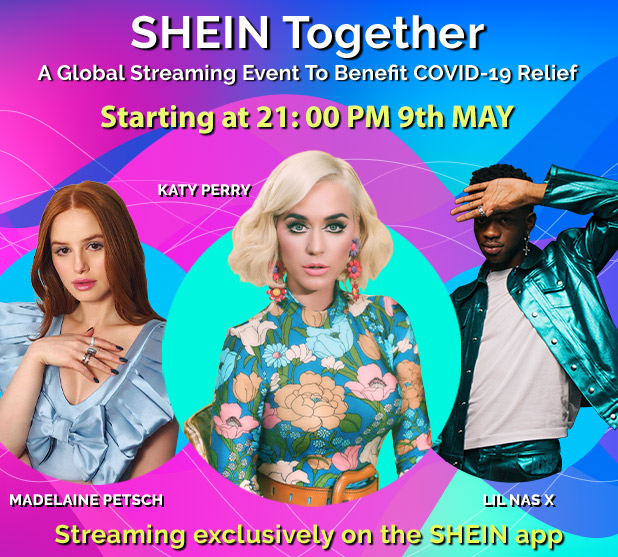 Several sectors were boosted by COVID-19 due to the boom in online shopping which resulted from consumers being stuck at home. SHEIN has taken advantage of the situation to promote several campaigns that have helped their global expansion.
In January, SHEIN ranked tenth on Apple's US App Store for most popular shopping apps and in June they even surpassed local companies, such as Wish and eBay, and ranked second only to Amazon. However, the pandemic boosted its ratings further. As a result of the growing popularity of e-commerce, the SHEIN app became the most downloaded shopping app on iPhones in the USA, Brazil, Australia, United Kingdom and Saudi Arabia in the week of September 27. The app has 10.3 million global downloads, compared to H&M's 2.5 million and Zara's 2 million. In the United Kingdom, the website became the third most visited for fashion and e-commerce, only behind Next and Asos.
In May, SHEIN launched its very first global streaming event, "SHEIN Together", an online concert featuring special guests such as Katy Perry, Madeleine Petsch and Little Nas X. According to SHEIN's website, the event raised $135,000 which was donated towards supporting the global COVID-19 relief effort.
SHEIN's successful engagement with consumers
In a challenging year for retailers, SHEIN has shown how fashion brands can utilise the situation presented by COVID-19 to their advantage with its focus on e-commerce expansion. By investing into its social media strategy, SHEIN has developed a loyal clientele who seem to enjoy influencing others around them to adhere to this "addictive" brand. Their focus on price and interaction among customers has been key to their success in engaging Gen-Z consumers.
Read more: China's SHEIN becomes the most popular fashion website in Israel
---
If you enjoyed this article and want to contribute a piece to Dao, please get in touch with the team at [email protected]