Many Chinese football fans stayed up to the early hours to watch the final EURO 2020 quarter-final matches on Sunday morning (Beijing time). Italy, England, Spain, and Denmark are through to the semi-finals, but who do Chinese fans think will win?
The latest betting odds in China place England as the winner of the EURO 2020 tournament:
England: 2.50
Italy: 3.25
Spain: 3.75
Denmark: 10.00
However, a Weibo poll found different results. UEFA asked Weibo users who they thought would win, to which 3,000 people voted for Italy and 2,100 chose England.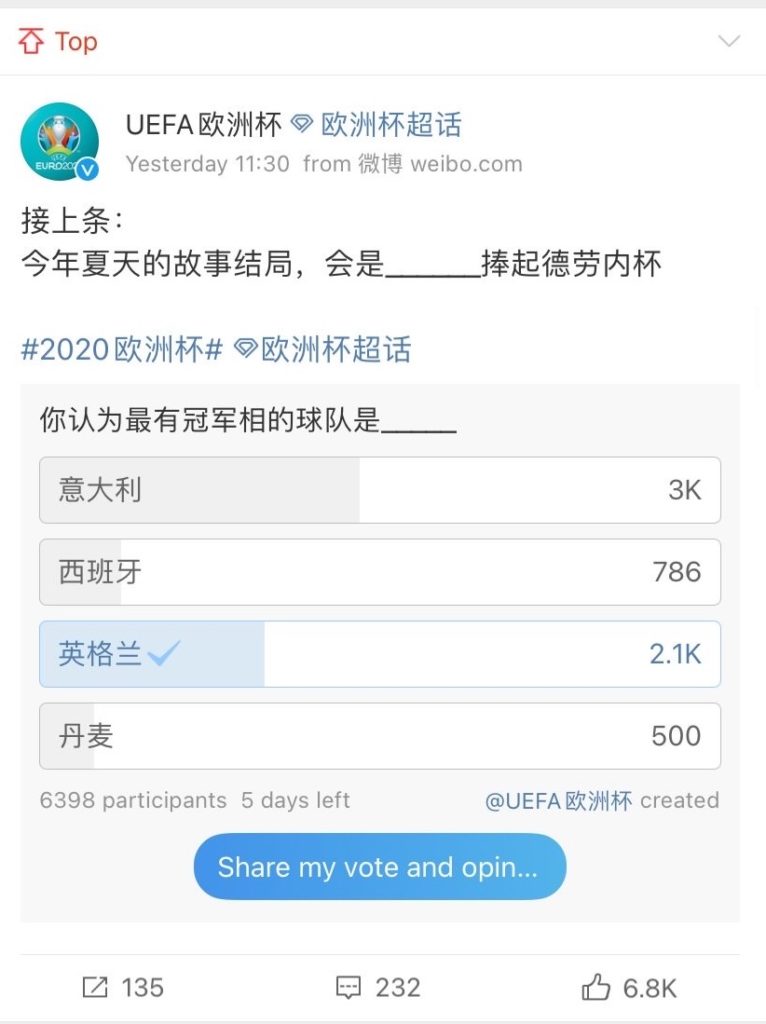 Chinese fans predicted that England will win against Denmark in the semi-final match on Wednesday. They commented that the huge support from home fans at Wembley should help them to reach their first major tournament final since 1966. Netizens thought that Italy would likely beat Spain to the finals as they have been the most consistent team in the tournament so far.
There were mixed feelings about who would win in a final between Italy and England and several Weibo users commented that it all depends on the conditions of the day.
"It's either Italy or England. But Italy has a higher chance."

"Personally, I think Italy and England will be in the finals. The champion will probably be Italy."

"England is the only team that hasn't won the EURO championship yet, this year they deserve to win."

Netizens have shared their predictions on Weibo
Read more about football in China:
Join our newsletter