On 4 January, China's e-commerce giant Tmall launched a digital exhibition space named HEYSPACE. The showcase is of special collections from more than 20 brands ranging from the beverage category to the clothing industry, while drawing inspiration from Playboy, the American men's lifestyle magazine and recreating its classic covers from the past 70 years to ignite the Year of the Rabbit festive sensation.
From 4 to 20 January, consumers are able to immerse themselves in the exhibition taking place in the Metaverse. Covering 6 different themes and with Disney onboard, the experience is backed up with features like virtual consultation, 360-degree product browsing and digital interaction to enable users to fully dive into the exhilarating holiday ambience.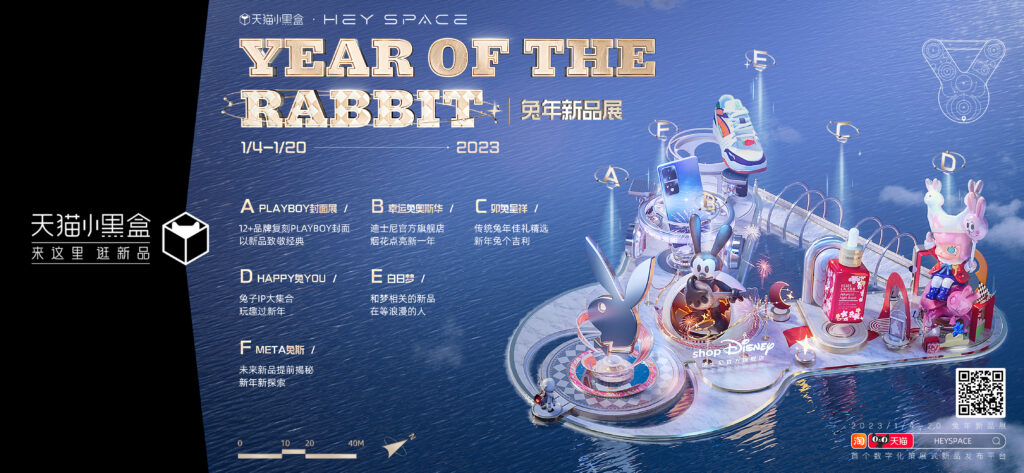 In order to wow consumers amongst all the dazzling CNY campaigns, Tmall in partnership with Playboy is capitalising on its iconic logo, which is recognisable everywhere. Together with 13 brands such as Rémy Martin, COACH, Li-Ning, Hennessy, etc., Tmall's recreation of a series of classic covers echoes the magazine's unique charm through delicate while surprising design details.
Each redesigned Playboy cover selected by Tmall has witnessed a change of style owing to different cultural backgrounds. From the 50s, to the 90s and now, artistic styles have varied from abstract art to pop art till the ongoing Y2K fashion trend.
By uniquely combining each brand's tone of voice with its suitable cover style, the e-commerce giant has successfully implemented its new year promotional strategy while showcasing each label's characteristics. Take the cover of Li-Ning for example, Tmall applied bold colour to one cover from 1964, bringing a touch of playfulness while highlighting a pair of sneakers from the domestic sportswear company.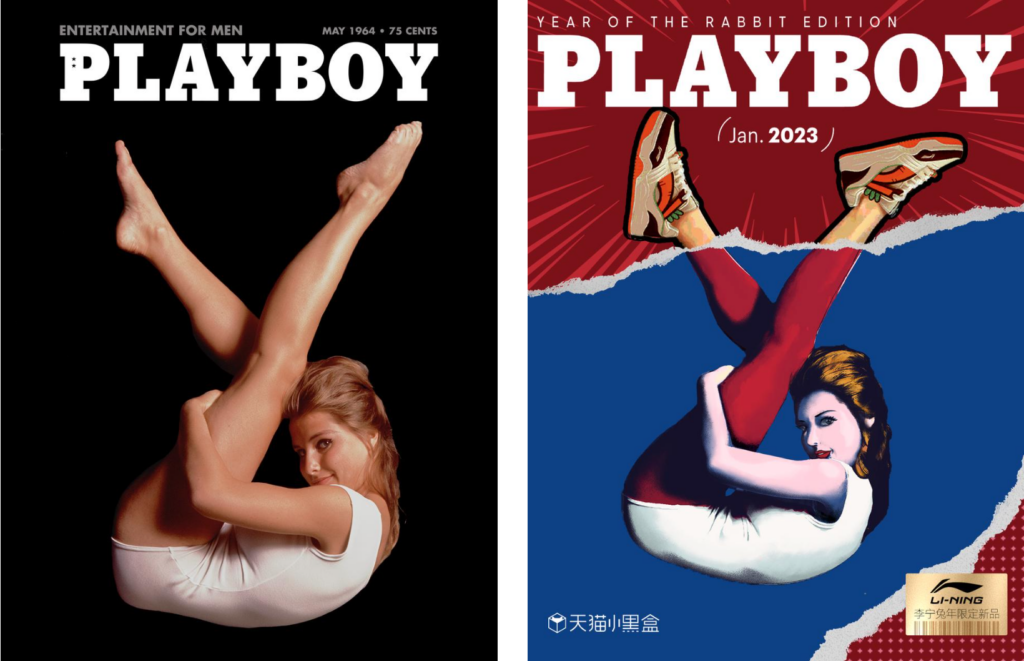 By simply searching "HEYSPACE" on the Taobao mobile app, one of China's biggest e-retailers, consumers can get access to the main virtual showcase room with recreated Playboy covers attached to the wall. Design inspiration and background information is also available to check by simply clicking on the displayed objects. Users are encouraged to explore different exhibition areas under the guidance of a map on the screen with exciting displays to be found such as Disney's 100th anniversary toy capsules, Coca-Cola limited collectables, and the list goes on.
Apart from this, a new AR feature integrating online and offline activities is set to be available on HEYSPACE which enables consumers to shop in the virtual community, while viewing their purchased goods in the brand's pop-up store in the real world. Prior to the Year of the Rabbit virtual exhibition, Tmall had previously dipped its toes in the Metaverse and teamed up with high-end brands including Burberry, who they collaborated with last November.
Nowadays, consumers have their eye on the emotional value involved with products like cultural connotation and background stories beyond the functions, price settings and packaging. By combining the buzzworthy Metaverse concept with the evolving history of Playboy and other brand's identity elements together, the digital exhibition has not only presented labels to a wider audience but is also staying relevant to today's trend, exemplifying the e-commerce giant's status in the arena.
Join our newsletter