Threads, the latest social networking platform launched by Meta, is rapidly gaining traction in China, where popular Western social apps like Instagram and Facebook are prohibited. Since its launch, the Twitter clone introduced by Instagram has climbed to the fifth spot in the social networking category of Apple's China App Store.
The App Store rankings consider metrics like new app installations, and Threads currently trails right behind Chinese social media giants with hundreds of millions of active users, including Xiaohongshu, WeChat (with over 1 billion monthly users), QQ, and Weibo.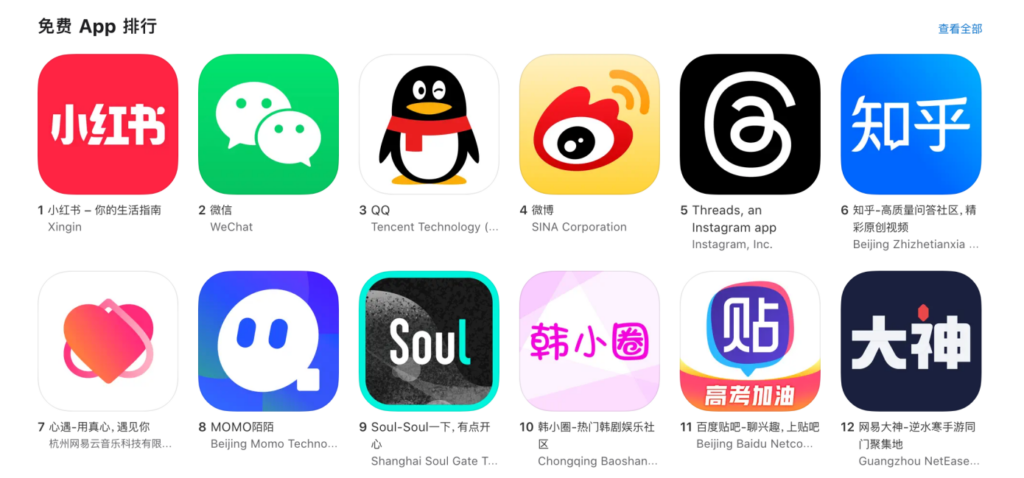 News of the latest app has generated lots of buzz on Chinese social media. On Weibo, the hashtag "Threads" has already garnered nearly 5 million views and has generated nearly 1,000 related discussions.
Although the app is blocked by China's Great Firewall, many users in mainland China have been able to access the platform through censorship circumvention tools such as virtual private networks (VPNs).
The presence of Threads in the China App Store is not entirely surprising, as Facebook, Instagram, and Twitter have long been available in the store despite being banned by China's censorship system.
As seen in recent years, Western social apps only come under the radar of Chinese censors after gaining significant popularity. In 2021, the live audio app Clubhouse was swiftly blocked and removed from the China App Store after attracting a large number of Chinese users engaging in discussions on politically sensitive topics. Damus, a Twitter rival backed by Jack Dorsey, faced a similar fate as it was taken down from the China App Store for featuring "illegal content in China".
To lawfully introduce a foreign social app in China, the sole accepted approach is to create a version that adheres to local regulations, incorporating strict content filtration measures. Censoring Threads could prove challenging, therefore, as the app plans to operate on a decentralized infrastructure powered by ActivityPub.
Join our newsletter