E-commerce giant Pinduoduo has confirmed that a 23-year-old employee died when walking home with colleagues after finishing work at 1:30 am on December 29. She experienced sudden cardiac arrest as a result of the pressures of overworking and received six hours of first aid before being pronounced dead by medical workers. According to Pinduoduo's official statement, the employee joined the company in July 2019.
The news sparked a hot discussion on Weibo about China's overtime work culture. 996 working culture has been popularised by China's tech companies, such as Alibaba and Tencent, and involves working from 9 am until 9 pm six days per week.
Many netizens commented that there needs to be an end to the high-pressure 996 work culture which has spurred criticism since 2019. However, the CEOs of Alibaba and JD have endorsed 996 working culture in the past and encouraged their employees to pursue it. They believe that working long hours is the key to successfully accumulating personal wealth in China's competitive society. Their simple mantra comes down to: if you want to earn more money, you need to work harder and longer.
However, China's overtime culture has become worse as "715" (working 15 hours per day, seven days a week) gained prominence in the second half of 2020 and even made it into Baidu's "2020 knowledge-based buzzwords".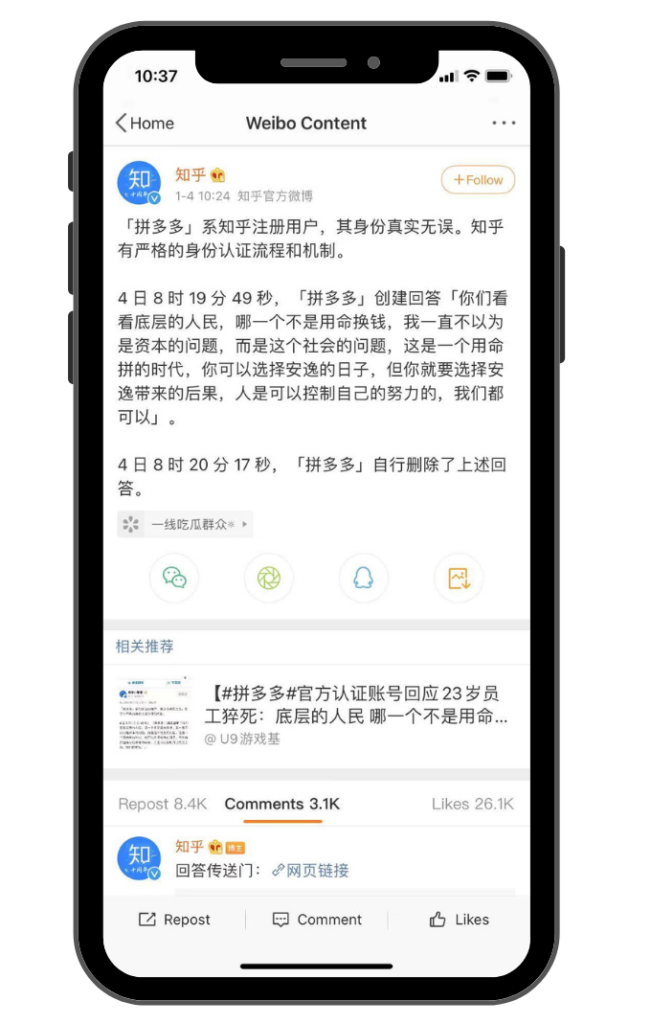 Pinduoduo was accused of posting a statement on its official Zhihu account defending long working hours in response to the debate:
"Look at those powerful people, they are all exchanging life for money. I have never considered this a problem of capital, or another social issue. This is an era of working hard. You can choose a comfortable life, but you have to accept the consequences of having a simple and easy life. People can also choose a hard-working life, we all can."
The statement received a huge amount of attention and criticism from Chinese netizens. The Weibo hashtag "Pinduoduo employee's sudden death statement" has gained 150 million views so far with the majority of users commenting that they disagree with the company's statement.
Pinduoduo denied publishing the post but Zhihu stated that the post had been sent by Pinduoduo's official account and then deleted. It was later discovered that one of Pinduoduo's suppliers, Mr Lee, posted the statement by accident, intending to post the opinion on his own Zhihu account but forgetting to log out of the company's account.
Read more about Pinduoduo in our case study: Pinduoduo's social group buying model wins over Tier 3 & 4 consumers
Join our newsletter