In the bustling coastal city of Qingdao, Prada Group recently banded with UNESCO China to host a traveling exhibition called "Ocean & Climate Village" to raise awareness on ocean conservation. The exhibition is part of Prada's ongoing Sea Beyond initiative, which was launched in 2020 and works with a network of secondary schools worldwide. 
The experience in Qingdao was segmented into five thematic zones: "The Ocean Planet", "A Changing Climate", "Focus: China Case Study", "Marine Biodiversity and Ecosystems" and "Solutions for the Oceans we want." In addition to the exhibition itself, Prada Group also set up a children's workshop. Guided by young biologists, the exploratory journey was enriched with interactive games, VR and imaginary marine characters acting as narrators.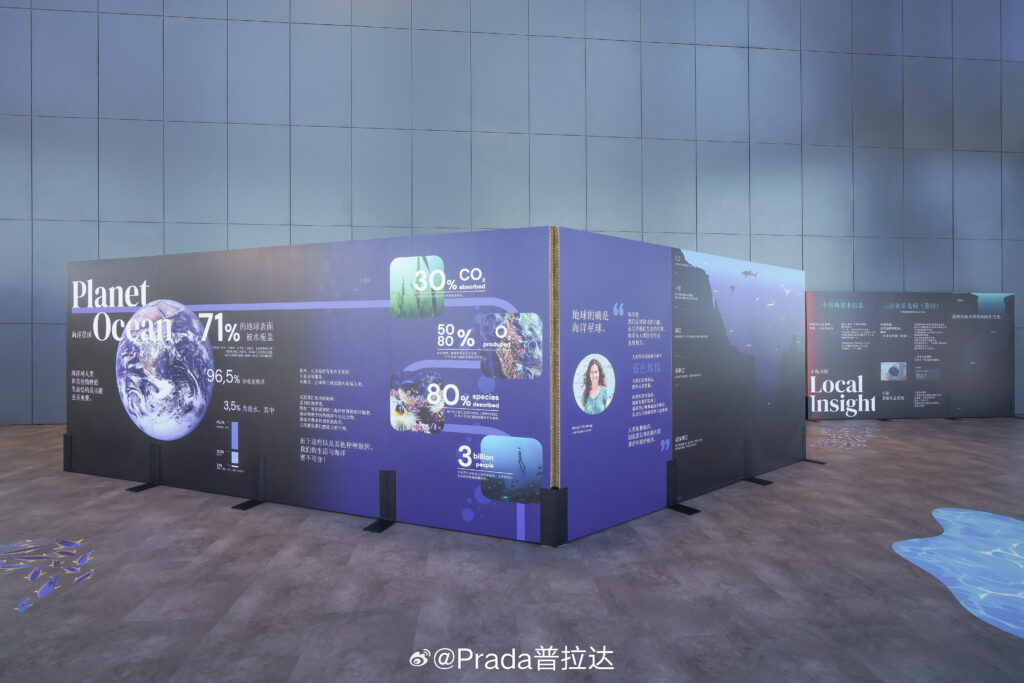 Well before the launch of the Sea Beyond project, the conglomerate was contemplating ways to make a difference in marine conservation. In response to the alarming statistic that approximately 11 million tonnes of plastic enter the ocean annually, Prada partnered with Italian supplier Aquafil in 2019 to create its Econyl regenerated nylon bag series using Econyl yarn, which is crafted from recycled plastics, including ocean waste like fishing nets.
Fast forward to 2021, Prada's Re-Nylon series completely replaced the brand's signature nylon material, a rare and significant step in the luxury fashion industry. Now, Prada has announced plans to donate 1% of Re-Nylon sales to the Sea Beyond project, which is expected to be amount to several million dollars. 
Prada's decision to host an ocean conservation event in Qingdao reflects consumers' increased willingness to pay more for sustainable goods in China. According to a survey conducted among Chinese adults in November 2022, around 66% of respondents stated that they were willing to pay more for sustainable goods, with 75% willing to pay more for sustainable skincare and cosmetics.
The move also mirrors Prada's overarching strategy in the Chinese market to tap into every Chinese city's pulse and resonate with its local culture. Such an approach was evident last year when Prada chose the historic Beijing Prince Jun's Mansion for an offline fashion show, retaining a distinct Chinese character in its setup. Additionally, the company spent six years restoring the century-old Rong House in Shanghai, transforming it into a cultural hub for the brand in China and initiating various cultural exchange activities and pop-up events tailored for Chinese audiences.
All in all, Prada's latest Sea Beyond exhibition not only embodies sustainability within Prada's brand but also sets a precedent that eco-friendly materials can be seamlessly integrated into luxury product manufacturing in China.
Join our newsletter