Prada is experimenting its way to a bold idea – launching its fall 2021 campaign through an old Chinese wet market, to create the most authentic experience for local people. This Monday, Prada's "pop-up wet market" went live, which lasts for two weeks. It's located in one of the most expensive areas in Shanghai, covering 2000 m². As part of a global campaign, this luxury brand wants to impact Shanghai's urban landscapes through the refurnished local market.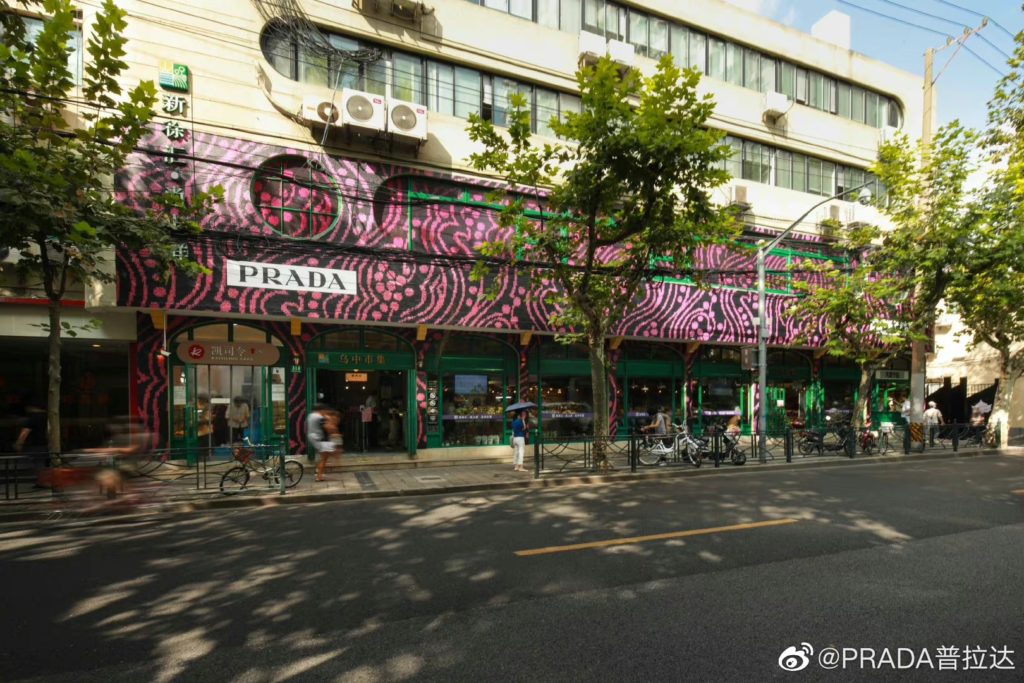 From afar one can see the huge Prada logos and its signature patterns that cover the market building. This "luxurious" market, however, sells the most down-to-earth products at common prices. On the first floor of the market, you can find vegetables, fruits, seafood and flowers, and on the second floor, bean products and cooked food. To create an immersive experience, the Prada logo can also be found everywhere inside the market – on the walls, stalls, and the food packaging, constantly challenging the traditional experience in a wet market.
To Chinese people, known for being global luxury buyers, the most appealing part of the market is free, limited Prada paper bags. Every day from 10:00 to 16:00, bags with three different autumn/winter patterns are provided with limited supply, free of charge for the shoppers. Some Chinese netizens joke that, for the first time, Prada is affordable for them thanks to the free handbags.
Mr. Ji Liang, a fashion curator with 360 million followers on Weibo (known as a Chinese version of Twitter) commented that "fashion should not be out of reach. Quite the opposite, it ought to be a part of daily life. That's why I think the Prada Wet Market is really worth going."
Read more:
Join our newsletter