The Chinese lifestyle goods store MINISO has brought back blind box fever with a pop-up Blind Box Festival in Guangzhou this month.
The event drew a crowd with the giant MINISO blind box dangling from a crane stationed outside the Yuehui City shopping mall. Inside the main plaza of the mall were more giant MINISO items, including several life-size empty blind boxes for shoppers to climb inside and pose for photos. From July 13th to August 31st, MINISO customers can purchase a blind box discount card for 5 RMB, which provides a 10% discount on any blind box products over 39 RMB.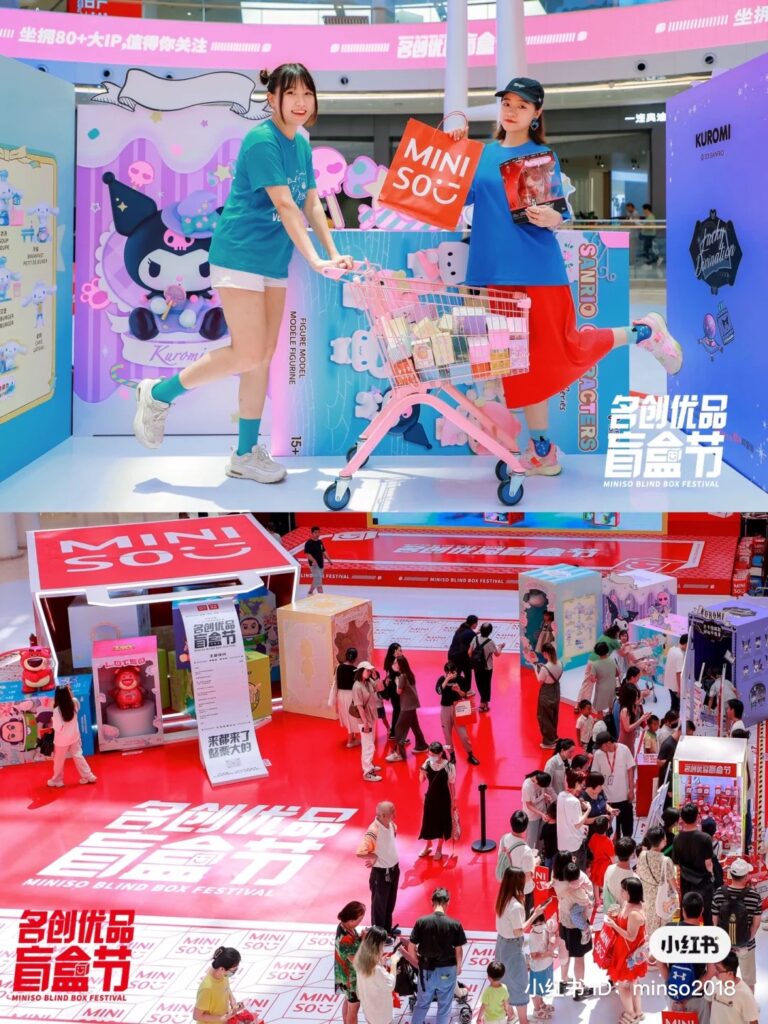 Blind boxes, which offer a mystery gift inside, took off in late 2020 when demand for blind boxes mushroomed by 400%. Blind boxes often contain a limited-edition product and so appeal to consumers fond of collectible items. But they also provide a miniature thrill that many Chinese shoppers love, taking delight in the build-up of suspense involved in choosing, purchasing, and opening the box.  Many commentators have gone so far as to call young people's fondness for the product an "addiction".
MINISO's penchant for "IP" – typically animated characters from film or anime franchises – lends itself well to the collectible nature of blind boxes. The brand quickly made blind boxes one of its key product categories, with a whole zone dedicated to them at the recently opened Times Square store.
MINISO's event in Guangzhou placed IP at the heart of the festivities. Beloved characters old and new, like punk idol Kuromi from the My Melody universe and Lotso Bear the pink fluffy antagonist of Toy Story 3, featured prominently in both the digital campaign and the physical event. On top of this, MINISO constructed a playground-like scenario for shoppers in which they could imagine they were doll-sized, igniting the inner child of consumers that the blind box trend appealed to so successfully in the first place.
Blind boxes are not the hot topic they once were, but the ACG (animation, comics, games) subculture in China isn't going anywhere anytime soon. By strengthening its positioning as a key brand targeted at ACG lovers, MINISO can ensure a loyal customer base for years to come.
Join our newsletter