KFC has launched limited-edition acrylic nails, including nail arts of KFC classic brand colours red, yellow, orange, and white that symbolises its original flavour fried chicken. Consumers can redeem a KFC limited set of acrylic nails and buy a half-price bucket of original flavour fried chicken, by presenting their student ID at a KFC designated store.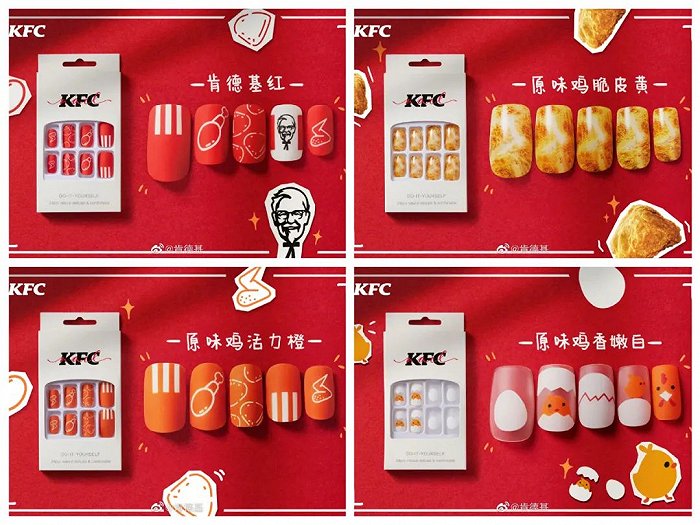 Each nail art not only corresponds to the characteristics of KFC products, but also uses different colours and styles to provide consumers with a variety of nail art choices. Consumers are reminded of KFC fried chicken when they put it on their hands.
The social touch insight engine report shows that out of their target audience, 79.09% are female, and 38.47% of that audience are Gen Z females. KFC's nail art campaign is in line with the preferences and characteristics of Gen Z female users. KFC aims to fulfil the current needs of young people for diversified services, widening the boundary of the food marketing scene, and refreshing young people's brand awareness of KFC. 
KFC continues to bring surprises for consumers by creating a beauty-crossover marketing experience to win consumer's hearts. The brand has precisely tapped into the interest of the target consumer group which is the beauty topic. KFC had not only kept up with the current trend of beauty that can bring economic value but had also successfully broadened the boundary of the food marketing scene.
The nail art has become a trending topic among young people, allowing the brand to get attention with its creativity, and at the same time, enhancing the brand's influence.
"Is KFC's business scope so extensive?"

"I have repeatedly confirmed that this is a KFC official account."

Comments from Weibo users
Read more:
Join our newsletter