While a stable living environment such as a house is desirable for many, more young Chinese are pursuing a mobile life in a camper van, making the motorhome another national sensation in the country.
The growing interest in Recreational Vehicles (RV) is closely linked to China's camping industry boom, which has emerged amidst the global pandemic. Having had a much-restrained life under a roof due to ongoing COVID restrictions, the younger generation have become more drawn to an immersive tourist experience through camping in rural areas and even exotic landscapes such as desert safari.
A camper trailer that includes living quarters turned out to be the ideal choice to satisfy daily living needs for those "wanderers", with the kitchen and sleeping spaces equipped with anything from an air-conditioner to a washing machine, a dishwasher, and, with some more considerate car providers, there is even a 'nest' ready for those camping with their pets.  
The offline enthusiasm soon spread to the digital space. Hashtags related to "Motorhome Travel" have garnered hundreds of millions of views on Xiaohongshu, China's go-to space for sharing lifestyle moments, with notes ranging from 'young campers' living diary' to advice on 'how to transform an RV' to maximise the affordability of limited space, and strategies for travelling with a camper van in a challenging environment.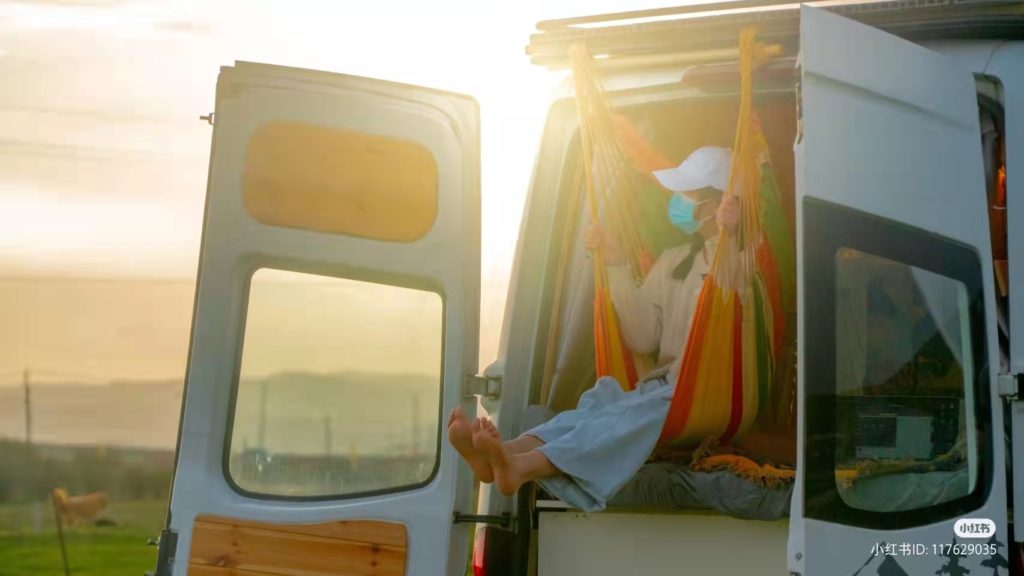 Video content under this trend has seen a mushroom growth on China's TikTok, Douyin, with relevant posts drawing an accumulated view of more than 30 billion and over 32,000 videos posted in the last 90 days alone.  
While some are using a camper van as a mobile home for traveling, some city dwellers find an RV a decent alternative to saving on rent in a big city like Beijing. A Douyin user known as "Beijing Drifter Haihai Motorhome Life" is one of those. The post-90s lad once revealed that he can save up to 4,000 RMB ($628.6) per month since he chose a camper van for his home, and his pressure from daily commuting was also reduced thanks to the mobility of this flexible accommodation. Videos recording his "drifting life" have so far garnered nearly two million endorsements on the short video platform.
Such an occurrence has naturally pushed up the demand of RVs in China. Despite a late start, compared to the Western world, China's market holdings of RVs rose to over 210,000 in 2020, three times as many as that in 2017, bringing the market scale to 20.8 billion RMB ($3.3 billion) in 2020. With the domestic appetite for such products continuing to grow, China's RV market is expected to surpass America within the next ten years, as anticipated by Lan Qingsong, chairman of the Chinese vehicle brand Maxus. 
Join our newsletter